Pride wears many faces. It is a sneaky thing that isn't all bad but can quickly become a monster if it is misplaced. To fulfill God's purpose, we must lay down those things we place above Him. 
---
---
I asked the following question to a mixed group of folks, (some claiming Christ, others who do not), ranging in age from 11 to 70…
What's the first thing that pops into your head when you think about pride?
Feeling good about yourself.
Lions.
Being proud of yourself and where you came from.
In your head; selfish.
Handling big things on your own. Getting a handle on it, trying to wrap it up pretty, then presenting an incomplete and shallow lie. Then wondering why it's falling apart.
Honor and dignity, and when all is lost you don't back down or stop trying.
Mega-nationalism; egotism.
The root of all evil.
Self.
When you have faith in yourself or something else.
The belief that I am self-sufficient and can be an everywhere it all, fix it all and know it all.
Fall—as in it comes before the fall (Proverbs 16:18).
Men.
Confidence; strong ethics.
Arrogance and self-focus; but also positive in a way like confidence. Like doing something well.
Self-consumed, lifting oneself up, thinking your wisdom is superior.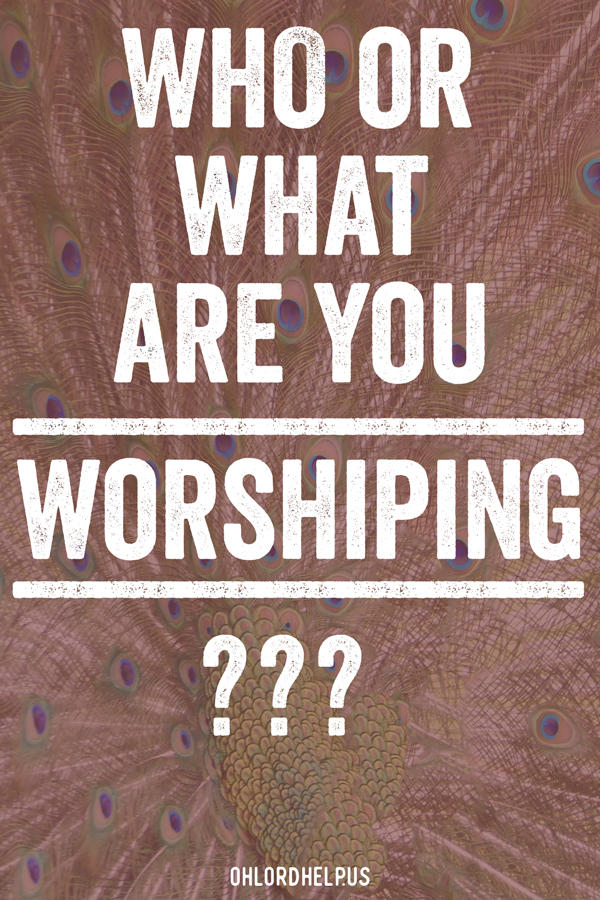 Focus
I found the variety of responses fascinating. Modern society teaches love yourself more. Evangelical culture preaches be filled with God's love. But where the Western world falls short, spouting off "Jesus loves you" somehow fails to produce change. It doesn't delve deep enough. I agree with how one author addresses this issue:
The love of God can be a profound answer to just about any human struggle, but sometimes we can use it in such a way that it becomes a watered down version of profoundly rich truth. For example, sometimes, because of shortcomings in us rather than Scripture, this answer misses the call to "consider others better than yourselves" (Philippians 2:3), or it ignores personal repentance. Sometimes it still allows us and our needs to be at the center of the world, and God becomes our psychic errand boy given the task of inflating our self-esteem.

Edward T. Welch, When People Are Big and God is Small
At the end of the day, it is about what and who we worship. What is most important? Comfort? Recognition? Peace? Power? All of those point back to self. As followers of Christ, anything we revere more than Him will ultimately be torn down. It is not for meanness sake, but because God's purpose for those He created is to reflect Him.
Survey
Lately, I have been inundated with the topics of pride and humility. They are in the books I'm reading, the lectures I'm watching, and the sermons on Sundays. Uh…I hear you, God; loud and clear. Last week I filled out a pride and humility survey. Yeah, it's a thing.
In the past when I completed personal assessments similar to this, I either felt weighed down by my ineptness or gratified with my growth. Ironically enough, both responses are manifestations of pride. Feeling burdened by my short-comings keeps the focus on me and does not honor God. Nor does it seek to be molded more into His image.
While it is good to be remorseful over my pride, I mustn't stop there. The next step is repenting and asking God to keep working in me to do away with it! Feeling content with my progress in humility is still pride. But praising God for continuing to create a good work in me is worshipful.
Feeling content with our progress in humility is still pride. But praising God for continuing to create a good work in us is worshipful. Click To Tweet
Pride
So, are all forms of pride bad? No; but there is a micro-fine line between righteous boasting and every other self-focused version. God said it first to the people of Judah through Jeremiah.
This is what the Lord says: The wise person should not boast in his wisdom; the strong should not boast in his strength; the wealthy should not boast in his wealth. But the one who boasts should boast in this: that he understands and knows me—that I am the Lord, showing faithful love, justice, and righteousness on the earth, for I delight in these things. This is the Lord's declaration.

Jeremiah 9:23-24, CSB
It pleases God when we brag about His power! Paul reiterated God's instruction in both of his letters to the Corinthians.
Instead, God has chosen what is foolish in the world to shame the wise, and God has chosen what is weak in the world to shame the strong. God has chosen what is insignificant and despised in the world—what is viewed as nothing—to bring to nothing what is viewed as something, so that no one may boast in his presence. It is from him that you are in Christ Jesus, who became wisdom from God for us—our righteousness, sanctification, and redemption, in order that, as it is written: Let the one who boasts, boast in the Lord.

1 Corinthians 1:27-31, CSB

So let the one who boasts, boast in the Lord. For it is not the one commending himself who is approved, but the one the Lord commends.

2 Corinthians 10:17-18, CSB
Worship
Having a mind focused on God, the One in Whom all things are from, through, and to (Romans 11:36), fights against selfish pride. It is okay to feel good about ourselves when viewed rightly through the lens of God's work in us. There is nothing wrong with having an appreciation for where we came from—understanding God is the One who birthed us into that place. It's alright to be pleased with our own or someone else's accomplishments, as long as we acknowledge it is God who works through us for His good purpose.
Exhibiting honor, dignity, and confidence isn't a recipe for unholy pride. Jesus was confident in the Father, and He taught the highest principles of loving God and loving others. He accomplished the most honorable mission of all time by taking on human form, living a perfect life, dying a horrific death, and raising from the dead so we could be redeemed.
Jesus did not back down because He was God—He didn't consider equality with God something to be grasped (Philippians 2:6). No, Jesus didn't back down because He wholly trusted the Father to complete His work through Him. It's the tiniest tweak that makes all the difference, but it's monumental. It really is all about what and who we worship. Let us resolve to pledge our reverence to the King!