The compassion of Jesus should be our posture in the face of vulnerability. His example teaches us to carry the weight of suffering to the throne of God.
---
---
Have you ever been informed you were being too vulnerable? Or maybe you're too much. Alternatively, I would wager we've all been in a situation where we have felt uncomfortable with someone falling apart at our feet. Why is that?
This scenario played out in my mind a few mornings ago…
A woman was weeping in front of someone she trusted. She bore her soul. The trusted party uncomfortably responded with "I'm sorry, but you're being too vulnerable." The weeping woman countered, "Am I being too vulnerable, or are you uncomfortable with my vulnerability?" Because that's the question, friends. What does make some of us so uncomfortable with vulnerability?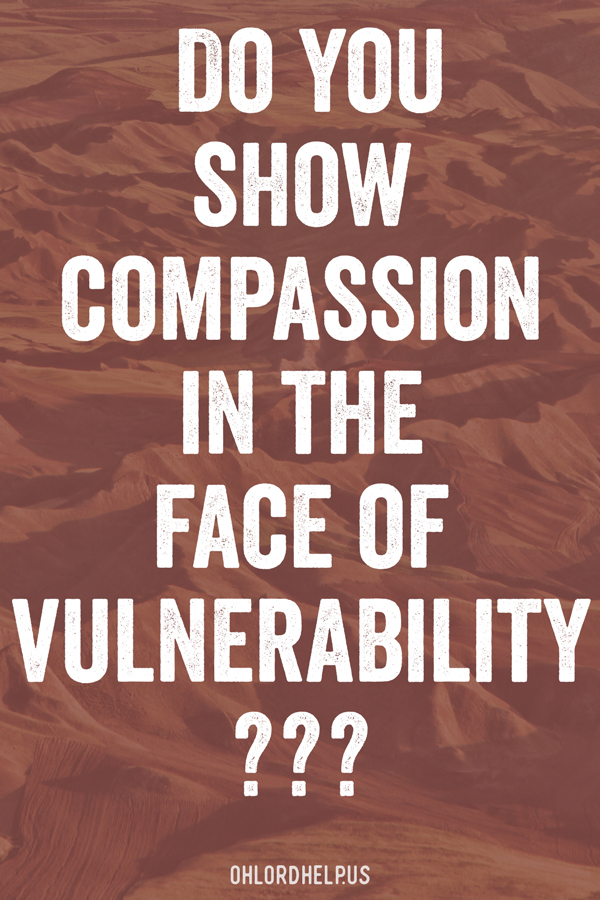 Sentiments
When I am tempted to critique someone else, I ask a few questions first. For example, when I think, "Why would they respond like that?" I ask, Well, why should they not? Does their vulnerability really affect me in a negative way? What if I were in that position? Would my reaction be similar to theirs?
In asking myself these questions I move into a position of empathy as opposed to that of a judge. And if I am uncomfortable with the depth of someone's heartache, for instance, that doesn't make their grief excessive. It indicates a lack of compassion in my heart.
Over the last few weeks, I've slowly been reading through the gospel of John. I must mention how greatly encouraged I am. The fact that, more than once, people sought to arrest Jesus but no one detained or laid a hand on him, "because his hour had not yet come" (John 7:30). Everything happens in the perfect timing of the King!
Then a couple of days ago I read John 11: the story of Lazarus. The chapter begins by giving the backstory. Lazarus is the brother of Mary and Martha. (Mary is the famous lady who doused Jesus' feet with her expensive perfume in the following chapter.) So, the sisters sent word to Jesus that their brother was seriously ill.
But when Jesus heard it he said, 'This illness does not lead to death. It is for the glory of God, so that the Son of God may be glorified through it.' Now Jesus loved Martha and her sister and Lazarus. So, when he heard that Lazarus was ill, he stayed two days longer in the place where he was.

John 11:4-6
Engaging
AGH! I love this. First, Jesus, being one with the Father, knew Lazarus' illness would not lead to him staying dead but would be the precursor to God revealing His awesomeness. Second, John penned the intimate detail that Jesus loved these three siblings. And third, when Jesus heard Lazarus was about to die, his response was to hang out where He was for another two days. WHAT?! Classic. Isn't that how it always seems to be? Our King waits past the point when we think He should show up. Then when He does, He knocks our socks off. Wait for it…
A couple of days go by then Jesus said it was time to go to Judea. He told the disciples Lazarus had fallen asleep, but He was going to wake him up. Judea was dangerous territory for Jesus because the Jews there wanted to stone Him.
The disciples tried to persuade Jesus away from going. They reasoned, if Lazarus was only sleeping, he would recuperate. At that point, Jesus bluntly told the disciples Lazarus was actually dead. When Jesus and the disciples arrived at Bethany in Judea, Lazarus had been in the tomb for four days. Martha heard Jesus was coming so she went out to meet Him.
Martha said to Jesus, 'Lord, if you had been here, my brother would not have died. But even now I know that whatever you ask from God, God will give you.' Jesus said to her, 'Your brother will rise again.'

John 11:21-23 [emphasis mine]
Responses
At first, it seems like Martha was accusing Jesus of not showing up. But in actuality, she acknowledged her thorough trust in God's ability to raise her brother from the dead. Martha's confidence affirmed the level of intimacy their family shared with Jesus like John said (John 11:5). She completely banked on Jesus being able to accomplish what concerned her. She knew Jesus could have healed Lazarus before he died. Yet now that he was already buried, she also trusted Lazarus would be raised again in the resurrection at the end of time.
After listening to the vulnerability in Martha's faith-filled plea, Jesus immediately assured her that Lazarus would be back. Not fully understanding, Martha thought He meant in the end times. Then she went to tell Mary Jesus was asking for her.
Now when Mary came to where Jesus was and saw him, she fell at his feet, saying to him, 'Lord, if you had been here, my brother would not have died.' When Jesus saw her weeping, and the Jews who had come with her also weeping, he was deeply moved in his spirit and greatly troubled.

John 11:32-33
Compassion
Jesus wasn't annoyed with Mary's dramatics. Her grief didn't cause Him to withdraw or cringe. He knew God was going to bring Lazarus back to life that very day. Yet Mary's weeping had an emotional impact on Jesus. He both knew the outcome and was able to be present with His grieving friend. Jesus had all the answers, but He was still deeply affected by Mary's agonizing sorrow.
And he said, 'Where have you laid him?' They said to him, 'Lord, come and see.' Jesus wept. So the Jews said, 'See how he loved him!'

John 11:34-36
Our Savior wept, shaken up by the mourning of His friend. Mary's vulnerability wasn't too much for Him. Jesus drew near. He was distraught for her. The tears He cried weren't quiet, gentle, or composed. The King of Kings ugly cried. And, He sprung into action. When I read this passage, my eyes fixed on Jesus wept.
I cried.
Vulnerability
My emotions sprung from gratitude that I belong to a gracious Savior who draws near. I also cried for the desire to be the kind of person people can fall apart to without feeling hopeless. I want to engage, believing with confidence that my God has got it. Jesus was totally affected by Mary's sorrow, but he wasn't overwhelmed by it. Why? Because He knew His Father's power. God has that same power today.
Jesus said to her, 'Did I not tell you that if you believed you would see the glory of God?' So they took away the stone. And Jesus lifted up his eyes and said, 'Father, I thank you that you have heard me. I knew that you always hear me, but I said this on account of the people standing around, that they may believe that you sent me.' When he had said these things, he cried out with a loud voice, 'Lazarus, come out.' The man who had died came out, his hands and feet bound with linen strips, and his face wrapped with a cloth.

John 11:40-44a
The Story's End
Jesus knew the end of the story all along. He wept anyway. We rarely know the outcome, if ever; but regardless, let us be moved with compassion when people show vulnerability. Then we can carry any weight of sorrow to the throne of God.
Blessed be the God and Father of our Lord Jesus Christ, the Father of mercies and God of all comfort, who comforts us in all our affliction, so that we may be able to comfort those who are in any affliction, with the comfort with which we ourselves are comforted by God. For as we share abundantly in Christ's sufferings, so through Christ we share abundantly in comfort too.

2 Corinthians 1:3-5
We rarely know the outcome of the story; but regardless, let us be moved with compassion when people show vulnerability. We can carry any weight of sorrow to the throne of God. Click To Tweet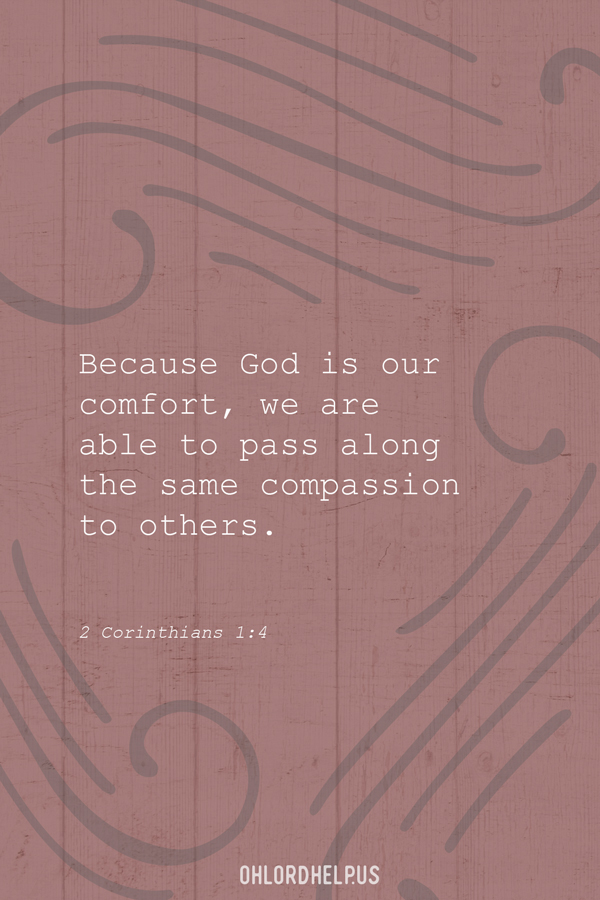 All scripture from the ESV Bible.