As we serve the Lord, we are called upon to do many small things. Only when He finds us faithful in these little things, will He entrust us with more. 
---
---
For who hath despised the day of small things? for they shall rejoice…

Zechariah 4:10
One recent morning, I found myself getting flustered. The night before, I had stayed up late making a costume for my daughter to wear for an activity at school. When it was time to don her getup, she refused to wear most of what I had made for her. Admittedly, this was a little thing. Yes, a very small thing indeed. Yet my response to her ungrateful reaction was to make it into a big thing.
Dressed as characters from their favorite books, my kiddos were off to school, and I was trying to settle into my morning. The alluring smell of brewing coffee and the sweet peace of quiet time with the Lord were beckoning me. But I was having trouble being still before the Lord. My thoughts were racing, my phone reminders were dinging, and my appliances were literally buzzing at me!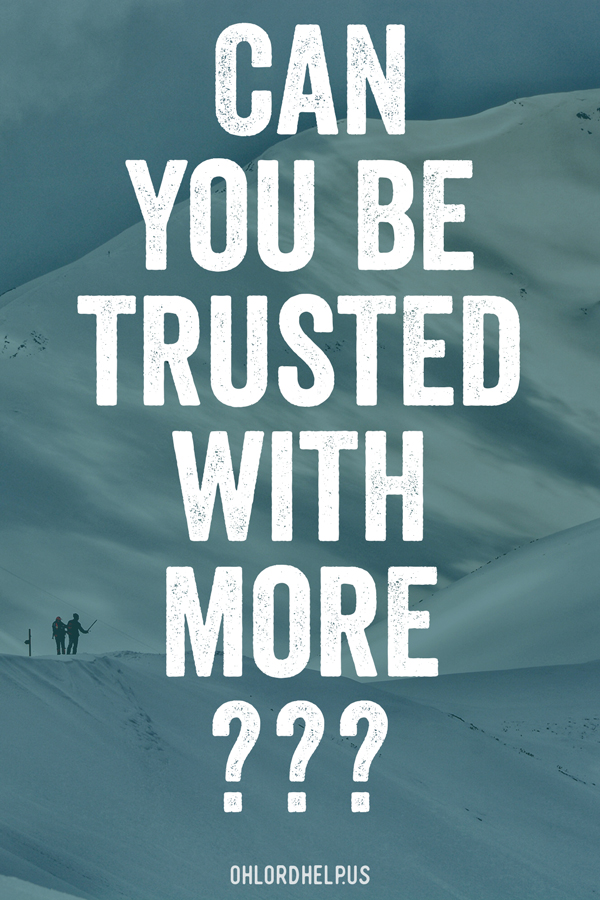 All. The. Little. Things.
Seems like most days, I never get to do what I really want to do because someone or something is demanding my time and energy. One moment it's my kids arguing. Another it's a friend in emotional crisis. Then it's the school recruiting field trip chaperones. My church asking me to serve. Or just all the little daily things like kids wanting a snack (every five minutes or so), laundry needing to be folded, the dog begging for a walk, or the dishwasher waiting to be emptied.
All. the. little. things…which add up to a BIG time commitment. Sound familiar? And I'm a stay at home mom. I can't even imagine trying to factor a full-time career into this equation. So how on earth can we manage to stay on top of all of these little things–commitments, needs, demands–and still have time and energy to tackle the big things that are truly life-giving?
Collecting Dust
A few years ago, when my kids were still a baby and a toddler, I was barely able to leave the house. Between the nursing, and the diapers, and the laundry, I felt extremely overwhelmed, isolated, and exhausted. I would cry out to the Lord for a time when I could do something that really mattered in this world.
Was I destined to only be a mom for the rest of my life and nothing more? My kids needed me, but I wanted to be used by the Lord in a greater way. I literally felt trapped by all the small things I had to do each day. I wanted to be used by the Lord, but I felt like I was stuck on a shelf collecting dust.
Greater Responsibility, Greater Sacrifice
As my kids have grown a little older, the Lord has begun to increase my responsibilities and expand my sphere of influence. Yet, here I am again. Finding myself in this place of resentment about all of the small demands on my time and energy. As if I should only have to offer myself to others in the ways that I selfishly want to use my gifts.
But the Lord is showing me that as my responsibility increases, so too does my level of sacrifice. And if I refuse to be faithful over the small responsibilities He entrusts to me, how can I ever expect to fully live out the greater purposes that He has planned for my life?
He that is faithful in that which is least is faithful also in much: and he that is unjust in the least is unjust also in much.

Luke 16:10
Case in point, if I haven't learned how to deal well with my own child's ungratefulness, how can He trust me with the hearts of strangers who are hurting? When someone is in crisis and receives ministry, many times s/he is glad to receive the help. But often the helper never hears a 'thank you' or receives any kind of acknowledgment for the sacrifice that she has made in ministering to that person.This is how the Lord teaches and trains us. In the little things.
If we refuse to be faithful over the small responsibilities He entrusts, how can we ever expect to fully live out the greater purposes that He has planned? Click To Tweet
His Watchful Eye
Beloved, we are under His loving and watchful eye at all times. And He is weighing our motives, examining our hearts to see how we are treating others. He's looking to see how we respond to all the little demands, and the big ones too.
For the eyes of the LORD run to and fro throughout the whole earth, to shew himself strong in the behalf of them whose heart is perfect toward him…

2 Chronicles 16:9
When His eyes fall on us, will He find us joyfully working in His vineyard? Will He see us sacrificing for others so that He is glorified? Or will He find us grumbling about all of our responsibilities? Or complaining about all the demands that others place on us? I want Him to find me faithful rather than flustered. Because ultimately, we are not just serving others. We are serving Jesus Christ.
And whatsoever ye do, do it heartily, as to the Lord, and not unto men; Knowing that of the Lord ye shall receive the reward of the inheritance: for ye serve the Lord Christ.

Colossians 3:23-24
More Like Christ
As we pour into others–even in the smallest ways–we need to recognize that it is actually Christ whom we are serving. When we serve Him, our ultimate concern is whether He is pleased with our efforts. This kind of relationship with Christ frees us from needing the gratitude or the approval of others. It makes us more like Christ, who gave of Himself, expecting nothing in return.
When Jesus walked the earth, He didn't just heal or deliver people when it was convenient for Him. He didn't do it in the quickest way possible so that He could get somewhere else–somewhere where His true gifts could really shine. No. He simply moved about the land, helping anyone and everyone who needed Him.
Jesus did not despise the small things He had to do. Rather, He knew that they were preparing Him for the ultimate sacrifice that He was called to make. After all of His earthly ministry was finished, He did the biggest thing that anyone has ever done. And in so doing, He made the greatest sacrifice that anyone has ever made. He died a brutal death on the cross at Calvary so that all men could be saved.
Big, Eternal Rewards
When we live and serve sacrificially, the results and the rewards are eternal. When our days are done, all that we have accomplished in the flesh–for worldly approval or gain–will be burnt up as chaff. But all that we have done as unto the Lord will not have been in vain. All the small things will bring big, eternal rewards.
Therefore, my beloved brethren, be ye steadfast, unmovable, always abounding in the work of the Lord, forasmuch as ye know that your labour is not in vain in the Lord.

1 Corinthians 15:58
For the Lord will have seen all of it. All the small things. All the big sacrifices. Our entire lives will be there before His throne. And beloved, if you are anything like me, you long to one day hear these words:
…Well done, thou good and faithful servant: thou hast been faithful over a few things, I will make thee ruler over many things: enter thou into the joy of thy lord.

Matthew 25:21
Have you struggled to serve the Lord in the small things? When you've worked as unto the Lord, have you felt His approval? What are the big things that you believe He will entrust you with when He finds you faithful?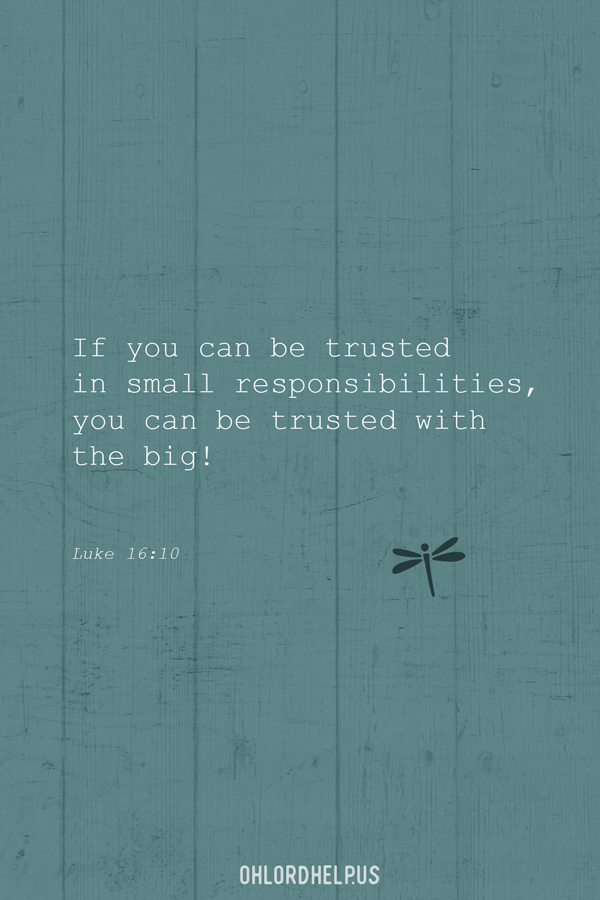 All scripture references are from the King James Version of The Bible.