There are many different times in life. During a season of suffering, it is important to remember that it is okay to not be okay, but we are called to rest in Jesus. 
---
---
Through the past year, I have had some of my lowest lows and some of my highest highs. I am currently, by the grace of God, in a season where everything seems to be going well. I am feeling more confident and am having a lot of good days. Because of that sometimes I forget that I am allowed to have bad days. I focus a lot on what "should be" instead of facing what is. We all go through different seasons of life but in every season we must hold tight to our Savior.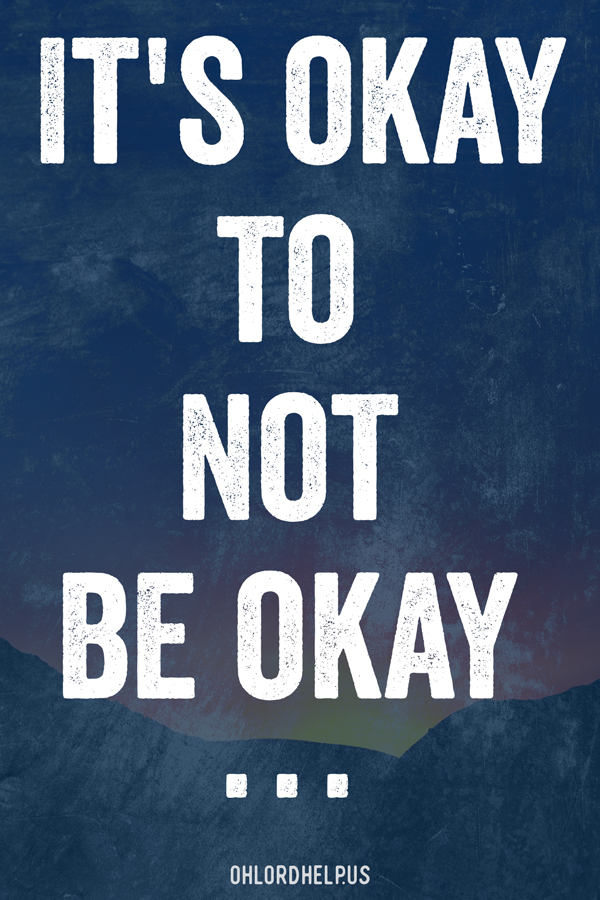 Having it all Together
Sometimes, as Christians, we tend to think that we have to have it all together. We are constantly bombarded with phrases that lead us to believe that we are not allowed to have bad days or to feel upset for a time. When we confide in people they usually respond with "just have faith" or "you just need to pick yourself up".
While this is all true, we also need to realize that there will be seasons of pain and times where we don't feel okay. And the truth of the matter is that it's okay to not be okay. The pain will fade and God will come through for us and bring relief.
After you have suffered for a little while, the God of all grace, the one who called you into his eternal glory in Christ Jesus, will himself restore, empower, strengthen, and establish you.

1 Peter 5:10, CEB
A Season for Everything
There truly is a season for everything, and that includes seasons of not 'okay'. Scripture clearly states that there is a time for crying and laughing and a time for mourning and dancing. Life happens in seasons. Sometimes that season is one of pain. We are allowed to feel pain and to not be "on" all of the time. At times we must rest in our suffering and our pain.
There's a season for everything and a time for every matter under the heavens:

a time for giving birth and a time for dying, a time for planting and a time for uprooting what was planted, a time for killing and a time for healing, a time for tearing down and a time for building up, a time for crying and a time for laughing, a time for mourning and a time for dancing, a time for throwing stones and a time for gathering stones, a time for embracing and a time for avoiding embraces, a time for searching and a time for losing a time for keeping and a time for throwing away, a time for tearing and a time for repairing, a time for keeping silent and a time for speaking, a time for loving and a time for hating, a time for war and a time for peace.

Ecclesiastes 3:1-8, CEB
Suffering
The Bible is clear that there are times where we will not be ok. The difference comes when we learn to give it to Jesus and learn to be ok again. We are not called to live a life without suffering but to give our suffering to our great God.
We can rejoice, too, when we run into problems and trials, for we know that they help us develop endurance. And endurance develops strength of character, and character strengthens our confident hope of salvation. And this hope will not lead to disappointment. For we know how dearly God loves us, because he has given us the Holy Spirit to fill our hearts with his love.

Romans 5:3-5, NLT
We can rejoice when we run into problems and trials. Some other versions say that we can rejoice in suffering. When we generally think of trials or suffering the word rejoice does not come to mind. But, it is clear that we all go through suffering and that it happens for a reason…
That reason is hope. Suffering will also ultimately develop hope. A hope that will never let us down. A hope that can only come when we give everything over to Jesus. Jesus died so that we do not suffer alone.
He took the punishment for our sin. He suffered so that we can trust in Him. Jesus knows first hand what it is like to not be ok. We have a confidant, a supporter through all of life's trials. This is the hope we need in order to see the good in our suffering. To learn to rest in it.
Suffering will ultimately develop a hope that will never let us down. A hope that can only come when we give everything over to Jesus. He died so we do not suffer alone. Click To Tweet
Suffering with Each Other
When others are suffering, we are called to stand with them. We need to help them. We need to be a safe place for people to be able to talk about what they are going through. It is important that we give people permission to not be okay. There are times when people are looking for help solving a problem and times when they just need someone to listen to them. As believers, we are called to do these things.
Carry each other's burdens, and in this way you will fulfill the law of Christ.

Galatians 6:2, NIV
Carry each other's burdens. This is what scripture implores us to do. Part of loving one another is carrying each other's burdens. When we are in times of pain and suffering, having someone carry the burden with you can change everything.
God did not create us to go through life by ourselves. When we are in times of turmoil it is important to seek Godly counsel and support. When we are the ones giving the support, we must do so in a way that is helpful, loving, and honest.
Joy Comes in the Morning
It is truly okay to not be okay for a season. We all have days or weeks or even months of not being okay. The difference comes when we give our pain over to God and learn to rest in Him. We may have bad days, but we can have confidence that we will be okay again… the sun will rise.
For his anger lasts only a brief moment, and his good favor restores one's life. One may experience sorrow during the night, but joy arrives in the morning.

Psalm 30:5, NET