There are days we allow shame to take over our minds. We must remember that through Christ we are made new, our sin has no hold over us, we are redeemed. 
---
---
It's no wonder winter brings so much sorrow. It's downright ugly outside…most days. Winter has a way of isolating us. Or is it hibernation? There are days it's hard to get out of bed. Days where past transgressions flood our minds and paralyze our ability to push through.
I believe, there's a direct correlation between the grayness of the sky and how much pain we allow in.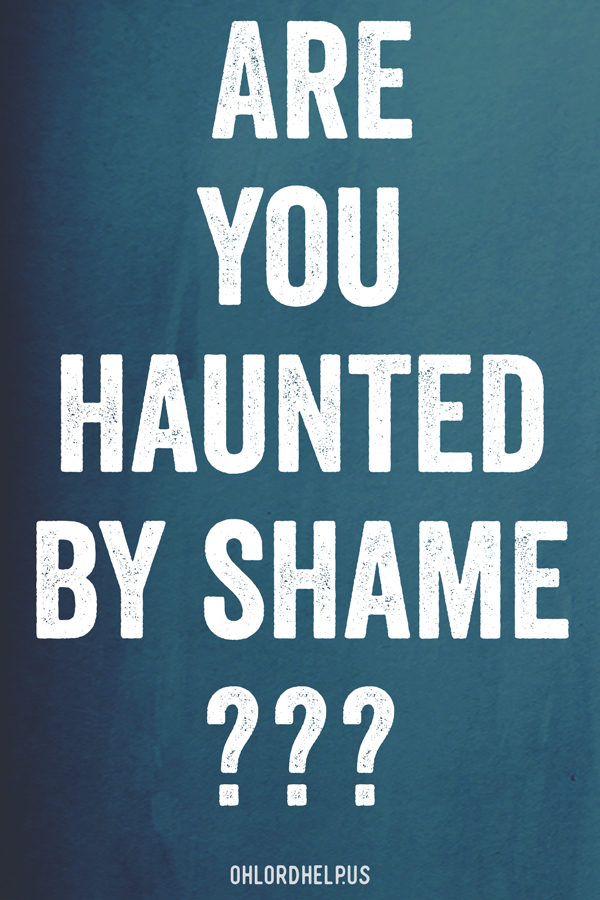 Haunted
Days like these truly haunt me. Yes, I do love the occasional rainy, snuggly day. But, a whole season of gray really does a work on my mind.
It takes strength to push down the enemy and his lies. Moreover, it takes strength to ask the Lord to be your strength. It's just easier to wallow in loathing. To toss and turn in the mixture of mud and pure white snow…muck.
That's just what we do. We take the new, clean slate the Lord paid the ultimate price for, and roll it through the slopping mess that is sin and shame. Every time I allow the past to rule my present, I take my tiny human hand and smack my Savior right in His blood-soaked face. Soaked from the thorns and nails meant for me.
It's important for me to make this image strong and unforgettable because my deep, dark sin seems to be strong and unforgettable. An unrelenting force, pushing its way to the surface of my being; begging and pleading for the acknowledgment of my darkness.
Remember how wretched you are!? Relive all that darkness; dwell on it. Nail it into your memory! May you NEVER forget how pathetically weak you truly are. 
Surrender
I can't imagine what my life would look like if I surrendered every day to these hauntings. If I didn't have the anchor of Jesus. I understand self-harm and suicide so clearly. It's the absence of hope, the inability to overcome the ghosts, torture the mind cannot endure.
In the depths, the pits, when we have come to the end of ourselves, and truly don't know what to do next, surrender is our only option. Who we surrender to is the question…
Will we surrender to the one who wishes to devour our souls? The one who never forgets our sins and wants nothing more than to destroy us…
Or, will we surrender to the only One who can truly save us? The One who forgets all our filthy, wretched crimes and covers us with His love…
The answer seems easy, but in the midst of battle, it can be hard to tell up from down, light from dark…
Light
Yes, I understand how heavy and dark these words have gotten. But, it's in this darkness God shines the brightest. (Sorry to get cliche on you…but also not sorry.) Think about it. God cannot outshine Himself, nor can He be the darkness. So in the darkness, He shines brightest and in the light of life, He is.
Okay, I'll take my philosophical cap off and talk real talk…
When we decide to surrender to the One, Jesus, it allows us to see His brilliance clearly. His light bursts through, piercing the depths and disintegrating the blackness. When we choose to surrender every day, not just in the depths, we see His light in everything!
New
EVERY DAY I have to drag my sin and shame to the feet of Jesus. I demand it to stare my Savior in the face…
"Look at HIM! Look at His sacrifice on my behalf. You have no power here. You will not shadow His sacrifice in order to ridicule me. Nor will you reduce me to trash. I've been beautifully purchased through the blood of Jesus. You are forgotten. I am redeemed. I am new."
This means that anyone who belongs to Christ has become a new person. The old life is gone; a new life has begun! And all of this is a gift from God, who brought us back to himself through Christ. And God has given us this task of reconciling people to him.

2 Corinthians 5:17-18, NLT
Think about this verse… really dwell on it…
but God shows his love for us in that while we were still sinners, Christ died for us.

Romans 5:8, ESV
That means He became our sacrifice even though we are wretched. He died on our behalf even though we are disobedient. He took our place even though we continue to sin, and sin again.
EVERY DAY we must drag our shame to the feet of Jesus. We must demand it to stare our Savior in the face... Click To Tweet
Psalm 51
When my disgrace pushes it's way to the surface, I try my best to remember I'm not alone. I'm living in a world full of people with sin. Those who have lived before me, aren't blameless either. Case and point, David…
When I read Psalm 51, I remember just how sinful we can fall. But also, just how much we are in need of salvation. Psalm 51 was penned after David's dealings with Bathsheba… if you don't know how ugly this part of David's life is, read 2 Samuel 11. You'll understand why this Psalm is so powerful.
Sisters, when our sin "haunts us day and night" (Psalm 51:3), may we recognize the price Jesus paid… We are "washed whiter than snow" (Psalm 51:7) through His blood.