Sometimes we feel foolish when we veer away from the path that the world prescribes for our lives, but choosing to live out our calling is not foolishness. 
---
---
Years ago when I was in college, my mom gave me some sage advice. But at the time, I considered it foolishness. It was Thanksgiving break, and I had driven out to her little, off-the-grid homestead for a few days. During our visit, I basically spewed out all of my stress and anxiety about all of the school work that I had to do.
That following week, I would be taking the GRE (Graduate Record Examination), a challenging standardized exam required for graduate school admission. In addition to my GRE prep, a mountain of papers, presentations, group projects, and final exams loomed large on the horizon. Gripped by stress and fear, I could barely function, much less actually enjoy the holiday…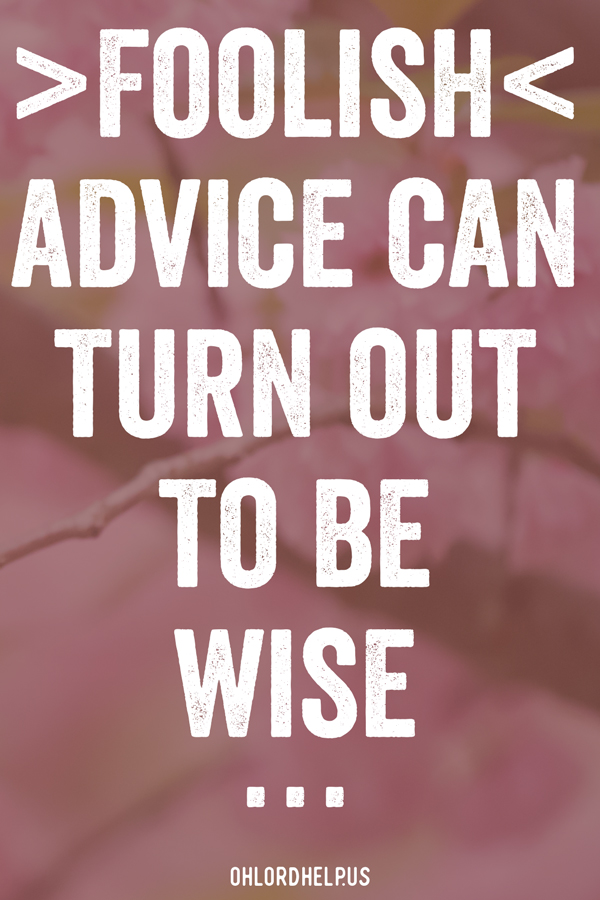 College Nonsense
On my last evening at Mom's, she offered me some warm mulled wine to calm my nerves and settle my stomach. Sipping the hot, sweet concoction, I sat on a sheep's fleece in front of a crackling fire in the fireplace. As I futilely attempted to practice my GRE vocabulary flash cards, I felt the strong brew hit my belly.
Just as I was beginning to feel tipsy and a little sleepy, Mom stood directly in front of me, leaned over, and stared me right in the eyes. With her typical dramatic flair, she emphatically stated:
Hopey, you need to quit school and go be a singer. You've gotta stop all this college nonsense and do what the Lord put you on this earth to do. Hopey, you have to sing!
Mom's stark statement shocked me out of my sleepy stupor. Her words struck a chord inside of me because somewhere deep down, I knew that they were true. But at the time, I could not receive what she was telling me.
But the natural man receiveth not the things of the Spirit of God: for they are foolishness unto him: neither can he know them, because they are spiritually discerned.

1 Corinthians 2:14
Utter Foolishness
Rather than allowing myself to seriously consider her advice, as a means of self-protection, I took offense. I told Mom what an idiotic statement she had just made. Utter foolishness. Most likely I spouted off some comment like, "Yeah Mom, why don't I just drop out of college, forget about graduate school, and go on the road and start busking for a living?! Sounds like a great idea. Really smart. I'll be sure to get right on that."
The next morning, as I drove the winding, hilly highway back to campus, I tried to shake the feeling that I was caving. Retreating back to the safety of the ivory tower. Back to the secure halls of higher education where Mom's silly notion of pursuing my true passion was relegated to the annals of foolishness. I had organized my life in such a way that my education would be my ticket to success. Financial freedom and prestige were my goals. But all of the worldly ambitions I was clamoring for were drowning out the still, small voice of truth that simply said, "Sing".
But God hath chosen the foolish things of the world to confound the wise; and God hath chosen the weak things of the world to confound the things which are mighty.

1 Corinthians 1:27
Her Foolhardy Dream
I comforted myself with the thought that, in her younger years, Mom had been a first class fool herself. A few credits shy of earning her Master's degree in Music Education from the prestigious Indiana University School of Music, she had run off to New York City to chase her foolhardy dream of singing on Broadway. Mom never actually made it to Broadway, but she did land a number of leading roles in Off-Broadway productions.
One time she told me that she had played the role of Eliza Doolittle in the Off-Broadway version of My Fair Lady. For those performances, she got to wear all of Julie Andrews' costumes from the Broadway show. Another time she mentioned making $5000 in a single day for acting in a nationally syndicated Huggies commercial.
I had always been curious about Mom's former life in the entertainment industry, but whenever I pried about her experience, she would sidestep the conversation. Mom had categorically written off those years as her foolish and sinful past. And she claimed that when she had been born again, she had died to all of that. Ultimately, she regarded her years in show business the same way that Paul describes his life before Christ:
Yea doubtless, and I count all things but loss for the excellency of the knowledge of Christ Jesus my Lord: for whom I have suffered the loss of all things, and do count them but dung, that I may win Christ.

Philippians 3:8
A Dead End
Fast forward a decade from that Thanksgiving visit, and I then had both a Bachelors and a Masters degree under my belt. I was establishing my career, climbing the supposedly sturdy ladder of professional success. That is, until the Lord–in His infinite grace, mercy, and wisdom–allowed me to hit a dead end. It came in the form of severe depression, crippling anxiety, and unshakable thoughts of suicide. Somewhere deep down inside, Mom's foolish advice was still reverberating. I knew I was not living out my calling, but I had no idea how to change course. I wanted to end my life.
When I finally hit that wall, I was crying out to the Lord to show me my purpose on this earth or else… And to my utter shock, the Holy Spirit actually answered me very directly! In a profound encounter, He reminded me of who I've always been to Him: His songbird.
Today I believe that–despite how it might look to the outside world–the Lord is leading and guiding me in the way that He wants me to go. And I'm learning to follow His lead. I don't have aspirations of singing on Broadway, but I am learning how to sing to the Lord. How to worship Him in spirit and in truth. And He has given me so many original songs that have carried me through difficult seasons that I would not have made it out of on my own. And He's showing me opportunities to share those songs with others who are hurting in their own journeys.
Even If You Feel Foolish
Beloved, if the world were to inspect the trajectory of your life–your career, your relationships, all the choices you've made–are there some twists and turns that might look foolish? If so, you're likely on the right path! When sheer worldly wisdom is applied to the life of a true believer, there should be a great deal of the picture that does not overlap. Because on the face of it, certain steps of faith appear like foolishness to the carnal, natural mind. And more often than not, worldly wisdom does not apply to the path of faith that the Lord calls us to walk.
It's taken many years, but I'm finally coming to appreciate the simple wisdom in what Mom was trying to tell me: Follow your dream. Pursue your passion. Don't get bogged down in all of the pressures and anxiety that the world tries to heap on you. Don't do what you're supposed to do. Do what makes you come alive. Do what you know you are called to do. Whether it's singing, painting, cooking, teaching, running, writing, serving, inventing… Whatever you know deep down that you were put here to do, do that! And this kind of advice is not foolish; it is life-giving. Despite what worldly wisdom recommends, above all else, follow and trust God with your life. Even if at times it feels crazy. Even if you feel foolish. Do what He has called you to do.
Because the foolishness of God is wiser than men; and the weakness of God is stronger than men.

1 Corinthians 1:25
Have you ever taken some "foolish" advice that turned out to be wisdom?
Certain steps of faith appear like foolishness to the carnal, natural mind. And more often than not, worldly wisdom does not apply to the path of faith that the Lord calls us to walk. Click To Tweet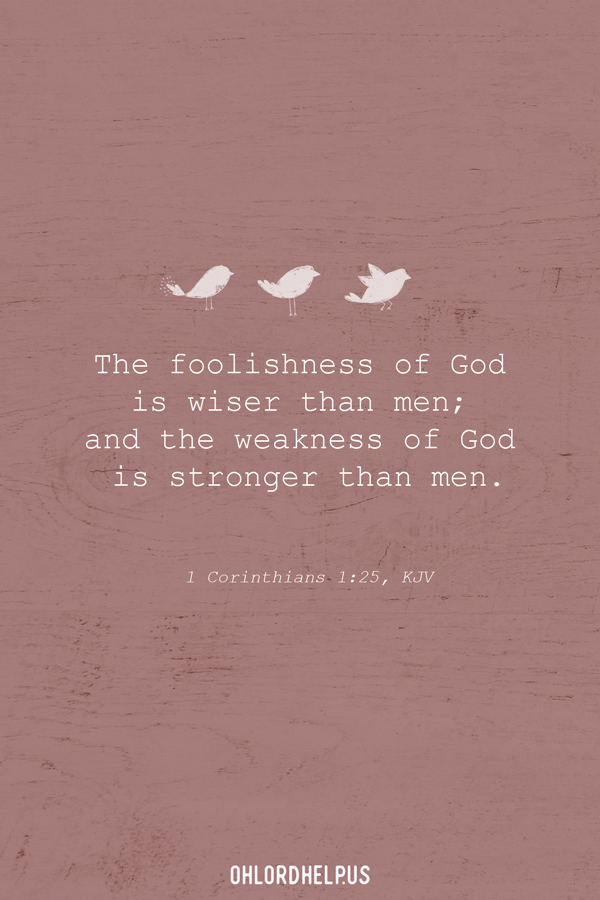 All scripture references from the King James Version of The Bible.