Knowledge can be powerful, but to what end? Understanding may bring advancement, yet at times those tidbits of information leave us wishing we could un-know it. 
---
---
Recently I read a case study about a woman who struggled with paralyzing fear. Both she and her fiancee were followers of Christ, but her betrothed had been sexually immoral before he became a Christian. She was concerned about STDs so they both underwent testing. He came back clean, but she learned she would have difficulty conceiving children. That knowledge sent her spiraling into a deep depression. She went from one fear to another based on the information she received.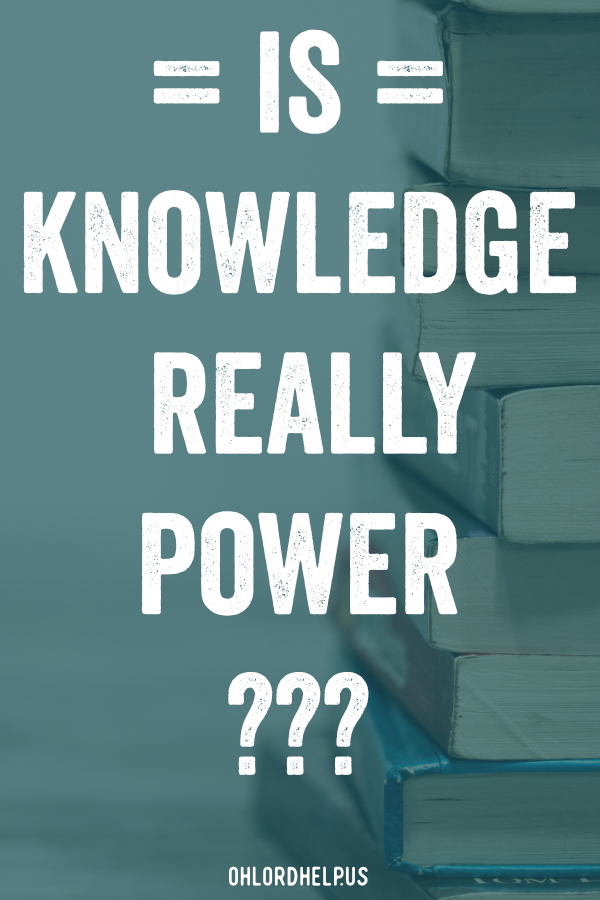 Ignorance is Bliss
On my way to the auto shop the same day I read the case study, I was keenly aware of the thin tread and unwelcome screw lodged in my back driver-side tire. Wincing each time I hit a bump, I tried to navigate the winter roadways with the expertise of a racecar driver.
Then it donned on me: A week ago I had no idea my vehicle was less than safe to drive so I drove around town without worry. God was just as faithful to get me from A to B, but like the woman I read about, I did not experience any anxiety until I had knowledge of the incapacity. There are definite perks to not knowing some things. Once known, what can we do with it?
Teach me to do your will, for you are my God; may your good Spirit lead me on level ground. For your name's sake, O LORD, preserve my life; in your righteousness, bring me out of trouble.

Psalm 143:10-11, NIV
Knowledge is Power?
In the beginning, Adam and Eve knew only goodness and purity. There was not one iota of doubt, fear, or anxiety. They trusted God completely, loved one another fully, and enjoyed creation without hindrance. Their only need was God's presence. Then an opportunity arose.
Now the serpent was more crafty than any other beast of the field that the Lord God had made. He said to the woman, "Did God actually say, 'You shall not eat of any tree in the garden'?"

Genesis 3:1, ESV
Eve responded by quoting what God told her and Adam, saying God had commanded them not to eat the fruit of the tree in the middle of the garden — not even touch it — or they would die. Then the serpent offered a different viewpoint. He fed her more information than she had to begin with.
But the serpent said to the woman, 'You will not surely die. For God knows that when you eat of it your eyes will be opened, and you will be like God, knowing good and evil.'

Genesis 3:4-5, ESV
FOMO
Eve likely thought what all of us have undoubtedly considered at one time or another: What if God is holding out on me? Are you familiar with this acronym — FOMO? It means fear of missing out. Eve had a choice in that moment… Trust her Maker or pursue selfish curiosity. God had given her and Adam one no in an entire world of yeses. "You must not eat from the tree of the knowledge of good and evil."
So of course, being the children that they were, that's exactly what they did…Instead of embracing God's good gifts, the man and woman doubted God's generosity toward them. Doubted that an entire world of goodness was enough. Instead, they turned their eyes to the one thing that had been withheld…As much as the man and woman clearly defied God's boundary, they also rejected everything He had already provided for them. They saw all that He offered them and decided that it was not good enough. And in doing so they turned from His goodness to seek goodness elsewhere. But all they discovered was evil.

Hannah Anderson, All That's Good
It's Simple
I want to be clear: knowledge is not evil. Pursuing education, practicing memorization, reading, and studying can be positive avenues to gain wisdom. But let the pursuit of knowledge have the purpose of conforming us more and more into Christ-likeness. And as a friend shared with me, it's okay to be simple…
God will give us the understanding we need when we need it.
The unfolding of your words give light; it imparts understanding to the simple.

Psalm 119:130, ESV
Some knowledge strikes fear in our hearts.
There is no fear in love, but perfect love casts out fear. For fear has to do with punishment, and whoever fears has not been perfected in love.

1 John 4:18, ESV
This verse is not meant to shame, but to encourage us. Pray to be perfected in love!
Some knowledge plants pride in our hearts.
This is what the LORD says: 'The wise person should not boast in his wisdom; the strong should not boast in his strength; the wealthy should not boast in his wealth. But the one who boasts should boast in this: that he understands and knows me — that I am the LORD, showing faithful love, justice, and righteousness on the earth, for I delight in these things.' This is the LORD's declaration.

Jeremiah 9:23-24, CSB
Revealed
We can never exhaust our knowledge of God. He faithfully reveals His character through His Word, His people, and through His creation. He knows all things, and as a result of His overflowing delight, He has given us the gift of His Spirit to preserve and grow us into His likeness.
Now God has revealed these things to us by the Spirit, since the Spirit searches everything, even the depths of God[…] Now we have not received the spirit of the world, but the Spirit who comes from God, so that we may understand what has been freely given to us by God.

1 Corinthians 2:10, 12, CSB
Sisters, may we trust what has been freely given and revealed to us, and only ever seek the knowledge that draws us closer to Christ.
We can never exhaust our knowledge of God. He faithfully reveals His character through His Word, His people, and through His creation. Click To Tweet