The holiday season can quickly bring up old wounds and resentments within us that cause pain or anger. Leaving the past behind enables us to love freely. 
---
---
Most of us have spent the first of America's two major holidays of the year with members of our extended family. For various reasons, many of these family members are so out of our daily orbit that we only see them once or twice a year.
This could be a happy thing or an annoying thing. It depends on whether we're talking about the favorite cousin with whom you had a blast when you were young, (yay!), or the rude uncle who always teased you until you cried and then laughed at you, (boo!). I imagine few of us have only Hallmark memories of the holiday season, but for those of you who do, I salute you. This piece may not be for you.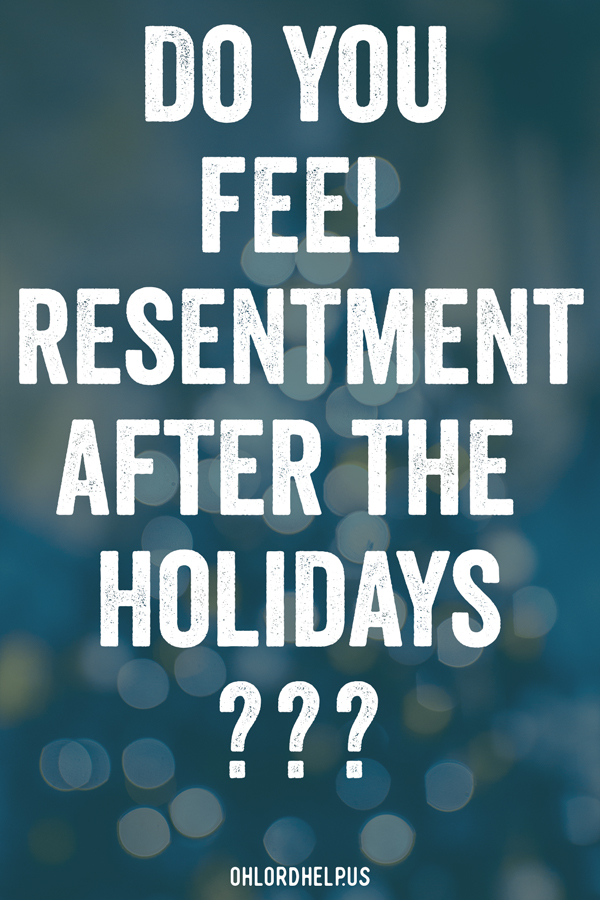 Expectations
Any therapist will tell you that depression and anxiety are higher around the holiday season. Sometimes it's due to this being the first major holiday without a loved one (or the 10th), but very often it is due to family relationships and expectations, whether our own or what we perceive others have placed upon us.
Family systems therapists will tell us that unless we have differentiated from our family of origin, we can't go home without being pulled back into the role we played within our family. I know; it stinks. But if you haven't recognized it, you will.
The same, old resentments seem to resurface when the family gathers for any length of time – often for reasons that aren't immediately clear. Siblings begin behaving in familiar, juvenile ways they would never exhibit with anyone outside of the family circle. Underlying tension can be felt by all. Anxiety hums beneath the piety. Maybe some false good cheer.
Triggers
The felt tension or anxiety may trigger excess drinking for some families. It could also cause mom to amp up the superficial happiness as she attempts to please everyone and keep the peace. These coping mechanisms numb the pain and eliminate the need to address any uncomfortable topics. Family members with less patience or tolerance, (or perhaps more emotional health,) start to exit, sometimes angrily, sometimes in tears, always with relief…
Another happy holiday is behind us!
Haven't we all laughed – or cried – at the numerous holiday movies that portray these very scenarios?
Resentment
Psychologically, there is so much more that can be said concerning this topic. I spent 20 years living the above. Then, I thought if I studied it and understood it rationally, I could master the resentment and bitterness that had welled up within me. Despite my Bible knowledge, despite my growing academic knowledge, every year, every holiday I was gobsmacked yet again by the very same family dynamics that had entrapped me the year before!
Finally, after a professor recommended it, I sought therapy. Accompanied by prayer and spiritual retreats, and by God's grace and mercy, God revealed to me how I had held on to all the pain – every. single. year. of pain. Doing so had not only deeply burdened me, but had laden me down with unforgiveness toward my family. I was so busy storing up the injustices, the barbs and ongoing criticisms, the substance abuse, that I was incapable of loving them with the love of Christ.
Do not remember the former things, nor consider the things of old.

Behold, I will do a new thing, now it shall spring forth; shall you not know it? I will even make a road in the wilderness and rivers in the desert.

Isaiah 43:18-19, NKJV
Free
The Spirit of God released me from my heavy load of pain and unforgiveness, instructing me to not dwell on the past. Believe me when I say that it wasn't a once-for-all occurrence for me. It happens that way for some but was a slow sanctification process for me. However, the God who could make rivers in a desert, could and did deliver me from my sin and my past that had strangled me.
Not that I have already attained, or am already perfected; but I press on, that I may lay hold of that for which Christ Jesus has also laid hold of me.

Brethren, I do not count myself to have apprehended; but one thing I do, forgetting those things which are behind and reaching forward to those things which are ahead,

I press toward the goal for the prize of the upward call of God in Christ Jesus.

Philippians 3:12-14, NKJV
Sisters lay it down. Aren't you tired?
Whatever it is that you have been dragging around behind you, that deep sorrow in your soul for so many years; put it in Jesus' hands. It's wearisome to continue to carry it around. God's Spirit may instruct you to take additional steps; I don't know. But I do know that clinging tenaciously to past wrongs is death to us. By His grace and power, choose to leave it in the past and press on toward the prize, the upward call of God in Christ.
You are so worth it…because you are His.
Whatever it is that you have been dragging around behind you, that deep sorrow in your soul for so many years; put it in Jesus' hands. Click To Tweet