It can be easy to believe that hearing God's word at church is enough. But God allows us to draw near to Him. We can experience His presence for ourselves.
---
---
Food
Food. Glorious food. It is something we cannot live without. When my babies were young, they depended on me to feed them. First through nursing and then with spoons and sippy cups. It was hard work. I relished the day that they were on full-time solids and could use a spoon to feed themselves or even eat with their own chubby fingers. It felt like I too had attained a small amount of freedom.
What food is to the physical body, God's word is to the spiritual. We are made to be sustained by His presence and His word. When my husband and I were in seminary, I attended courses to prepare me for a life of serving alongside my husband in ministry. One class stayed with me long after those days were gone. It was a class on studying the Bible. I will never forget Virginia Walker's words as she instructed us to remain self-feeders. I did not know that then, but I would come back to these words again and again.
Consequently, he is able to save to the uttermost those who draw near to God through him, since he always lives to make intercession for them.

Hebrews 7:25, NIV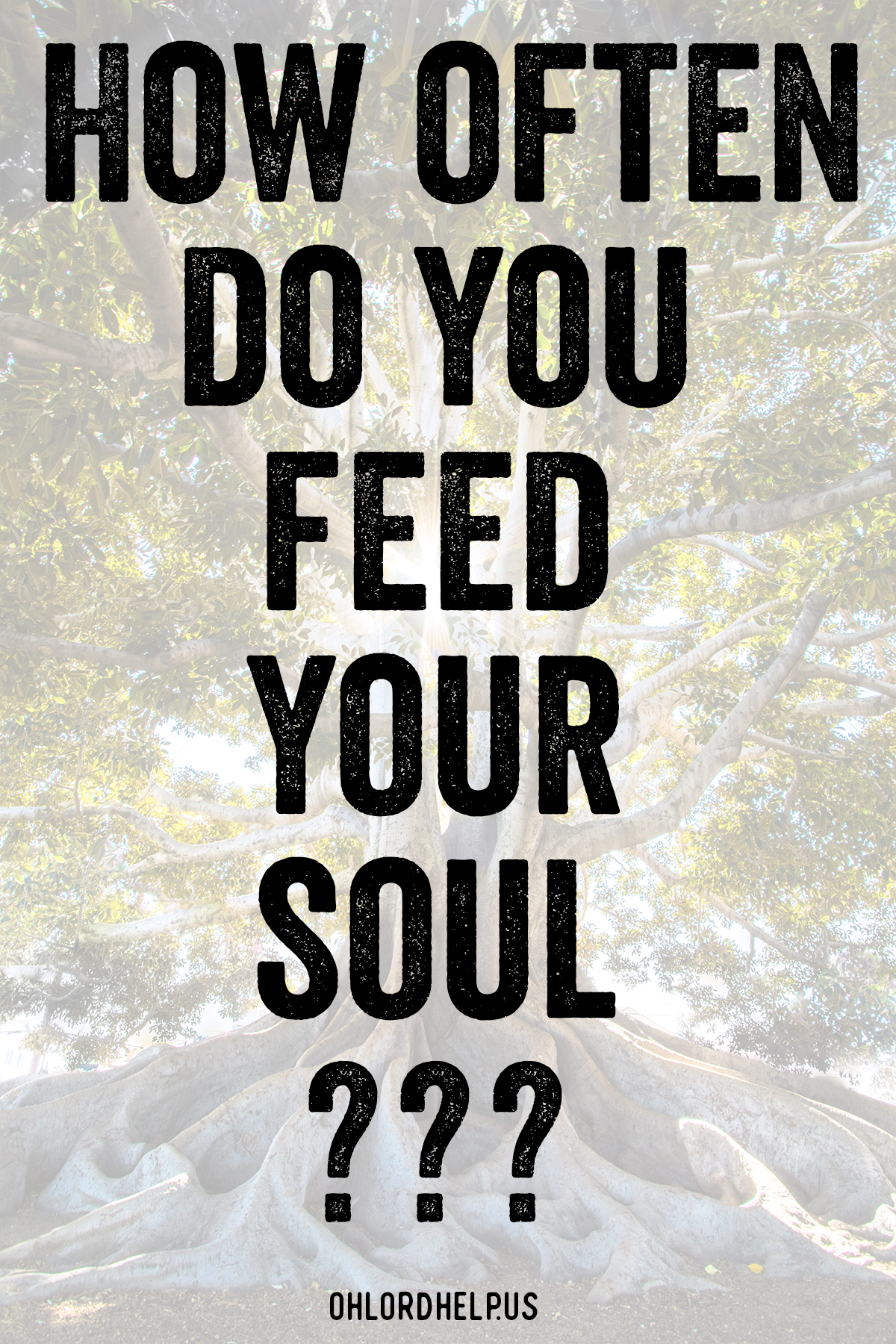 Filled
What does it mean to be a self-feeder? It means that there will be times over and over when we must be responsible for drawing ourselves near to God. This has proven to be true for me in a variety of seasons. When we were at our first church serving, I was pouring into other women and feeling worn out. I had to be in the word not just to study, but to recharge.
When my children were little, I spent most of my days tending to their schooling needs, their physical needs, and the cleaning of my home. I could not depend on the once-weekly sermon to fill my empty well. I had to go and drink from living water, daily. Drink in its truths over and over.
We cannot depend on the once-weekly sermon to fill our empty wells. We have to drink from living water, daily. Drink in God's truth over and over. Click To Tweet
His Perspective
Now, I am in a different season. I am unable to attend church and hear my elders preach. I have thought about those bedridden through age and illness. There is never a time when we are not in need of His hope, His kindness, or His Spirit. His word is rich with all of these. As I study His word for myself, I am encouraged. I can see life from His perspective. A perspective that is vastly different from my own.
I have found a few things helpful as I consider being a self-feeder…
1. I need both… My time in the word is a complement to my time in the church.
2. Community… It can be helpful to study with another believer especially someone of a different age or season. But, I cannot let that be an excuse to not be in the word.
3. Memorizing… Memorizing chunks of scripture can be life changing and is always time well spent. His word never returns void.
4. Trusting… Just like everything else, I cannot trust my feelings as an indicator that my study matters. If I went for days without food, my body would be affected. So is my spirit. Studying God's word is a discipline that may feel dry at times. Trust that time in His word will…
…teach, reprove, and train in righteousness, that the man of God may be  equipped for every good work,

2 Timothy 3:16-17, NIV
Draw Near
Draw near to God, and he will draw near to you.

James 4:8a, NIV
Some days, I am fed deeply by my pastors and other believers. They encourage me, but nothing can take the place of deep time in His word and in His presence. He calls us to Himself.
Let me encourage you to look at your own time in the word. Not as a source of condemnation or another rule to keep. But as an opportunity to relish in His presence and draw near to Him. God's presence is no longer just for the priest or the pastor. He is for us. He is here for you. Draw near.