Not all of our offenses result in punishment. Sometimes we receive mercy instead. When we experience grace and mercy, we can extend it to others. 
---
---
It never fails. Something catastrophic always happens when my husband leaves town, and he leaves town kinda frequently. Hmm… Maybe it's not when he leaves town. Maybe it's just all the time. Or maybe I'm being a bit dramatic. Nah. That couldn't possibly be it. This was definitely catastrophic, and it was when my husband was gone. Therefore, one must naturally conclude that this is just how it is.
I wish I could change the names in this story in order to protect the innocent, but that is not possible since it's about my oldest son and myself. That poor child. Actually, my heart has a special affection for all oldest children. Truly. And this is coming from a youngest child. So, since I cannot hide the characters in this story, I shall hide the offense. It is, after all, his testimony to tell when he is ready to do so.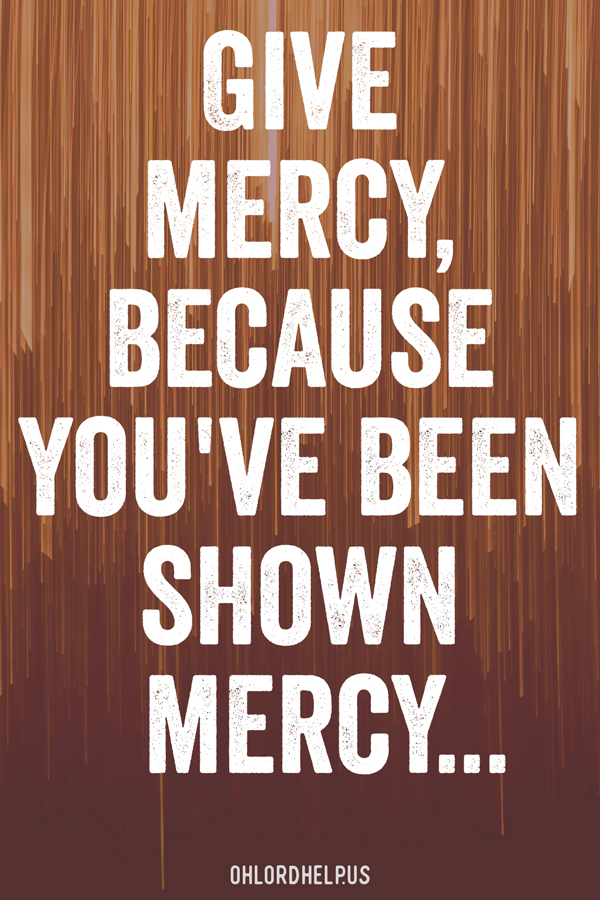 The offense…
We were cleaning up dinner on the fifth and final night that my husband was gone. My oldest son, out of the blue, began to make a sound that was a mix between a moan and a squeal. I had no idea what was happening. "Talk to me! What is wrong??" He replies with, "There'll never be a good time to tell you, so…" And he proceeds to tell me about a sneaky thing he had been doing.
In that moment, the Holy Spirit took over my body. That is the only way to explain my response. My typical response is to express anger, raise my voice, and flail my arms. Honesty here. I'm a yeller. However, in this moment of him confessing, I simply began to weep.
This is not, I believe, the response he was expecting, but it was the response that allowed him the freedom to continue. Oh yes, continue he did. The depth of the offense was revealing itself, and with each new level, more tears were flowing.
The forgiveness…
When we finally came to the bottom of the pit he was in, I told him he needed to ask God for forgiveness. "I did," he said. Ok, good. Then I say with a shaky voice, "You need to ask for forgiveness from me."
He sat there, sobbing, breathing hard, for several moments. I could see the battle brewing within him; the struggle of pride versus humility. I did not rush him. This is a battle that is hard to fight through, and no one else can fight it. On this day, humility won out. "I'm so sorry."
"And I forgive you," came my immediate reply. But it was his response that will forever be etched in my heart: "But I don't deserve it." Reliving it, right now, in this moment, I can just start sobbing all over again. I pulled him into my arms and said, "Oh baby, none of us do. That is the point."
The need…
My son is a good kid. He mostly does the right thing. He is kind and compassionate. The problem with being a good kid is that: a) they think they are always a good kid and become arrogant, and b) no, wait… "a" pretty much covers it. Arrogance leads to thinking we don't need forgiveness. And if we don't need forgiveness, then we don't need Christ.
Even though my heart was broken that night, I was also rejoicing. Now, he understands his need for forgiveness, and what a gift grace and mercy are. He also knows (because the Holy Spirit took over my body and made me respond calmly – seriously, I take no credit here) that he can come to us and we will love him through whatever mess he is in. We are not accepting the mess, but we are accepting him.
My offense…
Oh, how I wish I could just share this story about my son and wrap it up with a nice little bow. But that wouldn't be real. That would be me putting pretty packaging on a pile of poo. Sorry, if that's too graphic, but that is how I felt a few weeks ago. Like a pile of poo.
It was, you got it… when my husband was out of town (I mean seriously, this is starting to become an issue). My neighborhood had just experienced a great tragedy, and I was a little neurotic with wanting to make sure everyone I love was safe. So when I couldn't find my boys one night, I went berserk. Crazy. Nut-so.
I calmly walked up the street to the house they had been playing at; they weren't there. Next, I blew the whistle (it's this super loud one my husband uses to call the boys home – I hate it and only use it if I have to); they didn't respond. I looked in the backyard, came inside; no sign of them. Then I walked to the other end of the street; not there either. It was officially time to panic.
Breathing deeply, I came in the house preparing to call all my neighbors, only to notice their shoes sitting by the back door. What. The. Heck. I yell their names, and they respond, "Yes ma'am??" Oh no! Don't you go being all polite and good, I'm about to go ballistic!
My forgiveness…
No sense it airing out the full stink of my poo, so let's just say I did not handle the fact that my kids were fine after I thought they had been abducted, in a rejoiceful way. We all sat hugging and crying for quite some time. I never have to worry about my kids thinking I'm perfect. Many times I have shown them how to ask for forgiveness with teaching by example. Sigh.
As my boys were getting into bed, I reminded my oldest (that dear dear child) of when he expressed to me that he did not deserve my forgiveness. With puffy red eyes, I said, "I understand how you felt. And I am in awe of God's forgiveness, and grace, and mercy."
But you, O Lord, are a God of compassion and mercy,
slow to get angry and filled with unfailing love and faithfulness.

Psalm 86:15, NLT
My need…
I have heard it said that those who receive grace, are able to extend grace to others. This is also true for mercy and forgiveness. I too have been the "good girl" falling into the trap of believing I have my act together and don't need help from others, or from God.
Oh, but I so do! Moments like this, where I fall so hard on my face that it feels like I've busted out all my teeth, are a gut-punch reality check. My need for a Savior is so great. Not so I can get stronger, or have all the answers, but so I can remember that His strength is the only strength I can rely on. And by remembering this I can be the hands and feet of Christ, loving others, lifting them, pointing them to the only One who can truly remove our transgressions poo. And stinky poo it is, indeed.
Our need for a Savior is so great. Not so we can get stronger, or have all the answers, but so we can remember that His strength is the only strength we can rely on. Click To Tweet