The words "chosen" and "beloved" can feel like a foggy memory from a story about someone else we vaguely remember. The Truth is, we are His beloved. 
---
---
For the past few months, I have been doing a personal 8-week Bible study on Ephesians…I'm in week 3. (Don't judge me). If you read my last devotional you are aware that I've had a few things going on in my life. Some days, finding my way to the study book, itself, has proven a monumental challenge. Believe me, sensing my beloved factor has hardly been on the radar!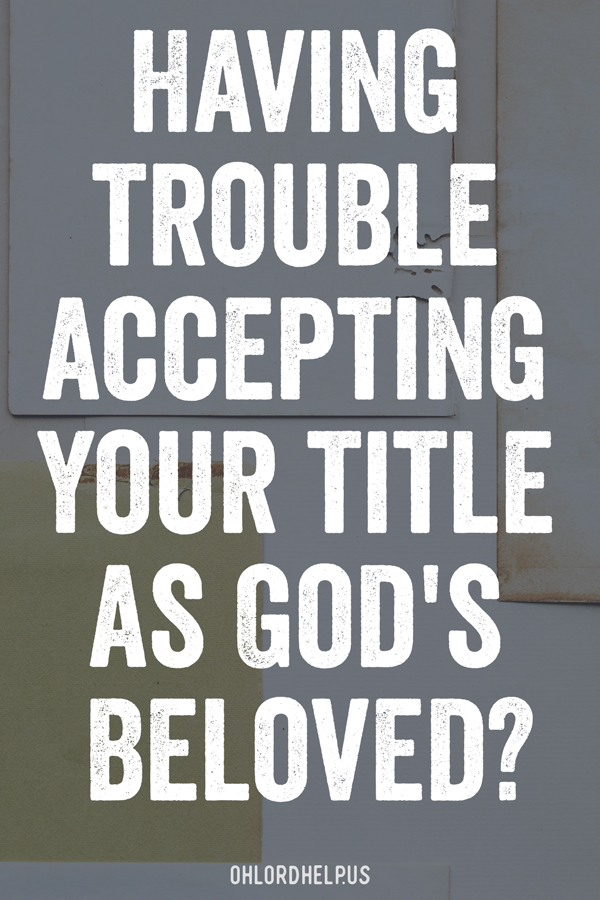 "Christian" Mantra
This particular Bible study is written by the English professor, Heather Holleman. She took seven important verbs from the book of Ephesians and showed how they can be transformational in our lives. She used words like included, chosen, seated, renewed.
Well, I can't just fly through each chapter and expect it to be transformative, can I? Apparently, I didn't think so, because I parked for weeks in Chapter 2 with chosen. But why? This is elementary school material for Christians, isn't it?
Perhaps. However, I have found that Christians of all denominational persuasions are very adept at parroting the mantra of "forgiven, chosen, loved," but secretly wonder what the heck God was thinking when (or if?!) He called them. (You've known a few of those folks.)
There are days…dark seasons of disappointment, depression or loss, when I wonder, too. The words chosen and beloved can feel like a foggy memory from a story about someone else I vaguely remember…
Beloved Sweetness
About 30 years ago, I was introduced to my first book by Henri Nouwen. A quote from the book appeared in the newsletter of a Baptist evangelist my husband and I followed. His words so arrested me that I clearly recall where I was standing in our then-kitchen when I read them. They rooted me to the floor as I absorbed them and tasted their sweetness within my spirit.
I have been wondering if there might be one word I would most want you to remember when you finished reading all I wish to say… It is the word "Beloved," …

Yes, there is that voice, the voice that speaks from above and from within and that whispers softly or declares loudly: "You are my Beloved, on you my favor rests."
Henri J.M. Nouwen, Life of the Beloved: Spiritual Living in a Secular World
Having been raised in a dysfunctional family, and attending a church that talked grace, but walked works, I had never, ever heard this message of being God's Beloved. I'd like to be able to herald that I jumped immediately on the train of the beloved and sang it loudly from every pulpit of my life. It would be sheer joy to share that I gathered broken women around me, others who had never known the inner warmth of being cherished or chosen, and invited them to journey with me on this captivating road called Beloved…
Gather those who are broken and never knew the warmth of being cherished or chosen, and invite them to journey on the road towards God's beloved children. Click To Tweet
Striking Chords
But alas, I did not. An introvert at heart, I held this treasure closely. With no personal teacher to walk with me, and inner tapes or lies quick to point out my failings, I embarked on a circuitous sojourn. I read many books, studied under several Bible teachers, then went to a Bible college.
Afterward, I stretched outside my own denominational background. It involved enrolling in an MA program that was offered from the local Presbyterian seminary in conjunction with a nearby Catholic College. So, you can imagine how challenging that was for a Southern Baptist girl! The debates between us were wonderful, and many of us remained friends!
However, sadly, my formal, theological education did not teach about being beloved. But, don't misunderstand, I received the intellectual knowledge that God loved me, John 3:16, etc. Somehow, that didn't pierce through the self-hate and inner lies that mocked me so often as the passage from Nouwen's book did…being beloved struck a deeper chord within me.
Beloved is someone who is greatly loved and dear to the heart. This term is used in 90 verses within 29 books of the Bible, especially found in the King James or English Standard Versions. Why, I wonder, aren't these pointed out more where they concern God's people?
In love, he predestined us for adoption to himself as sons through Jesus Christ, according to the purpose of his will, to the praise of his glorious grace, with which he has blessed us in the Beloved.

Ephesians 1:5-6, ESV
Lies of the World
If we come to Christ and aren't discipled well, or we are in a church that doesn't teach much about God's cleansing grace and unimaginable love, then it's understandable when we struggle accepting being chosen or beloved. In fact, we continue to live under the power of the lies of this world…which are murderous.
The world tells you many lies about who you are, and you simply have to be realistic enough to remind yourself of this. Every time you feel hurt, offended, or rejected, you have to dare to say to yourself: 'These feelings, strong as they may be, are not telling me the truth about myself. The truth, even though I cannot feel it right now, is that I am the chosen child of God, precious in God's eyes, called the Beloved from all eternity, and held safe in an everlasting belief.'

Henri J.M. Nouwen, Life of the Beloved: Spiritual Living in a Secular World
Overcoming
Don't believe for a minute this is a new thing; the enemy has been lying to us since the Garden! Charles Spurgeon wrote about it in his devotional, (taken from his sermons,) Morning and Evening, published in 1869. Slog through the old English for a minute; it's worth it!
Rejoice then, believer, in this: thou art accepted "in the beloved." Thou lookest within, and thou sayest, "There is nothing acceptable here!" But look at Christ, and see if there is not everything acceptable there. Thy sins trouble thee; but God has cast thy sins behind His back, and thou art accepted in the Righteous One. Thou hast to fight with corruption, and to wrestle with temptation, but thou art already accepted in Him who has overcome the powers of evil. The devil tempts thee; be of good cheer, he cannot destroy thee, for thou art accepted in Him who has broken Satan's head. Know by full assurance thy glorious standing. Even glorified souls are not more accepted than thou art. They are only accepted in heaven "in the beloved," and thou art even now accepted in Christ after the same manner.
Imagine, even angels in heaven cannot experience the full acceptance and sense of being cherished as we, God's Beloved.
You are His Beloved; on you, His favor rests.
Amen.