The Parable of the Sower is still very applicable today. Our hearts can become distracted, blocking the good work God is trying to do in us. We must work to make Him first in our lives! 
---
---
Listen! A farmer went out to plant some seed. As he scattered it across his field, some of the seed fell on a footpath, and the birds came and ate it. Other seed fell on shallow soil with underlying rock. The seed sprouted quickly because the soil was shallow. But the plant soon wilted under the hot sun, and since it didn't have deep roots, it died. Other seed fell among thorns that grew up and choked out the tender plants so they produced no grain. Still other seeds fell on fertile soil, and they sprouted, grew and produced a crop that was thirty, sixty, and even a hundred times as much as had been planted! […] The seed that fell among the thorns represents others who hear God's word, but all too quickly the message is crowded out by the worries of this life, the lure of wealth, and the desire for other things, so no fruit is produced.

Mark 4:3-8 & 18-19, NLT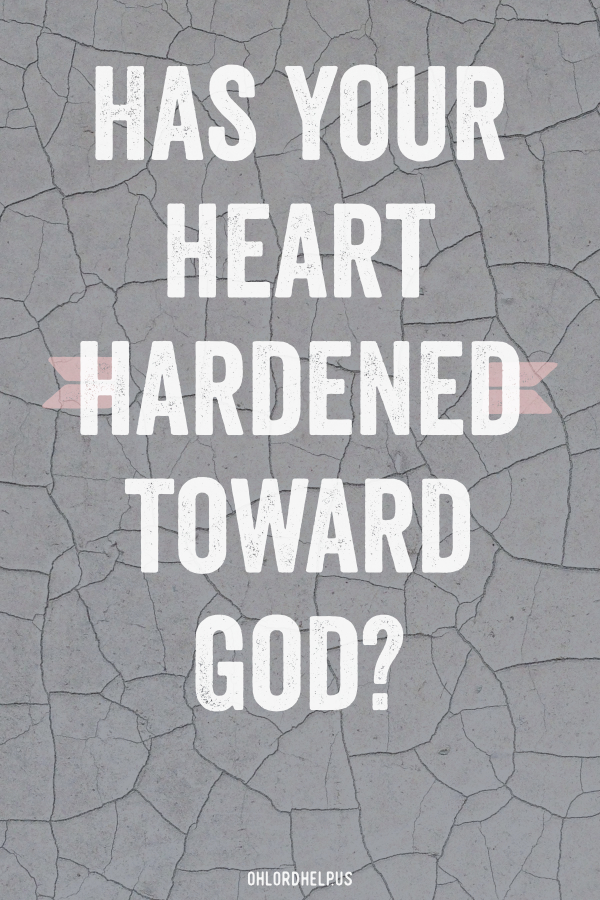 Conviction
We recently read this parable in Sunday school. I've known this parable since I was a little girl, but this time it hit me in such a different way. When Jesus explains the meaning of the parable to His disciples, He tells us the seed is God's word and how His message is received in different ways. We looked at the four soils as representing people's hearts: hard (footpath), unfaithful (rocky), distracted (thorny) and then faithful (good soil).
I've always felt I had a heart of good soil… I'm a believer. I've stayed faithful to the Lord since He disciplined me 9 years ago. I've produced fruit in my life by doing good deeds. I couldn't help but feel convicted though. Upon honest self-reflection, I've allowed my good soil to slowly become thorny soil.
Fertile Soil
Jesus spoke in another parable that more accurately describes the condition I've allowed my heart to become.
Then he told them a story: "A rich man had a fertile farm that produced fine crops. He said to himself, 'What should I do? I don't have room for all my crops.' Then he said, 'I know! I'll tear down my barns and build bigger ones. Then I'll have enough to store all my wheat and other goods. And I'll sit back and say to myself, "My friend, you have enough stored away for years to come. Now take it easy! Eat, drink, and be merry!" But God said to him, 'You fool! You will die this very night. Then who will get everything you worked for?' "Yes, a person is a fool to store up earthly wealth but not have a rich relationship with God."

Luke 12:16-21, NLT
Dodie wrote recently about altars in our lives. We can tend to not focus on where we are, in our relationship with God because we are too busy looking back at past mountaintop experiences. This was so convicting because I knew it was true for me. I look back at the time when I was very sick and was walking so closely with the Lord. I long for that closeness again. However, He hasn't gone anywhere! He promised that He is always with us and will never leave us.
And I will ask the Father, and he will give you another Advocate, who will never leave you.

John 14:16, NLT
I Have Wandered…
So then the crux of the matter is… if He's never left me, if I'm no longer close to Him, I'm the one who has wandered. I have allowed the cares of this world to interfere in our relationship and choke out the beautiful closeness we once had. They may not even be bad things. I used the example of greed above, but in my life, even doing good things for the Kingdom has been a distraction from spending quality time growing in Him.
Foster care and adoption, homeschooling, activities for my kids, cooking healthy meals for my family, volunteering at the church, blogging for Oh Lord Help Us, dating my spouse: none of this matters if I'm letting Him slide off of the throne of my heart and life! I get so busy trying to do all things and be all things to those around me, I forget WHO I should be dwelling in, resting in, and growing in- Jesus Christ, my Savior!
Distracted Works
I know this is a common struggle for many of us women who have been serving Christ a long time. We start to lose our passion and forget He is our first love. We get distracted by new and seemingly more exciting ventures than reading our Bible and meditating, praying and fasting.
These basic spiritual disciplines are absolutely our lifeline, though! Without them, the fruit of the Spirit that were once quite prevalent in our lives, rot away. We will become unloving, joyless, unrestful, impatient, unkind, not good, unfaithful, harsh and without self-control.
As I reflect on my behavior in my heart and home the last few years, I can see it. A steady decline in my Christ-like behavior and reactions and an increase in selfish, unloving, worldly reactions. Ladies, we must fight becoming distracted. We must guard our hearts and minds in Christ Jesus. Remember, we can be holy as He is holy, but it doesn't happen without any effort on our parts. He told us in the Word:
The human heart is the most deceitful of all things, and desperately wicked. Who really knows how bad it is?

Jeremiah 17:9, NLT
We must fight becoming distracted and guard our hearts and minds in Christ Jesus. We can be holy as He is holy, but it doesn't happen without any effort on our parts. Click To Tweet
Loyalty
If you reflect today and find your heart of once-good soil has started to become rocky or thorny or even hardened, I pray you will turn from your sin and repent. Bow down before our merciful and loving God and ask Him to take our hearts of stone and give a heart of flesh. That we will return to our first love and allow Him to once again reign supreme on the throne of our lives. As we do this together, He will continue to finish the good work He began in us, and we will see the fruit of His Holy Spirit in our lives once more!
For since our friendship with God was restored by the death of his Son while we were still his enemies, we will certainly be saved through the life of his Son. So now we can rejoice in our wonderful new relationship with God because our Lord Jesus Christ has made us friends of God.

Romans 5:10-11, NLT