We can be distracted by the ways God showed up in the past, that we miss how He is showing up in the present. We dance around old altars, instead of readying our hearts for a new transformation.
---
---
It seems to me that we often, almost sulkily, reject the good that God offers us because, at that moment, we expected some other good. Do you know what I mean? On every level of our life…we are always harking back to some occasion which seemed to us to reach perfection, setting that up as a norm, and depreciating all other occasions by comparison.

Readings for Meditation and Reflection, C.S. Lewis
When those words crossed my vision path I was staggered to a halt. Like Sleeping Beauty's finger, my spirit was instantly pricked with sharp conviction, prohibiting me from continuing on to the next paragraph. How often I have gazed longingly back to previous seasons of my life, whether spiritually or otherwise, and viewed those times as perfection.
I wonder, now, how much I have missed in all my present moments while I stood gazing backward at the altars I had erected.
But these other occasions, I now suspect, are often full of their own new blessing, if only we would lay ourselves open to it. God shows us a new facet of the glory, and we refuse to look at it because we're still looking for the old one.

Readings for Meditation and Reflection, C.S. Lewis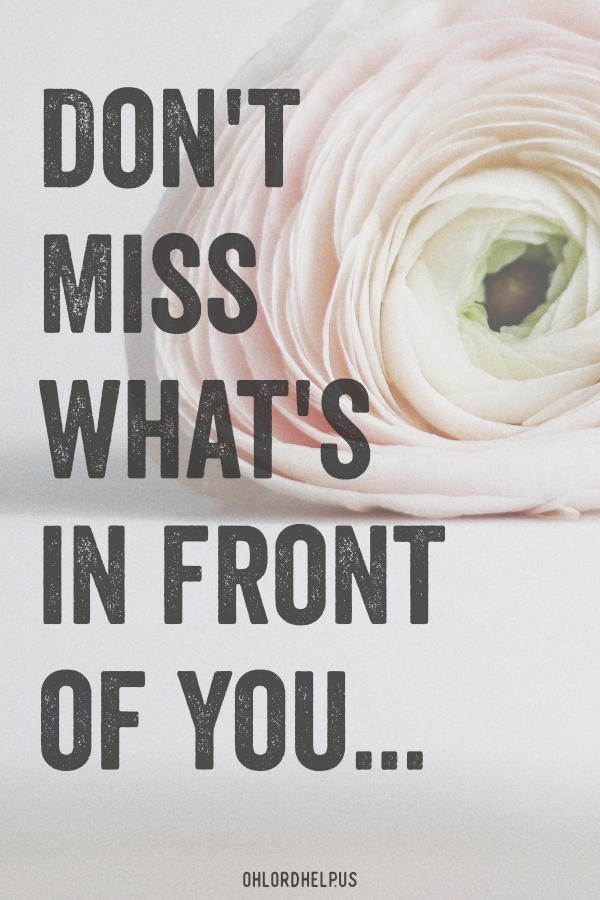 Old Testament Altars
Altars are scattered throughout the Old Testament. God instructed Noah to build the first altar in Genesis 8:20. He later instructed Abram, Isaac, Jacob, Moses and many others to build altars). They are mentioned often in the New Testament, as well, (Matthew 5:23-24; Acts 17:24-25; Hebrews 13:10; Revelation 6:9-11, 16:7). Sacrifices were involved in the Old Testament. The ultimate Sacrifice had come in the New Testament.
Thomas W. Davis wrote in Baker's Evangelical Dictionary of Biblical Theology: "Altars were places where the divine and human worlds interacted." I personally identify with how former Pentecostal Pastor and songwriter Jack Hayford said it:
Altars represent the occasion and place where we have had a personal encounter with God.
Past Encounters
I imagine that many of you can envision times in your past, even the recent past, when you have had beautiful encounters with God. The presence of His Spirit was more real than the person sitting next to you or in the next room. Jesus felt closer than your best friend.
My husband and I have been mightily blessed in our lives to be involved with a few spiritually rich churches. While different, each was graced with Biblical pastors and anointed worship leaders. Each offered altar moments for us – beautiful, corporate encounters with God…which helped increase intimate, individual altar moments. Those were amazing grace gifts from our Father.
Everyone knows we can't live on the mountaintop, don't we?? But…isn't it pretty up there? Isn't it a gorgeous view?! Wouldn't it be wonderful to stay on that high peak forever?
For us, life changed; sometimes sin invaded, (as it usually does, since we humans are prone to let our guard down,) and the mountaintops crumbled. A church split, a pastor caught up in sin, a move, whatever the circumstance that created the change, Gary and I found ourselves gazing back at our altar moments rather than looking ahead expectantly to new encounters God had in store for us in the present. In essence, we had taken our altar moments, our powerful, grace-filled encounters with God and demanded an encore!
Repeat Appearance
That, my friend, is a travesty, in the least, and sin at most.
And the joke, or tragedy, of it all is that these golden moments in the past, which are so tormenting if we erect them into a norm, are entirely nourishing, wholesome and enchanting if we are content to accept them for what they area, for memories. Properly bedded down in a past which we do not miserably try to conjure back, they will send up exquisite growths.

Readings for Meditation and Reflection, C.S. Lewis
Altars appear throughout scripture for different reasons – a place of encounter being one. The most common altar built was the altar of incense, the holy place where the priests offered worship to God on behalf of the people and themselves. Even the pagans used an altar to worship their false gods.
We can stumble into error when we take a gift of God, such as an altar moment, a time of a holy encounter with the Lord, and attempt to turn it into a precedent or demand for God. We can become like the prophets of Baal in I Kings 18:20-40, when they attempted to dance furiously around their altar, demanding Baal to perform, attempting to prove that he was more powerful than Almighty God.
Our attempts to stay in the past, clinging to old altars, are perhaps out of fear that our Father won't show up again. Fear that despite His power and nearness in that moment, He won't love me enough to do a repeat appearance.
Our attempts to stay in the past, clinging to old altars, are perhaps out of fear that our Father won't show up again. It's sometimes easier to look back at what God did then than to allow Him to work in us today. Click To Tweet
Price of Altars
However, my sisters, it could also be our fear of the price that altars have. It's sometimes easier to look back at what God did then than to allow Him to work in us today. As Jack Hayford stated:
God intends that something be 'altered' in us when we come to altars. To receive the promise means we make way for the transformation.
In Genesis 22, Abraham was required to offer his only son to God on an altar – a test of Abraham's faith. Was God truly His provider? Indeed, He was.
After Jacob encountered God in a dream in Genesis 28, he built an altar. Jacob was so overwhelmed by God's promise to him that he vowed to God a tenth of everything He gave to him.
Jesus said in Matthew 5:23-24:
Therefore if you are presenting your offering at the altar, and there remember that your brother has something against you, leave your offering there before the altar and go; first be reconciled to your brother, and then come and present your offering.
And there is the beauty…no shame, no guilt…just go and reconcile, repent, then return to the altar and worship. We can bring our brokenness to the altar; His arms are open wide.