The messages of the world can leave us feeling empty. We must seek our comfort in the promises of God and trust in His sufficiency. 
---
---
If you subscribe to the concept of love languages, it would take you five minutes with my son to recognize that his love language is clearly physical touch. In a world where snuggling was an Olympic sport, he would earn gold medals. He could beg to be tickled all day, every day and never stop asking for more. He likes to be right next to you at all times so that if he wants to reach out and touch for even a second, he can. My sweet boy expresses himself through touch, communicating both his love and his anger with his hands and feet.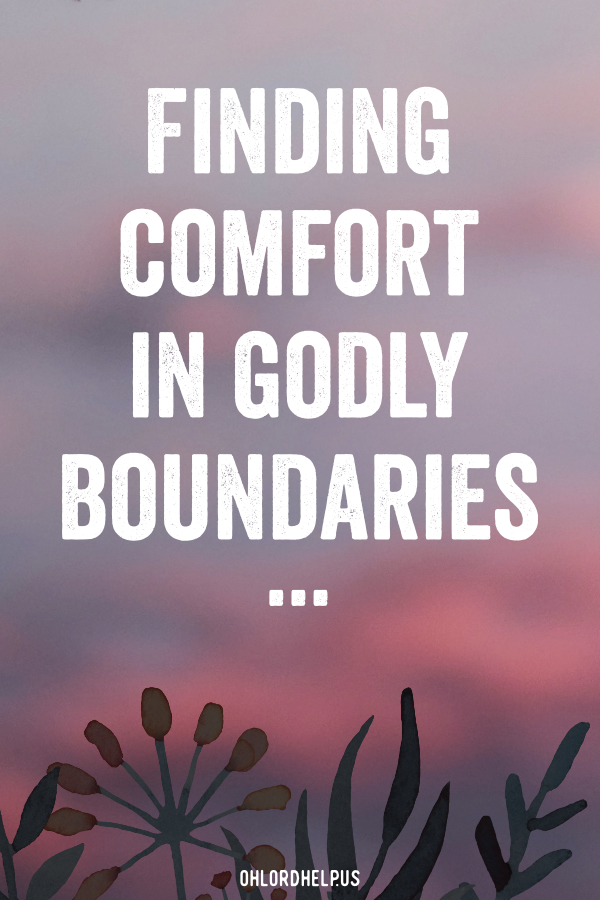 Understanding Boundaries
We live in a physical world where contact is necessary. However, we draw boundaries around this necessity to keep ourselves and others safe from something as little as awkwardness, to something as big as victimization. Because of these boundaries, my son's world is constantly telling him that his desire to connect with others and have them connect with him is not okay. He hears the same messages on a loop:
   That's inappropriate.
   Too rough.
   I'm not available right now.
   Keep your hands to yourself.
One night, after carefully explaining appropriate touching to him, he fell apart in my arms and sobbed. "Mommy," he cried, "I try. So. Hard. But I like people and I want to touch them, but I always get in trouble because it's just so hard to remember."
I hugged him tightly and reassured him that I knew he was trying. Recognizing that it was a challenge for him, I let him know the fact he loves people is a good thing. My heart broke for him because I know it is difficult to feel loved when you feel like you are always in trouble. It is especially difficult when you are always in trouble for something that is such a large part of who you are, intrinsically. You can feel wholly insufficient.
Seeking Comfort
It is hard. God created us in a physical world in order to be in relationship with others. At the same time, we are sinners and have to be in relationship with other sinners. This makes for messy relationships and confusing boundaries. And there are times where we feel discontent with our earthly relationships. This discontentment is meant to be healed by finding our comfort, rest, and satisfaction in the arms of Christ.
And the Lord will guide you continually and satisfy your desire in scorched places and make your bones strong; and you shall be like a watered garden, like a spring of water, whose waters do not fail.

Isaiah 58:11, ESV
I think that many of us know this and have moments where we can truly feel it. But resting in the Lord doesn't have the immediate, recognizable comfort that the embrace of a loved one has for us. His words, also, are harder to hear than those of others in our lives. Especially when we are distracted by the world and its demands.
This reminds me of the Israelites as they waited for Moses. They became fearful and distracted by their circumstances. Since they were not seeing the blessings and protections of the Father in that moment, they created an idol to worship in His stead. They were unable to trust in His sufficiency when they thought He might be absent. While we may not be forging gold into a golden calf in our daily lives, we can make physical contact with others an idol. We can easily take His sufficiency for granted.
Flipping the Script
I have to figure out how to present this to a five-year-old. It's difficult enough for me to understand and seems like an insurmountable obstacle to apply it when it is needed the most. The best solution for me right now is to teach my boy the scriptures he can turn to. It is so important for him to look for solutions in the Word. I must help him hide those words in his heart so that he can turn the messages from his physical world into messages from God, rooted in Truth.
It's inappropriate to touch someone that way just because you like them, but God's grace is sufficient for you.
That's too rough. Remember that you are shod with the preparation of the gospel of peace.
I am not available for you right now, but the Lord your God will be with you wherever you go.
Hands to yourself. Instead, pray, lifting holy hands without anger or quarreling.
I know it is So. Hard. But you can do all things through Christ who strengthens you.
Maybe, while teaching my son, I will learn this as well.
While we may not be forging gold into a golden calf in our daily lives, we can make physical contact with others an idol. We can easily take His sufficiency for granted. Click To Tweet