The Lord came to break all bondage in our life. Step out of the shadow of shame and into the radiant light of our Savior.
---
---
Let's talk about the S word. No, I'm not referring to a curse word. Or even the word "stupid," which was not allowed to be used in our home when my kids were growing up. (They heard enough pejorative adjectives from their peers.)
Rather, I want us to take a few minutes to inspect, take a fresh look at, and perhaps begin to disarm a sleeper cell that has dwelt in mankind since the Garden. I'm talking about shame. While it isn't possible to sweep out all the spiders and cobwebs that have accrued over the decades of darkness in which shame has hidden, perhaps shining some light into the darkness will at least put a broom into your hands.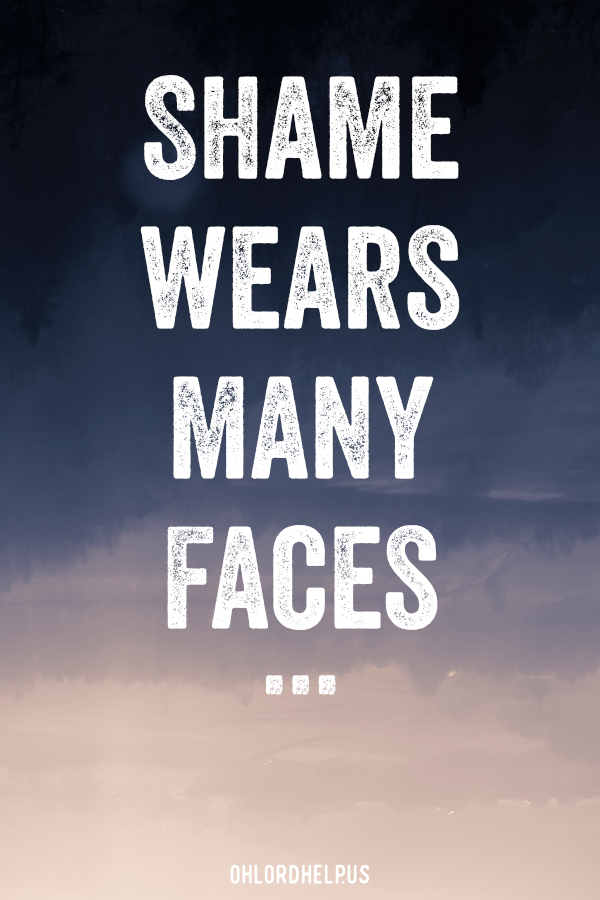 Shadow of Shame
The topic of shame has made a resurgence in recent years, almost as though the subject had never been brought up before, (it has, but we didn't have social media). For this, we can thank the research of University of Houston's Dr. Brene Brown.
Her work resulted in books and TED Talks on YouTube, which catapulted the topic to a buzz word for several months…and that's really longer than one can expect any topic to last in our micro-everything culture. Since Brown's Ted Talks are some of the most-watched videos in the world, we should know all we need to know about shame; it's already so 'last year.'
If that is the case, why do we continue to experience that painful, pervading sense of being flawed or not enough – ever?
Unashamed to Fig Leaves
And the man and his wife were both naked and were not ashamed.

Genesis 2:25, ESV
That is the first time shame/ashamed is mentioned in Scripture, but certainly not the last. However, it is one of the last times Adam and Eve were UNashamed. Only a chapter later they were hiding from God, ashamed of their sin and nakedness.
And he said, 'I heard the sound of you in the garden, and I was afraid, because I was naked, and I hid myself.'

Genesis 3:10, ESV
Since that pivotal day, mankind has been hiding our shame behind our own fig leaves, which we have woven together since childhood. Yours may look different from mine, more colorful or loud, more acceptable or appealing, but an honest look inside our hearts, an honest probing by the Holy Spirit will reveal where each of us is prone to hide.
Let's look at a few hiding places where shame operates…
Hiding Places
Perfectionism is often defined as the need to be or at least to appear to be perfect. I like to say that I am a recovering perfectionist. It used to almost make me physically ill if I could not perform most tasks perfectly, according to my estimation. Yet, this a socially acceptable fig leaf. Brene Brown said:
Perfectionism is not the same thing as striving to be your best. Perfection is not about healthy achievement and growth. She explains that perfectionism is used by many people as a shield to protect against the pain of blame, judgment, or shame.

https://www.goodtherapy.org
Perfectionism can cause procrastination, (if I can't do it perfectly, I will delay until I can perform perfectly). This can also lead to an attitude of blaming others for anything that appears like a failure. "It wouldn't have happened that way if so-and-so had done his job correctly! It isn't my fault," which leads to our next hiding place…
Defensiveness is one way we protect ourselves from unpleasant feelings such as feeling sad or sorry that we disappointed or hurt a loved one. Being defensive is a way to avoid taking responsibility for our behavior, especially if we equate responsibility with shame.
Let's say my husband is upset because I'm late meeting him for lunch. If I'm defensive I might say, "Well, we were late to church last week because you took so long to get ready and I didn't get mad about that!"
If I'm not shackled by shame, I can recognize that my spouse has expressed his feelings about my tardiness. It isn't something intrinsically wrong with me; I simply need to hear his feelings and apologize for my delay.
More Hiding
Apologizing can go either way.
Shame can cause us to be overly apologetic and compliant. We assume that others are right and we're wrong. Better to diffuse a shaming attack or criticism before it begins by apologizing first.
Conversely, we can be so powerfully ruled by an unconscious shame that we don't want to expose ourselves to imagined ridicule by admitting any wrong or mistake. Being vulnerable is seen as being weak.
This is what one blogger wrote about co-dependency/people-pleasing:
I always thought co-dependency would be easy and obvious to spot, but I tell you what – in the Church – it's easy to confuse co-dependency with godliness. Codependents are the people who always put others needs before their own, which sounds so great, except it's fueled by a compulsion to put others needs before your own. Many who struggle with this don't even feel their own needs or desires anymore…the soul infected with shame is so unsure of its worth (not having that matter settled between self and God) that it seeks to find value in being needed or serving others.

http://www.fabsharford.com
The Church and Shame
Church is one of shame's best hiding places.
Although it seems counter-intuitive, shame can cover itself with an attitude of superiority and judgment. My mom was filled with shame and insecurity due to her abusive childhood. But she hid that by presenting a haughty, superior person to everyone outside of our home. By judging others first as less than, people were thereby not given the opportunity to reject her. She rejected them first and led a lonely, almost friendless life.
Sadly, I've seen this often in the Church. It usually hides behind doctrine or theological arguments, sometimes social issues. However, we must be alert to our own hearts for this sly hiding place of shame. Maligning others in order to make ourselves feel better is not a way to healing.
The Release of Shame
I don't believe it was ever God's intention for His children to remain shame-based in our lives or relationships. Scripture has much to say about shame, and it isn't about God shaming us – unless we choose to remain in our sin.
'Let us lie down in our shame, and let our dishonor cover us. For we have sinned against the Lord our God, we and our fathers, from our youth even to this day, and we have not obeyed the voice of the Lord our God.'

Jeremiah 3:25, ESV
Despite deserving judgment and death, He continually promises deliverance for those who come to Him.
I sought the Lord, and he answered me and delivered me from all my fears. Those who look to him are radiant, and their faces shall never be ashamed.

Psalm 34:4-5, ESV
The wondrous, heralding chapter of Isaiah 61, prophecies the coming of our Lord Jesus. Among other beautiful things, he announces the release of shame.
Instead of your shame there shall be a double portion; instead of dishonor they shall rejoice in their lot; therefore in their land they shall possess a double portion; they shall have everlasting joy.

Isaiah 61:7, ESV
Sisters, come out of hiding. There is no need to live in the shadow of shame any longer. Our Warrior King has come to strengthen, heal, and deliver us from the shame that binds us, for His glory and honor.
Behold, at that time I will deal with all your oppressors. And I will save the lame and gather the outcast, and I will change their shame into praise and renown in all the earth.

Zephaniah 3:19, ESV
Sisters, come out of hiding. There is no need to live in the shadow of shame any longer. Our Warrior King has come to strengthen, heal, and deliver us from the shame that binds us, for His glory and honor.
Click To Tweet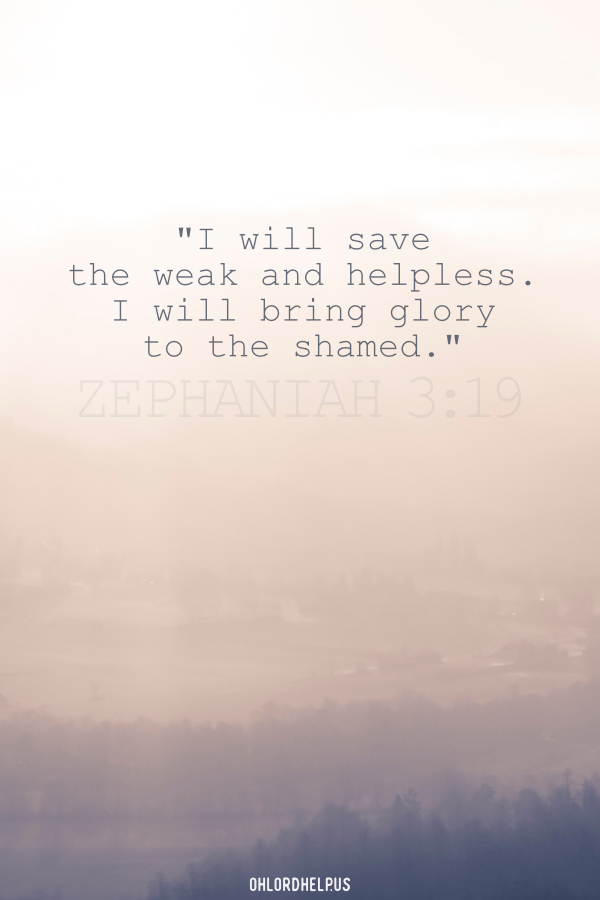 Thomas Millot