Anxiety, worry, and stress all result from an underlying pulse of unhealthy fear. No one is immune and control is an illusion. What are you tempted to fear most, and what does it say about the things you value? How can we tell between healthy fear and an unhealthy one?
---
---
Things We Love
What are some important things in your life? You can probably rattle off a few pretty quickly. My thoughts immediately go to my kids, turning in my grad papers on time, and protecting Thursday night quality time with my man.
Now, I did not say the most important thing—just the stuff that instantly springs to mind. Likely, there is nothing bad about these priorities individually. However, depending on the level of passion we display to protect them, healthy fear can be thrown out of balance before we realize it. As a result, we begin to worry.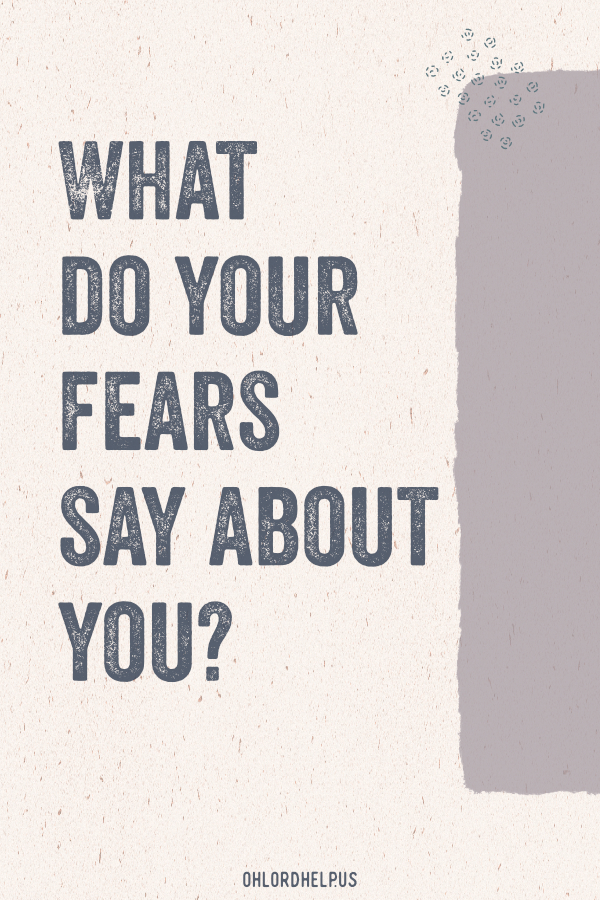 Unhealthy Fear
It was recently brought to my attention which unhealthy fear sits at the top of my list. It is not a phenomenon. Actually, it's quite common.
How was I enlightened? Well, among three categories (money and possessions — people and their judgments — death, pain, and punishment) I had to answer which one I am most tempted to fear. Before reading into each classification I assumed it would end up being pain. While that certainly is not appealing, the prospect of pain is surprisingly low on my list of daily anxieties.
A few weeks ago, I would have confidently said I don't care what others think about me because I know who I am in Christ.
Turns out, I have a persnickety care meter.
Actions Speak Loudly
It is not what we say, but what we do that defines us. For instance, I say I like to go camping—which is very true—but I haven't been in three years. I like the idea of hiking and being out in nature is extremely soothing and grounding. Yet despite my ultra-hip metal REI coffee mug, no one would classify me as an outdoorsy chick.
When I started thinking about what controls my routine thoughts, it wasn't fear of getting into an accident or the ravages of cancer. Now, I don't want to diminish the suffering those circumstances bring. It is simply to say they do not linger at the forefront of my worries. In relation to pain, I have a healthy fear of the Lord. Suffering is an inevitable part of life, but not a thing to live in fear of. I trust to have grace for what will come.
Let us then with confidence draw near to the throne of grace, that we may receive mercy and find grace to help in time of need.

Hebrews 4:16, ESV
What Fear Reveals
Remarkably (to me anyway), fear of people and their judgments crossed my finish line with flying colors. Oddly enough, I sense it the most with strangers.
When I'm in my car I'll feel myself getting anxious over what another driver might be thinking when I take the right-of-way. I wonder if other motorists get frustrated with me when I fail to go as fast as they clearly want to on a two-lane road. In check-out lines, I tend to hang back so the person in front of me doesn't feel rushed by my presence. Also, I act overly cordial, even giving apologetic smiles to other patients in waiting rooms when my number is called. But why?
I consider myself to be polite, but I will be honest. I know my overt friendliness toward people, whom I will likely never see again, is for the sake of my own comfort. My fear is betraying me. It has a spotlight on what I crave. It's screaming what is important to me: My reputation and the respect and adoration of people.
The fear of man lays a snare, but whoever trusts in the Lord is safe.

Proverbs 29:25, ESV
Calming Fear
How do we find a healthy fear balance? We have heard to "Love God and love others." Amen. But those are thirty thousand-foot directions. God knows we will wrestle with fear. He repeatedly says in His Word, "Do not fear," "Do not be afraid," "Do not be anxious." These are not empty words to get us to be quiet or chill out. God is not annoyed by our anxieties like we may be with one another.
I've been guilty of saying something meant to soothe, but I delivered it with a self-serving motive. "Just turn your lamp on and go back to bed. You'll be okay." (Please don't wake me up again.) "You know it'll work out…" (I don't want to step into your pain.)
History is proof that human beings are fickle in the help department. At best, they're unreliable sources of protection. Yahweh, on the other hand, has always proven trustworthy.
God Speaks to Fear
When God tells us not to be afraid or anxious, He always follows up with promises, assurances, direction, and hope.
I am with you
I will strengthen you
I will uphold you
I care for you
I will give you peace
I will guard your heart
I have redeemed you
I will never leave you or forsake you
I will rescue you
I will fight for you
I provide for you
I am the First and the Last
I sustain you
I will help you
I keep you safe
I will deliver you
Take some time to meditate on these passages. [Deuteronomy 3:22, 31:6; Psalm 34:7, 55:22, 118:6-7; Proverbs 29:25; Isaiah 35:4, 41:10, 13-14, 43:1; Luke 12:22-26; Philippians 4:6-7; 1 Peter 5:6-7; Revelation 1:17-18]
When God tells us not to be afraid or anxious, He always follows up with promises, assurances, direction, and hope.
Click To Tweet
The Way Ahead
There is only one path forward to effectively vanquish unhealthy fear. First, we seek to know the character and power of Jehovah. Then we practice living the way Jesus modeled for us. His love enables us.
We love because He first love us.

1 John 4:19, ESV
My fears say I want and expect to be loved by everyone, including people who don't know me. Jesus was not loved by everyone, even the people who had heard about His stellar reputation. Many were more suspicious of His healing power than accepting of it. His hometown even rejected Him. As His follower, why do I assume I will be treated better than the Son of God?
Healthy Fear
Let us ask the Father of mercies to do a work through His Spirit to create the kind of love in us that mirrors His own. This is not easily won, and we can turn methods of "loving others" into ploys to extract more love for ourselves—I've done it—so be alert!
If you struggle with fear of man, practice loving others more than you love yourself. That doesn't mean befriending everyone, but the things they think—perceived or known—will not hold the same weight they once did. This way won't be free of heartache, of course. Being dismissed is painful. But it will no longer have the ability to derail your allegiance to Jesus Christ.
And do not fear those who kill the body but cannot kill the soul. Rather fear Him who can destroy both body and soul in hell.

Matthew 10:28, ESV
If we have a healthy fear of Almighty God, the One who loves us and sent His Son to die for us, what is there to fear more? Our hope and our safety have already been secured in Jesus.
If we have a healthy fear of Almighty God, the One who loves us and sent His Son to die for us, what is there to fear more? Our hope and our safety have already been secured in Jesus.
Click To Tweet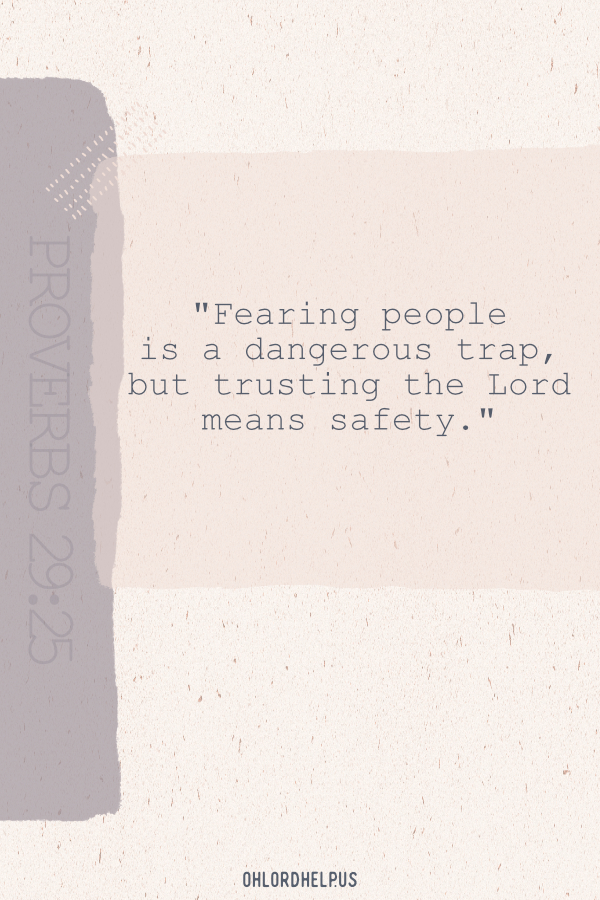 Staffan Kjellvestad