Courage can feel unobtainable, but through Christ, our confidence is strengthened for what lies ahead; for the plans the Lord has designed. 
---
---
May
A few days ago I was reading through one of my journals and I stumbled across this entry from last year: 
I stuck my toes in the freezing cold water and decided I lacked the courage to jump in. The first of May had brought with it warm sunny weather and the kids were chomping at the bit to get into the pool. So, that is where I found myself the first weekend of May.
Sitting in the lounge chair I watched three girls standing on the edge of the pool. Two had the courage to jump feet first into the freezing water! Meanwhile, I sat and watched the third girl standing timidly on the edge of the pool. Did she have the courage to jump into the frigid water? She stuck her toes in, then ran away squealing. The little girl repeated this action over and over for about 10 minutes. Finally, her courage seemed to be built up, and she jumped in giggling with delight and terror!
  While sitting there watching, the Lord whispered in my ear, "I know you are scared, my child. Where is your courage?"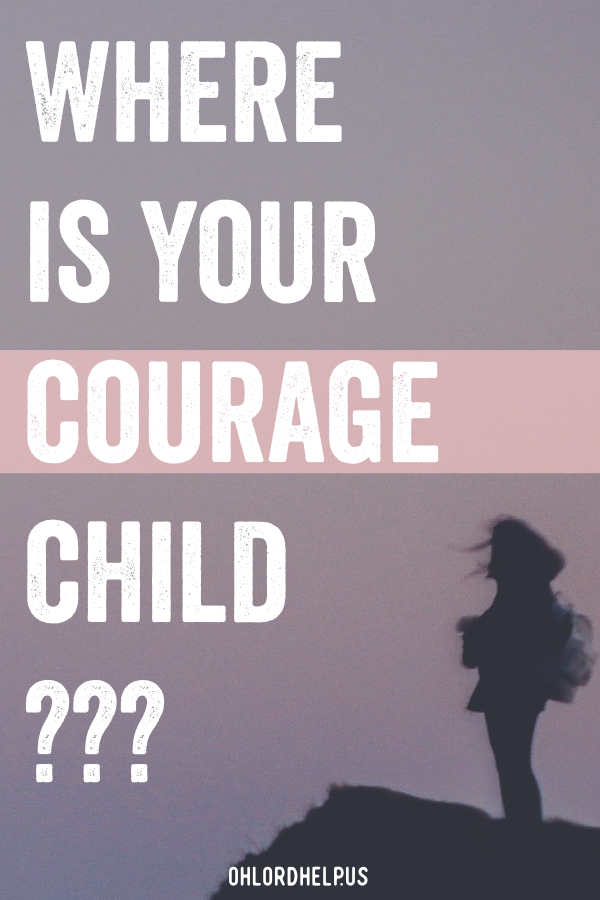 Courage
I closed my journal and cried. Almost a year later and I still lacked the courage I so desperately needed. The Lord brought this scripture to my mind…
Be strong and of good courage, do not fear nor be afraid of them; for the Lord your God, He is the one who goes with you. He will not leave you nor forsake you.

Deuteronomy 31:6, NKJV
What is courage? How can I have courage in the midst of daily battles? How can we, as Christian women, apply the words of Christ to strengthen our courage? So, I began studying and praying the scriptures fervently. This is what God revealed to me…
I am Confident in Christ. I am Optimistic. I am Unwavering and Relentless in my faith. I am Aware of God's Existence. COURAGE. 
Confidence in Christ
In the Old Testament, the Hebrew words for confidence and assurance are different forms of the same word. 
In quietness and in confidence shall be your strength.

Isaiah 30:15, KJV
As a single mom of three, I am constantly busy and have been reprimanded by several friends and family members for my busyness. When you have multiple children involved in church, school, and sports, one does stay busy. However, there must be a balance of our time.
A plaque hangs behind my desk which reads, Be still and know. Every time I look at it I am reminded of a worship song from my youth. Although I cannot remember all the words, be still and know that I am God are repeated over and over again. When I feel overwhelmed with a hectic schedule, I remind myself to stop and sit with the Lord. This means starting and ending my day tucked away in the quietness of my prayer closet and simply praying with the Lord. 
Be still and know that I am God.

Psalms 46:10, KJV
Optimistic
The dictionary defines optimistic as being "hopeful and confident about the future." I have always been a glass full kind of girl, but my overly optimistic nature causes me to be hurt by others. Over the years, many troubles and trials later, I have learned to place my confidence in God and have a spirit of optimism. As Christians, we have hope and confidence in our future with the Lord. 
For I know the plans I have for you declares the Lord. Plans to prosper you and not to harm you. Plans to give you hope and a future.

Jeremiah 29:11, NIV 
True confidence is a quiet assurance of God's capabilities and His promises which brings us lasting security.
It is better to trust in the Lord than to put confidence in man.

Psalm 118:8, NKJV
Relentless Faith
When I was a young girl, I was very afraid of the dark. One day my parents took me to my pastor. He talked with me about having faith bigger than my fears. He said fear is simply, "False Evidence Appearing to be Real." When we place our faith in God, no matter what comes our way, we can trust Him. My pastor's words have stayed with me throughout the years.
be steadfast, immoveable, always abounding in the work of the Lord.

I Cornithians 15:58, NKJV
We should be unmoveable, unwavering, steadfast and relentless in our faith and the work we are doing for the Lord. Ephesians 6 refers to an invisible shield which protects us against our enemies' assaults. The past few years I have carried my shield constantly through the battlefield. I consider it to be one of my greatest weapons against the Devil. 
be strong in the Lord and in the power of His might.

Ephesians 6:10, NKJV
Be strong, Dear Sisters, and have an unwavering and relentless faith! When you do, God will work miracles in you…
Let us hold fast the confession of our hope, without wavering, for He who is promised in faithful.

Hebrews 10:23, NKJV
Aware of God's Existence
The Lord has been dealing with me for the last nine months, but I have battled with courage for a few years now. At first, I thought if I could only have more courage in dealing with my current trial, then things would be easier…
I had confidence in God and was optimistic about my future (most of the time). My faith was unwavering and relentlessly strong against the Devil's constant attacks. I was aware of God's existence and knew there was a purpose and a plan for all the heartache and pain. However, I realized He was using the better part of this last year to help my courage and strength grow immensely. All of this preparation was simply part of His plan to help me reach the point in which I was finally ready…
I traveled very far through a land filled with dangers, treacherous terrain, and storms that never seemed to end. My body and my spirit were beyond tired! I literally felt like the walking dead! Then I stumbled upon a cliff and my heart was beating rapidly in my chest! I could feel the presence of danger and an approaching storm behind me. The choice was clear— I had to JUMP!
I took a deep breath and prayed with an intensity like never before. Then I closed my eyes and gathered all the courage in my soul. I JUMPED! 
Encourage…
Of course, we all know I did not literally jump off an actual cliff, but rather a spiritual cliff. After a very difficult journey, I reached this spiritual cliff God had been preparing me for. The courage to jump is simply the courage to surrender. When we are totally surrendered to the Lord then we are willing to say yes for whatever He has planned for our lives.
He has shown me what it means to have real courage. Let me encourage all of you, Dear Friends, to ask yourselves how much courage you have.
Courage to face your fears? Courage to fight for your marriage? Courage to stand up for what you believe in? Courage to step out in faith to whatever God has called you to do? Courage to say yes? Courage to say no?  
Whatever trial you are facing or storm you are going through, God will give you the courage to make it through. 
The courage to jump is simply the courage to surrender. When we are totally surrendered to the Lord then we are willing to say yes for whatever He has planned for our lives. Click To Tweet