The feeling of being dirty can cause us to feel like we are in a sea of darkness. When we are in these times it is important to remember that light is never gone and hope can always be found. We must stand with women who have been through trauma and we must speak out when we have experienced it. This is when we find hope. 
---
---
In November of 2017, I was raped. Since then I have felt a pull in my heart towards the traumatized woman. I have also felt a strong conviction to publicly share what I went through. I have let fear and shame and the feeling of being dirty rule my story. No longer.
Dirty
While I have struggled with self-worth and feelings of inadequacy most of my life, since that day I have truly felt dirty. Dirty, unlovable, broken, and surrounded by darkness. While in many ways I have healed, there are still days that I am not okay. I revert back to allowing anxiety to rule and to question all of my experiences. That is not truth. That is not God's powerful redeeming love.
I know that I am not the only woman who has felt dirty. I know I am not the only woman who has felt ashamed or broken. Who has allowed her experiences and sins to cause her to question her purpose and God's powerful love in her life. Oh Lord Help Us is for that woman. I am for that woman. Do not allow yourself to live in shame. You have a redeeming Savior who loves you. You are not defined by your past.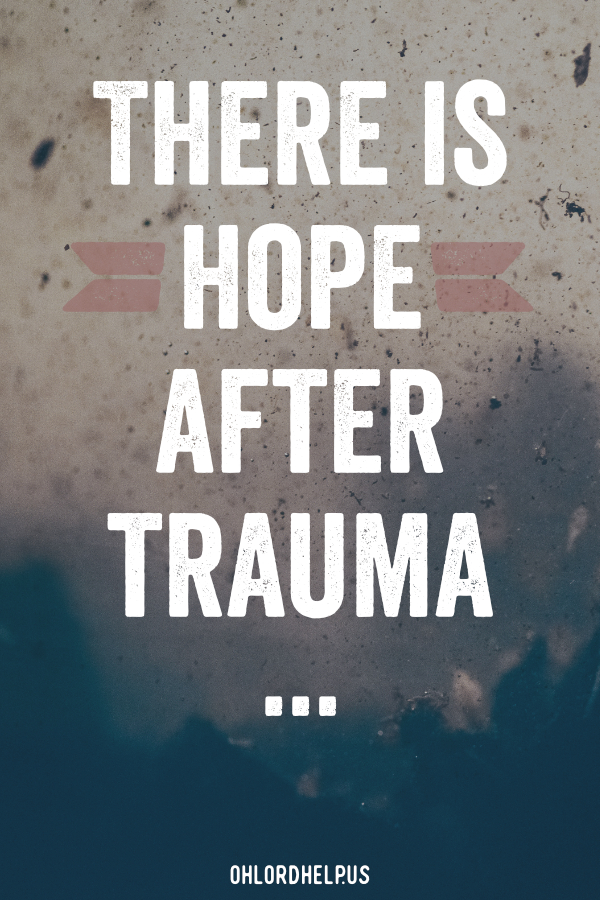 Redemption
We have been ransomed through his Son's blood, and we have forgiveness for our failures based on his overflowing grace

Ephesians 1:7, CEB
While rape is never the victim's fault, my actions played into what happened to me that evening. I made a choice to be alone with him. I do not know what would be different if I had not allowed that to happen but I have had to overcome my part in it.
We have been ransomed. We have been forgiven. Our failures, our mistakes, and our sins make us feel dirty. But there is redemption; Redemption through His overflowing grace. So much grace. He turns our dirt into beauty. He transforms and renews us. His sacrifice makes us clean. We do not need to dwell on our past but can look into our redemption.
We have been ransomed. We have been forgiven. Our failures, our mistakes, and our sins make us feel dirty. But there is redemption; Redemption through His overflowing grace. Click To Tweet
Hope
The light shines in the dark, and the dark has never extinguished it.

John 1:5, GW
In the midst of pain, there is always hope. In the darkness, the light always shines. The time after my rape was the darkest time of my life. Hope seemed far off. The light was too dim to see. But it was there.
Darkness can never extinguish the light. Even in times when the light seems impossible to see it is still there. It will never go away. That light is hope. Hope that is among the trauma. Hope that only comes from Jesus. We can not fight the darkness on our own. We need His light. The light that extinguishes the darkness.
In this dark time, the light and the hope came through my story impacting others. When I thought I was alone Jesus brought people into my past that have walked similar paths. He brought people that needed to hear they were not alone. If I had not walked in the darkness in this way then other peoples lives would have not been impacted. That is the hope we can see in our pain. That one day our story can touch lives, one day we can show a woman in darkness the light that never fades.
Stand
We need to wake up. Do you hear me, sisters? We need to wake up and stand with these people battling the darkness. Not condemning them, and not sweeping their pain under the rug, but acting in love. These women that feel dirty: we need stand and with them and fight. We must speak out, and we must have a voice. Stop telling people to keep it to themselves and stop denying the facts. Darkness can come when you least expect it and we must bring this darkness to light.
I know that I have a nasty habit of judging others. I would venture to say that we all have that sin struggle in us, but we need to stop. We need to allow women that have been through trauma and struggle to find a safe place. We need to give them a safe place. If we respond with love and understanding instead of judgment imagine the difference that would make. Allow the person in darkness to see what light looks like. Show her that she can feel clean again. Share your experience with her so she doesn't feel so alone. Inspire hope.
If you are in a place of feeling dirty and stuck in the darkness do not allow yourself to walk through it alone. There are people who have walked through the darkness and come out on the other side. We are all a little dirty. Remember that the light is never gone. Hope can always be found. As Albus Dumbledore said, "Happiness can be found, even in the darkest of places, if one only remembers to turn on the light."
Fight. Encourage. Love. Support. Speak. Heal.