Giving Scripture the last word lays a solid foundation in our lives that cannot be moved. We must be alert to follow God's Word and encourage each other in it daily so we do not become deceived (Hebrews 3:13).
---
---
One of the many conversations in our home right now is learning how to spot false gospels. In many circles today, the message of the cross has been altered to make it more polished, palatable, and attractive. But when the gospel is watered down, it is no longer the gospel. And it is alarmingly easy to veer off course. For example, take the phrase "God gives you what you need." Think about that.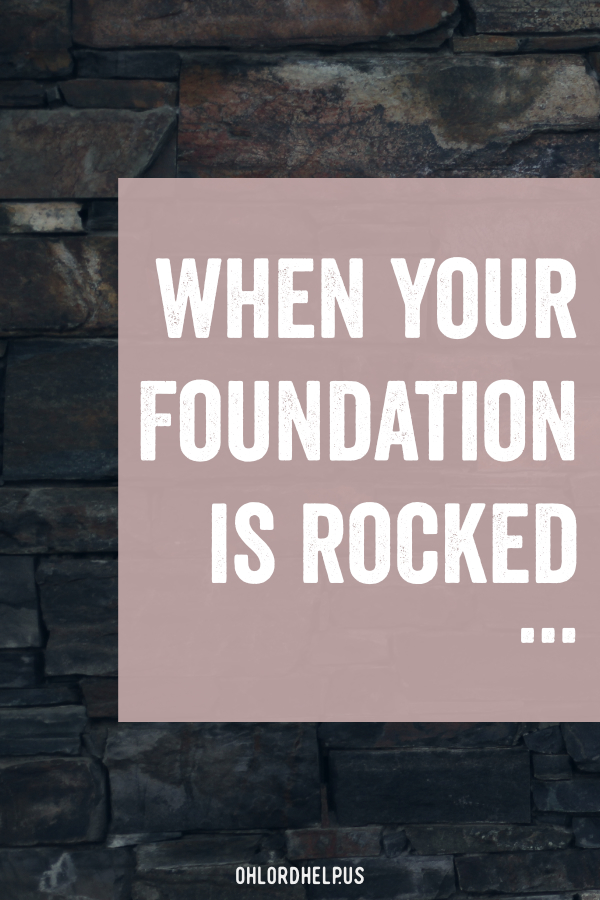 Pause for A Moment…
Where did your mind go when you read that? Perhaps you thought of the meme you've seen floating around that guarantees God will never give you more than you can handle. That is not in the Bible. I looked. The only pledge that comes close is 1 Corinthians 10:13 where we are promised not to be tempted beyond what we can bear, and that God provides a way of escape so we can endure. Or perhaps you thought of Philippians 4:19 which says God will supply all of our needs.
I don't know about you, but I can quickly become discouraged by phrases that have been taken out of context or have had the gospel stripped from them. Without understanding who God is, and what assurances He has shown throughout Scripture, what does God gives you what you need even mean?
When I heard someone say that several years ago I smirked and thought, I know that's what the Bible says, but it doesn't feel true in my life. I felt forgotten, overlooked, and cast aside by God. However disappointed I was with myself, I believed I was living the life I had created. But that was a lie. I wasn't relying on truth. My feelings were my final authority; not the sure foundation of God's Word.
Without Love
This past weekend, my husband Sean and I were able to attend a free marriage enrichment seminar offered through his work. We had a wonderful time away together and I am very grateful! But my point in mentioning it has to do with the curriculum we went through.
I was familiar with the original material, but the version taught at the seminar had been, as the instructor called it, "de-Jesus-ed." The only note I took the whole weekend was in response to this statement—"We all need love." I wrote:
Why [do we need love]? How do people without the God of Creation, who is LOVE, find an answer to that question?
I know we need love because I believe what the Word of God says. Because I know Him, I believe the need for love is also satisfied in Him. Without the hope of Christ, people are left to the exhausting and futile task of manufacturing love.
I imagine many perceive the gospel to be ethereal. Spiritual but elusive; like an ungraspable vapor. Yet we have been given the Word of God to instruct, guide, and embolden us to stand firm, to live lives worthy of the gospel! But we have to open it up and read it! And as David did, we must ask for help over and over again…
Help me understand Your instruction, and I will obey it and follow it with all my heart.

Psalm 119:34, HCSB
Costly Message
In the midst of a texting conversation between me, Sean, and our two teenage daughters, Sean sent Galatians 5:13 and Psalm 5:3 as ways to pray for change in the hearts of their friends, and for God to work in their school. He challenged the girls not to pray flippantly with empty words, writing: "Don't drop BS to the void. Speak God's Word back to Him with hope." Then he shared some of Jesus's words from the gospel of Matthew.
Not everyone who says to Me, 'Lord, Lord,' will enter the kingdom of heaven, but only the one who does the will of My Father in heaven.

Matthew 7:21, HCSB
I admit I have read this passage before and thought that seems harsh. Strict? Yes. Unreasonable? No. Why? Because He is God, and there is only one way to Him, and that is through His Son, Jesus Christ (John 14:6).
God is bigger than me. He is bigger than you. God is the Savior of the whole world, and salvation is freely given. But it costs everything because it cost Jesus everything. Every single day, as a follower of Jesus, I must die to what I think is best for me or fair. Daily the Father calls me to admit the ways I choose my own self-exalting, ethereal ideas above what He has clearly put forth in His Word. In His mercy, He shows me His way is best for me.
What is Needed
His divine power has given us everything required for life and godliness through the knowledge of Him who called us by His own glory and goodness. By these He has given us very great and precious promises, so that through them you may share in the divine nature, escaping the corruption that is in the world because of evil desires.

2 Peter 1:3-4, HCSB
God has absolutely lavished His love on us in Jesus! Through the life of Christ God has given us all that is needed for this life. In Jesus, we have what is needed to live godly lives because we have the gift of God's Word and His indwelling Spirit for those who believe.
Final Caution
I'm going to go out on a limb and say the mass majority of you know on some level that Jesus loves you. It is a comforting and powerful statement. For years I lived off of that phrase alone. Even if [fill in the blank] doesn't love me well, I know Jesus does. Then last summer I read how raising a foundation on this methodology can be deceptive.
This approach subtly turns Jesus into the One who meets my needs and fills my emptiness—as I define them. It turns God's love into something that only serves me. Repentance for our rebellion and sin against God is minimized or even ignored while God's love for us is maximized. We turn Jesus into someone whose goal in life is to make us feel good about ourselves…[Jesus] is the Holy One who comes to cleanse us, fill us, and change us…He loves us too much to merely make us happy. He comes to make us holy.

How People Change, by Timothy S. Lane & Paul David Tripp
God's love does fulfill every single one of our needs! The best way to fully believe that with conviction, is to read and pray His words. Then we can be confident that though sin does separate us from God, He made a way for us to become holy. Praise Jesus!
Satisfy us in the morning with Your faithful love so that we may shout with joy and be glad all our days.

Psalm 90:14, HCSB
God's love does fulfill every single one of our needs! To fully believe that with conviction is to read and pray His words. Sin does separate us from God but He made a way for us to become holy. Praise Jesus! Click To Tweet