Sin can be sneaky. Especially in our minds. We must run, flee from anything that tempts us into allowing sexual sin power.
---
---
As women, we have been really sneaky about making men feel alone in their struggle against sexual sin. I don't know how it happened, but it seems that men are just assumed to struggle with what they think and watch, but women are given a pass. This attitude has even permeated the Christian world. I'm often shocked by what friends have confessed they watch or read. They imply they're doing it "for the story," and lust isn't something they struggle with.
If you keep yourself pure, you will be a special utensil for honorable use. Your life will be clean, and you will be ready for the Master to use you for every good work. Run from anything that stimulates youthful lusts. Instead, pursue righteous living, faithfulness, love and peace. Enjoy the companionship of those who call on the Lord with pure hearts.

2 Timothy 2:21-22, NLT
I have written before how once we are made aware of something, we tend to see that certain thing everywhere. I am especially sensitive to sexual sin because it's one I have struggled with a lot in my mind. Sister, I've struggled to the point it affected my marriage. Please know my concern in addressing this topic comes from no place of judgment- I have no room to judge. It's because of my struggle with sexual sin that I want to warn you and ask you to run! Flee!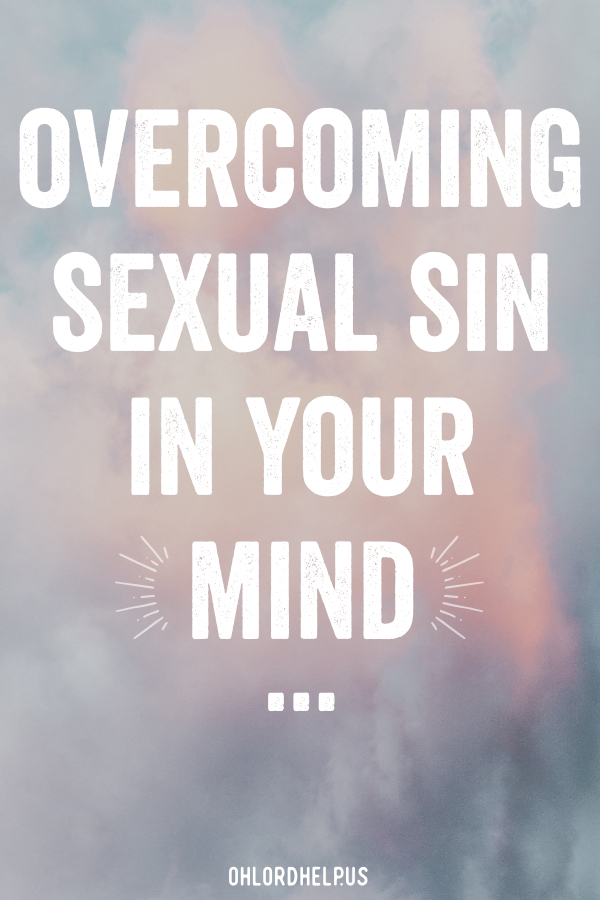 Temptation
Temptation comes from our own desires, which entice us and drag us away.

James 1:14, NLT
There are so many reasons we are tempted into sin, but they always come back to us. We want to do what we want to do. So we justify. "I watch Game of Thrones for the story. I read romance novels to pass the time. I listen to secular music about sex and the secular culture because I need to stay relevant with my kids." The problem with watching, reading, and listening to what the world is, is that all too soon, we begin to resemble the world and not Christ.
What sorrow awaits the world, because it tempts people to sin. Temptations are inevitable, but what sorrow awaits the person who does the tempting. So if your hand or foot causes you to sin, cut it off and throw it away. It's better to enter eternal life with only one hand or one foot than to be thrown into eternal fire with both of your hands and feet. And if your eye causes you to sin, gouge it out and throw it away. It's better to enter eternal life with only one eye than to have two eyes and be thrown into the fire of hell.

Matthew 18:7-9, NLT
Amazing Grace
These verses are all red letters in the Bible, meaning they are straight from Jesus' teachings. Make no mistake, Sisters, God does not think sin is funny or okay. We preach a gospel of grace. Praise God for His grace and mercy! None of us can enter into His presence without it. All of us are wretched sinners; I often feel like no sooner do I have victory in one area of my life, another surfaces that's just as serious. My point is that we must not take advantage of this amazing grace. Repentance means hating our sin enough to turn away from it!
As I write this today, I can be honest and say this area is not completely conquered in my life…perhaps it never will be. However, the more I'm in the Word, the more I pray, the more I fill my mind with Godly music and clean TV shows, the less and less I struggle. The junk I allowed myself to look at and think about, becomes more and more distant in my mind and memory.
Run to God
The key to our struggle against sin isn't to do it alone and in secret, but to run to our Savior for a way out! I've begged Him for a way and the phone has rung, or the baby woke up or my kids came inside for a snack…that is the way out, friends! Stop that thought, take it captive and hand it to God. Get busy serving your family until you are able to think clearly. We must have a practical plan to deal with our struggles, or we are absolutely planning to fail.
The temptations in your life are no different from what others experience. And God is faithful. He will not allow the temptation to be more than you can stand. When you are tempted, he will show you a way out so that you can endure.

1 Corinthians 10:13, NLT
Holiness
We are human, but we don't wage war as humans do. We use God's mighty weapons, not worldly weapons, to knock down the strongholds of human reasoning and to destroy false arguments. We destroy every proud obstacle that keeps people from knowing God. We capture their rebellious thoughts and teach them to obey Christ.

2 Corinthians 10:3-5, NLT
The Bible makes no joke about our walk with Christ: it's a battle, a war, a difficult thing that will absolutely make us realize our need for Jesus and His sacrifice. We cannot save ourselves-everything in our hearts is bent toward evil. Praise the Lord for His Word to guide us, His Holy Spirit to teach us, and His body of believers to help keep us accountable on this journey called life.
If you struggle with sin-your thought life in particular-I urge you to find a Godly mentor you can trust. An older woman in the faith who won't berate and judge you, but love you and help you! Holiness is a daily decision but also a lifelong destination.
God's will is for you to be holy, so stay away from all sexual sin. Then each of you will control his own body and live in holiness and honor-not in lustful passion like the pagans who do not know God and his ways.

1 Thessalonians 4:3-5, NLT
The key to our struggle against sin isn't to do it alone, but to run to our Savior for a way out! Praise the Lord for His Word to guide us, His Holy Spirit to teach us, and His body of believers to help keep us accountable. Click To Tweet