Circumstances can pull us away from our once fierce hope in the Lord. We don't know the whole story and must submit our "hoped for's" to God's plan.
---
---
But we had hoped that he was the one to redeem Israel…

Luke 24:21a, ESV
The road to Emmaus…Cleopas, (and several scholars believe), his wife Mary, were decimated by the crucifixion of Jesus. After the Sabbath finally came and went, with heavy hearts and dragging feet the couple gathered their belongings together to return home. Despite Mary's news of seeing the angels at the tomb, despite the unthinkable announcement that the tomb was empty, Cleopas and Mary headed out of town, shrouded in sorrow. In the words of Dr. James Boice:
…they were going home. It was all over. The dream was dead, and they were sad.
Many, many years ago, the infant daughter of some friends of ours was diagnosed with a brain tumor. At the time, our church was in the throes of an unusual months-long, Spirit-filled revival. We experienced the power of God in numerous, unexplainable situations and we were excited to incorporate it in prayer, at times without wisdom and discernment. Oh, how we prayed for that baby! How we entreated God's healing hand, anointed with oil, trusted He would intervene, despite what the doctors said…
Precious baby girl died three months later. Our small group was devastated, not to mention her parents. We had trusted. We had believed God. Had hoped He was who He said He was.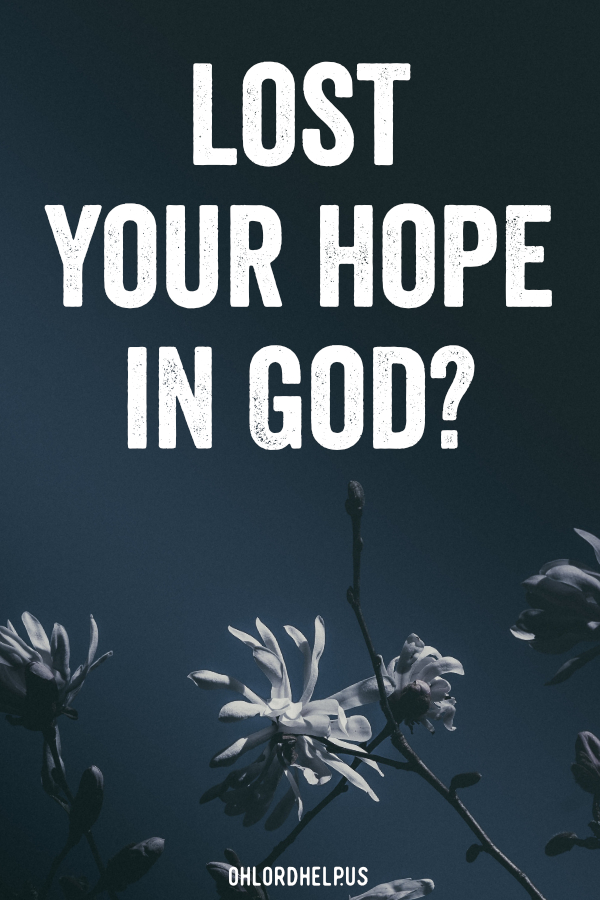 Hoped…
Not unlike Cleopas and Mary, our hope and trust became past tense for a season.
When Jesus joined them on the road home to Emmaus, He didn't allow them to recognize Him. After all, the last time they had seen Jesus, He had been a bloody mess, beaten and beyond recognition, hanging on a cross. Their story borders on comical, however. Jesus approached them on their journey, behaving as though He was clueless to recent events. Jesus asked them why they were sad. Cleopas and Mary were incredulous!
Art thou only a stranger in Jerusalem, and hast not known the things which are come to pass there in these days?" Jesus said, "What things?" They answered, "Concerning Jesus of Nazareth, who was a prophet, mighty in deed and word before God and all the people; and how the chief priests and our rulers delivered him to be condemned to death, and have crucified him. But we hoped that it had been he who should have redeemed Israel.

Luke 24:18-21, KJV
But we had hoped that He should have…
I wonder how often I have looked into the face of Jesus and claimed, I had hoped, I had trusted, I had believed, but You didn't do what You should have done.
For we hoped that He should have redeemed Israel. We had hoped. We had trusted that He should have redeemed Israel.
Irony
If it didn't feel so sadly familiar, I would feel sorry for the Emmaus disciples. I wish they had said, "Even though everything we see assaults our hope, and it looks as though we have trusted in vain, we continue to believe that we will see Him, again!" But instead, they walked beside Him declaring their lost faith, and He had to say to them, "O fools, and slow of heart to believe!" (L. B. Cowman, Streams in the Desert).
The irony is that Jesus, indeed, came to redeem Israel, whether each of His disciples held to their faith or not. That is exactly what lead Him inexorably to the cross – our redemption from sin. This kind of redemption, this freedom from bondage and subjugation isn't what Cleopas, Mary and many others had in mind; not at all. Their sights were set too low. They only wanted a physical king to bring emancipation for an earthly season.
Jesus offered so much more…immeasurably more.
Christ redeemed us from the curse of the law by becoming a curse for us—for it is written, 'Cursed is everyone who is hanged on a tree'—

Galatians 3:13, ESV
knowing that you were not redeemed with perishable things like silver or gold from your futile way of life inherited from your forefathers, but with precious blood, as of a lamb unblemished and spotless, the blood of Christ.

1 Peter 1:18-19, ESV
Deliverance
In today's culture, everyone seems to have their rights violated in one way or another. It might even be labeled oppression. Sometimes the pervasiveness of that attitude becomes wearisome.
But let me be clear, the Jewish people had experienced centuries of severe oppression, so I don't want to be too critical of Cleopas and Mary. Their hopes were soaring. Jesus was finally going to bring the longed-for deliverance for which their hearts had yearned for generations.
And then He was crucified.
Hopes dashed against a cross.
What else was there to do, but to go home?
But then Jesus, in His infinite love and mercy, showed up on the road to Emmaus. He began revealing to them the Scriptures. He told them the rest of the story.
And beginning with Moses and all the Prophets, he interpreted to them in all the Scriptures the things concerning himself.

Luke 24:27, ESV
Eyes Opened
Do you ever stop to realize that we don't know the whole story? The beginning, middle, and end? Has it ever occurred to you that maybe we only have a minuscule speck of awareness concerning what God is doing in relation to the vast scope of things? We see through a glass darkly (I Corinthians 13:12); unless and until the Spirit reveals His truth to us, that is our limitation.
And their eyes were opened, and they recognized him. And he vanished from their sight. They said to each other, 'Did not our hearts burn within us while he talked to us on the road, while he opened to us the Scriptures?'


Luke 24:31-32, ESV

Their eyes were opened. Their hearts burned within them.
Where do we need our eyes opened? When did our hearts stop burning and our hope fail? Did God's answer refuse to fit the parameters we had set, Beloved? It happens to all believers at some point. For reasons of sin or reasons of growth or both, we have each known times when we were convinced God was going to answer one way and He didn't…or hasn't.
Has God failed? We may never utter those words, but what does our walk with Him look like today? Do our hearts burn within us or is our hope a past tense thing, our faith a yesterday or last year topic?
It doesn't have to be. Cleopas and Mary were desolate, hopeless. Yet, Jesus restored them to resurrection hope by opening their eyes to Truth.
May He do the same for each of us.
Did God's answer refuse to fit our parameters, Beloved? Do our hearts burn within us or is our hope a past tense thing, our faith a yesterday topic? Jesus restores us to resurrection hope and opens our eyes to His truth! Click To Tweet