Starting a God-inspired journey can seem so daunting. It will take you out of your comfort zone, but God is with you every step of the way.
---
---
I keep hearing phrases like: get out of your comfort zone, make a change, become more involved. This can be exciting, scary, and exhausting. It can also be overwhelming.
So how can we cope with this? How do we keep the exciting feeling and not get so overwhelmed we can't move forward or lose the feeling of purpose? These are questions that I have been asking myself a lot during this season of life, when everything seems to be going at 100MPH.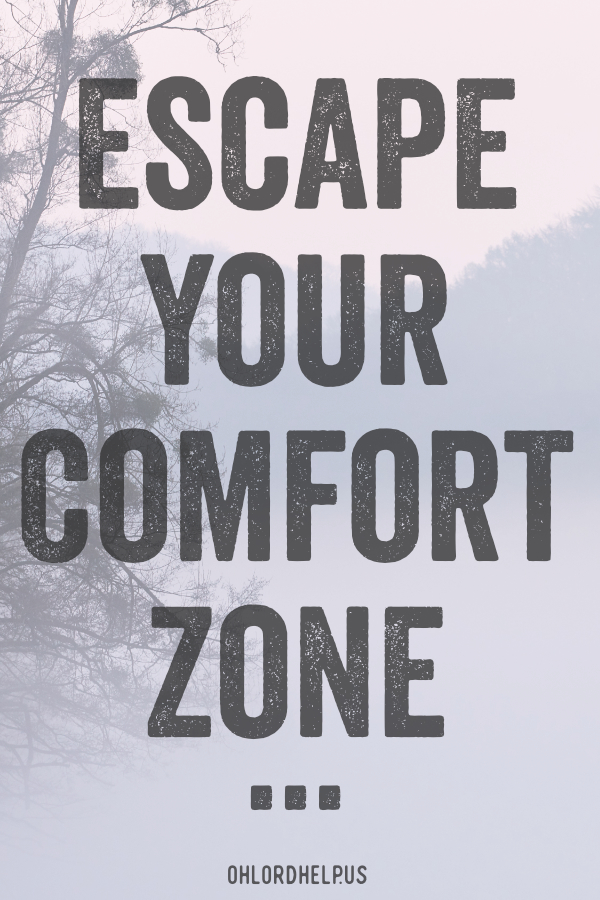 First Steps
Then they said to him, 'Please inquire of God to learn whether our journey will be successful.' The priest answered them, 'Go in peace. Your journey has the LORD's approval.'

Judges 18:5-6, NIV
My husband, Phillip, has taught me a lot about carrying joy and excitement for God. He has really jumped out of his comfort zone recently and done it with such gusto and verve that I have been in awe. Until recently he hasn't been much of a "joiner" in church-related activities. Phillip would go to church. He would help with something if someone asked. But he didn't seek out opportunities to be involved. This made it easy for me to not be involved. I could sleep in on Sundays, not volunteer, or just be a passive Christian.
Then a little over a year ago he decided to sign up to be an usher at our church. He loved helping out and knowing that his help was needed. Now, Phillip works all three services every week. He sometimes grumbles about having to get up early on Sunday morning, but once there, he is definitely in his element. I have also tried to be more involved and turn my focus towards being a more active follower of Christ.
They have told the church about your love. Please send them on their way in a manner that honors God.

3 John 1:6, NIV
Preparing the Journey
But that's not the end or even all of the beginning of Phillip's story. He joined a men's group that meets a few Friday mornings a month to discuss a book. Then he was asked to join a leadership training group reading another book. By the way, Phillip often has joked through the years that he has only read one book from cover to cover in his whole life….now he is reading two simultaneously.
Because of this, our home conversations are even more authentic and transparent. We talk about what he is reading, what I am reading, and how we see God's plan playing out in our lives. It feels more like a complete life than it ever has before.
There is still more to this story. A few months ago, right before Christmas, Phillip was given the opportunity, through his work, to go on a mission trip to Liberia. Since he has taken hold of that opportunity, I have seen such joy and excitement, as well as some nervousness. But boy, have I seen God's hand at work.
Christ-Centered
God has asked all of us to give with a generous heart. Putting this into practice has brought all of us joy, but it has also caused some stress. We have not taken anything away, just added to our plate. That means that because everything is on a time table, we have had to add extra time towards this project and take it away from other places in our lives.
As he prepares to go, he is fundraising, asking for donations and supplies to take to the orphanages he will be visiting and asking for others to pray for God's blessing on the trip. He has had a mound of paperwork to contend with and a few rounds of shots to get. I have been his sounding board and helped him get the word out. At times it would have been easier to say…We are just too busy for this right now, maybe in a couple of years, this wil be easier. -OR-This is really expensive, maybe in a couple of years, we could financially be in a better place to support this trip.
All of this can seem tedious, overwhelming and some of it unpleasant. But every time Phillip has felt a little out of control, worried, or overwhelmed, he has centered himself in our Savior. We talk, we pray, we rest. All three have felt Christ-centered.
'For I know the plans I have for you,' declares the LORD, 'plans to prosper you and not to harm you, plans to give you hope and a future.'

Jeremiah 29:11, NIV
Seeing God's Path and Following It
Through all of this journey, he has felt a pushing from God. That push has made him excited to see what's next. Phillip prays daily to know God's will in his life and has been so surprised to see how God has aligned his path to Him. This has pushed both of us more onto a Christ-centered path for our lives. And that has been exhilarating!
God desires to have a relationship with us. He wants us to invite Him to walk with us daily. When we do, this life has a way of opening up. It's not always easy and rarely what we've planned. But it is always exciting!
Trust in the LORD with all your heart and lean not on your own understanding; in all your ways submit to him, and he will make your paths straight.

Proverbs 3:5-6, NIV
Dear God,
Thank you for pushing us. Your hand is so firmly felt in our relationship. I feel the bonds of my marriage so firmly that I know it is You making us stronger. This opportunity feels beautiful and hard. Help us to move forward in a way that is pleasing to you. Be our guide and light the way to do what is pleasing to You and Your purpose.
love,
me
God desires to have a relationship with us and invite Him to walk with us. When we do, this life has a way of opening up. It's not always easy and rarely what we've planned. But it is always exciting! Click To Tweet