When God uses our gifts to fulfill His will, it becomes a consuming fire that feeds our souls the nourishment we so desperately need in this life.
---
---
And I will be to her a wall of fire all around, declares the Lord, and I will be the glory in her midst.

Zechariah 2:5, ESV
God Prepared
I love to write prayers, poems, letters and more. I have countless journals that record all my prayers. Going back and reading them has been so enlightening over the years because it shows me how God has been working in my life. It truly helps me have a better understanding of God's sovereignty and provision.
Writing has always been something I've done and enjoyed doing, but I never knew it would lead to becoming an actual writer. I see now how God was using this gift within, to prepare me for the journey ahead.
each one's work will become obvious. For the day will disclose it, because it will be revealed by fire; the fire will test the quality of each one's work.

1 Corinthians 3:13, CSB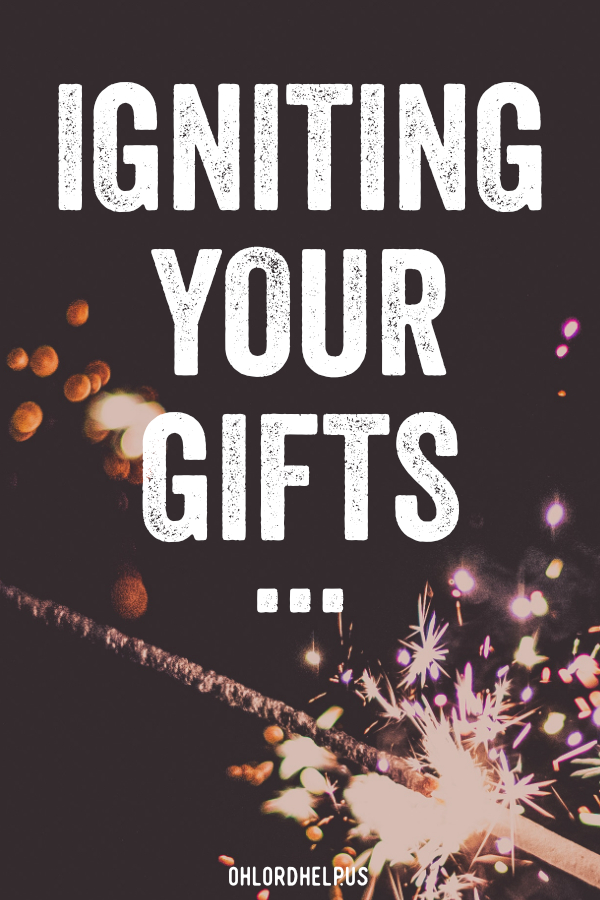 What's The Spirit Up Too?
When the Lord started to give me certain topics and perspectives to write about, I honestly had no idea what He wanted me to do with them at first. Were the tools to help grow my own faith? Was I writing a book? What am I supposed to do with all this God? It wasn't until a chain of events occurred that really seemed to get my attention and show me where all this was going…
I was sharing one of my writings with my sister one afternoon, hoping she would provide me with some insight I needed to unravel this mystery. When I was done reading it to her she quickly responded by saying 'I don't think you're writing a book, Kris. I think you are meant to blog.' 
I chuckled and told her 'NO WAY!!!!' I'm not at all tech savvy and wouldn't even know where to begin. The thought completely overwhelmed me. With that said, blogging on a computer was the furthest thing on my radar. God knew what He was doing and was about to show me in a very unforeseen way…
A Stranger Reveals "My Fire"
On this particular day, I was taking myself and my kids to get our routine cleanings done at the dentist. I was catching up with the receptionist when she begins telling me that I would be great at blogging. I looked at her in shock and told her my sister had recently said the same thing. As we were speaking, a young girl, who happened to be sitting in the waiting room, got up and poked her head around the corner to talk to me.
She excused herself for jumping into the conversation and continued to tell me that as she was listening to me, she noticed something special and attractive in my voice. She agreed with the receptionist that blogging would be a great path for me to pursue. I completely blushed and thought 'What is going on here!?' Then that sweet girl, whom I had never met until that day, shares with me that she believed blogging would become My Fire to spread God's word in the world.
I had never heard it described that way. 'My Fire'. Though, it made perfect sense to me. Whenever I open my mouth about God, a fire of passion ignites inside that can not be quenched. Naturally, this unforeseen witness, caught wind of the fire that day and was moved by the Spirit to share her opinion with me. Oh, Dear Reader, how glad I am she did!
God Opens A Door
I went home from the dentist office unsure how to get started on my new blogging journey. I had confidence knowing that if this was the path God wanted me to pursue, then He would make His way known. I trusted He would pull everything together. One day, the Holy Spirit reminded me of someone I knew that blogs and might be helpful in moving forward. I called my blogging friend, Katie, and told her EVERYTHING!
She was so encouraging and willing to help me as best as she could. She informed me that the site she blogs for was looking to recruit a new writer. She wondered if I would be interested. After I sought prayer and counsel, I came to the conclusion that this was the door God had opened for me to pursue writing. God wanted me to deliver these messages to the world, and now I had a way to do that. I phoned Katie and joyfully said 'I'm IN!'.
God Supplies My Needs
God knew I was in need of a laptop, printer, and space to do His work. My husband, Mike, has stood by me throughout this entire process and has supported me the whole way. For Christmas, he gifted me with a laptop, carrying bag, printer and a computer desk that he designed and built himself! I was so thankful and eager to get started.
God had used my Sister, the Receptionist, the young girl in the waiting room, Katie and my Husband to fully supply all my needs to get this journey started. They ignited the spark God gave me. His messages would now be heard through the Oh Lord Help Us ministry. Please understand, when God is working something new in your life, Beloved, it always falls into place.
You will be enriched in every way for all generosity, which produces thanksgiving to God through us. For the ministry of this service is not only supplying the needs of the saints but is also overflowing in many expressions of thanks to God. Because of the proof provided by this ministry, they will glorify God for your obedient confession of the gospel of Christ, and for your generosity in sharing with them and with everyone.

2 Corinthians 9:11-13, CSB
Wildfire
I love being an instrument used by God to spread His good news. I am humbled and honored to be given this ability to write and share these important messages with you, My Friend.
I am just an ordinary woman living life with an extraordinary God. When God uses our gifts to fulfill His will, it becomes a consuming fire that feeds our souls the nourishment we so desperately need in this life. We, as God's children, are called to help reach those who don't notice the spark inside themselves. This simple act of obedience is what leads to a massive wildfire of salvation forming all over the world.
Lost souls are found. Those who have been trapped become rescued and saved. Blind eyes begin to see. Brokenness is restored and made whole. The messy life suddenly reveals a life message. This, My Friend, is what it looks like to follow Jesus. Someone's spark out there in the world is relying on you to fan the flame.
So tell me, Dear Sister, what is "your fire" to help spread God's good news to the world?
save others by snatching them from the fire; have mercy on others but with fear, hating even the garment defiled by the flesh.

Jude 1:23, CSB
We are called to help reach those who don't notice a spark inside themselves. This simple act of obedience is what leads to a massive wildfire of salvation, formed all over the world. Click To Tweet