The Lord can speak to us in our dreams. Whether it's an instruction, warning, or vision of things to come, we need to pay attention to what He's showing us.
---
---
For God speaketh once, yea twice, yet man perceiveth it not. In a dream, in a vision of the night, when deep sleep falleth upon men, in slumberings upon the bed; Then he openeth the ears of men, and sealeth their instruction. That he may withdraw man from his purpose, and hide pride from man. He keepeth back his soul from the pit, and his life from perishing by the sword.

Job 33:14-18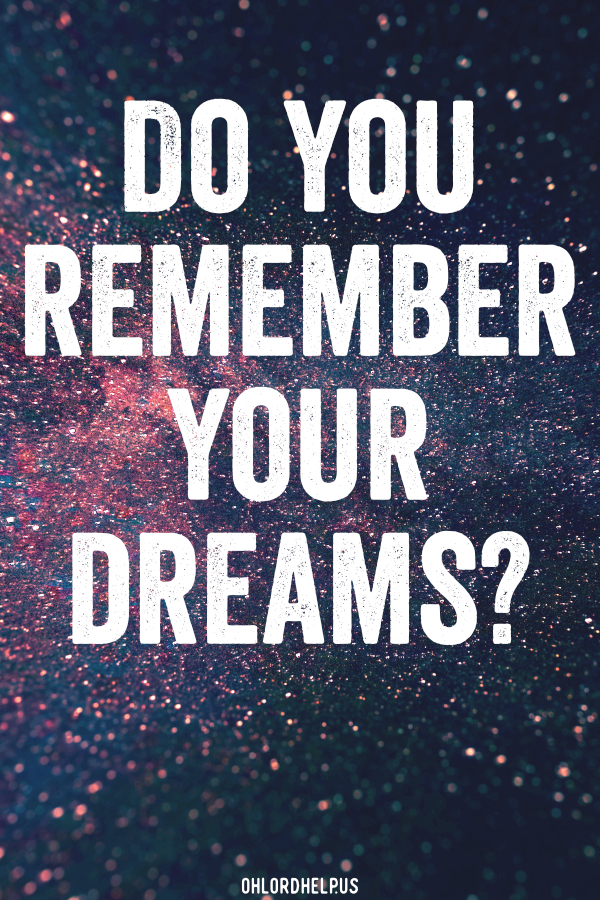 Genres…
For as long as I can remember, I have had very vivid dreams. Like a list of movie genres, they've spanned the spectrum from horror to drama, sci-fi to action and adventure. Many nights, I wished the Lord would just let me see a lighthearted rom-com! For the most part, the subject matter of my dreams has been much deeper and dramatic than that. During some seasons, dark and scary nightmares plagued my sleep. Like the time when I was four years old and saw the front room of my house catch fire. 
Other times, suspenseful action has been the order of the day, or should I say, night? For an entire year, I had countless dreams of being caught in terrible thunderstorms with people who were in danger of being struck by lightning. It was my responsibility to shepherd them out of the storms and into safe shelter! By far, the strangest dreams I've experienced would fall into the sci-fi category. I've been transported into centuries past and future and have seen people and places that I have no touchstone for in real life.
But my favorite dreams have always been when I've been swept away into some fun and exhilarating adventure–like when I get to fly! I'll be dancing or swinging, and all of a sudden, I lift off the ground and realize that I can leap up and soar through the air. A few times, I've flown so high that I've gotten an aerial view of entire towns. Despite their different genres, my dreams have had a consistent theme: I've seen events that have actually come to pass. More on that later…
A Curse or A Gift?…
Before I knew Christ, I simply regarded my overactive dreamlife as a curse. My dreams left me chronically exhausted. Each night, my brain spent countless hours caught in REM sleep–that mysterious stage of sleep when we dream. Rarely did I get to stage four sleep–the place where we're supposed to enjoy deep, restorative rest. Instead, a familiar routine of mental gymnastics played out all. night. long!–my brain trying to keep pace with a roulette wheel of random images rotating on the movie reel of my mind's eye.
As I've been walking with the Lord, however, I've come to understand that what I see at night is not actually a curse. In fact, our dreams can be a prophetic gift from the Lord. I don't claim to know exactly why He chooses to speak to us this way. But I do know that He is a good God, and His intent is not to disturb or scare us, but to help us. Although most nights, many of our dreams are nonsense "pizza dreams," there are other times when our spirit recognizes that a dream carries more weight. And that's when we need to pray and ask the Holy Spirit to help us understand what He is showing us. 
Although most nights, many of our dreams are nonsense, there are other times when our spirit recognizes that a dream carries more weight. We need to pray and ask the Holy Spirit to help us understand what He is showing us. Click To Tweet
Instructions, Warnings, and Prophecy…
Sometimes He gives us an instruction. Other times, it's a warning. And then there are those times that He shows us a picture of things to come. A brief survey of dreams throughout scripture shows the many ways that the Lord speaks to His people. He gives Joseph instructions to marry Mary (Matthew 1:20-21) and warns him about Herod's murderous intentions (Matthew 2:13). He shows Jacob the ladder reaching into heaven (Genesis 28:11-22).
Gideon overhears a dream about a barley loaf that represents his enemy's being delivered into his hands (Judges 7:13-14). Joseph has prophetic dreams about sheaves of grain and celestial bodies bowing down before him (Genesis 37). And Pharaoh's dreams of cows and corn help save an entire nation from famine (Genesis 41). And the list goes on… In all of these instances, the dreamers recognize that the Lord is speaking to them, and they heed His instructions, warnings, and prophetic visions.
He's Still Speaking…
Now, so far, I don't think the dreams that the Lord has given me have enabled me to save an entire nation from famine! But I do believe that our Lord–who is the same yesterday, today and forever (Hebrews 13:8)–is still speaking significant things to us through our dreams. While I've slept, He has shown me some incredible sights. Remember the childhood dream I mentioned about the front room of our house going up in flames? Nearly two decades later, that room of the house burned to the ground!
One night I dreamed that my close friend was three months pregnant. The next night, she and her husband came over for dinner. When I jokingly told her I couldn't offer her a glass of wine because I'd had a dream the night before that she was pregnant, her mouth fell open. She stammered, "We had planned to wait until after dinner to tell you the news, but I'm three months pregnant!" Then there have been really difficult dreams. Like the one I had the night of my father in law's 65th birthday. In it, he died suddenly. I awoke and told my husband what I had dreamt. One week later, my husband's dad died suddenly. 
Wake Up and Listen…
Over time, I have had to wake up to the fact that the Lord is speaking to me in my sleep. And I've begun to listen and pay closer attention to what He is showing me. Beloved, if you're a dreamer, don't disregard your dreams. Don't be afraid of them either. The Holy Spirit gives us discernment about which ones hold real significance and which ones we can let go of. He shows us the ones to share with others and the ones to hide in our hearts for the future. But in all of this, God indeed is still speaking. And we need to be listening.
Do you remember your dreams? Has the Lord ever spoken to you in them? Have you received an instruction, a warning, or a prophetic vision?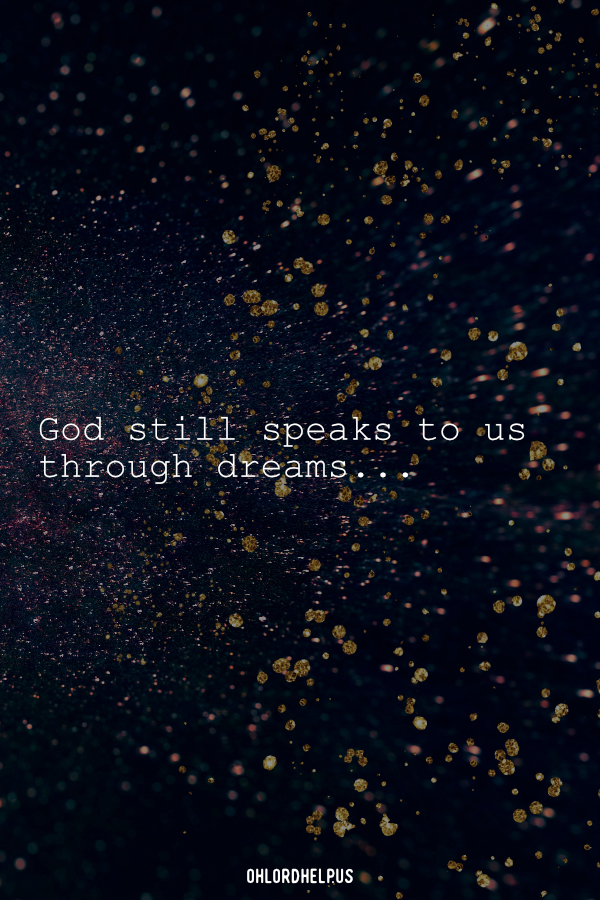 All scripture references are from the King James Version of The Bible.