Sometimes the pain of a door closing seems insurmountable, but God's got our backs. And our fronts. Just walk the path through the door. 
---
---
I'm sure you have heard the saying "one door closes and another one opens." God has a path for your future. Trust that…
Wide Open
When I was in high school I played basketball. I loved it! Of course, games were great and winning was amazing, but I even loved practice. Running suicides, stairs, sprints, shooting, defending, all of it. I loved it, maybe more than anything else about my high school career. That is not to say I was very good, but if enthusiasm and desire can make up for lack of talent then I was incredible.
The last game of my senior year was in a tournament. We won our first round game. In the semifinals for the first time, we were super excited. At halftime, we were down, but just by a few. In the fourth quarter, we pulled ahead and played back and forth with the opponents. In the last few seconds, we fell to 4 points back. Two seconds left we were down by 2. And time ran out. We lost.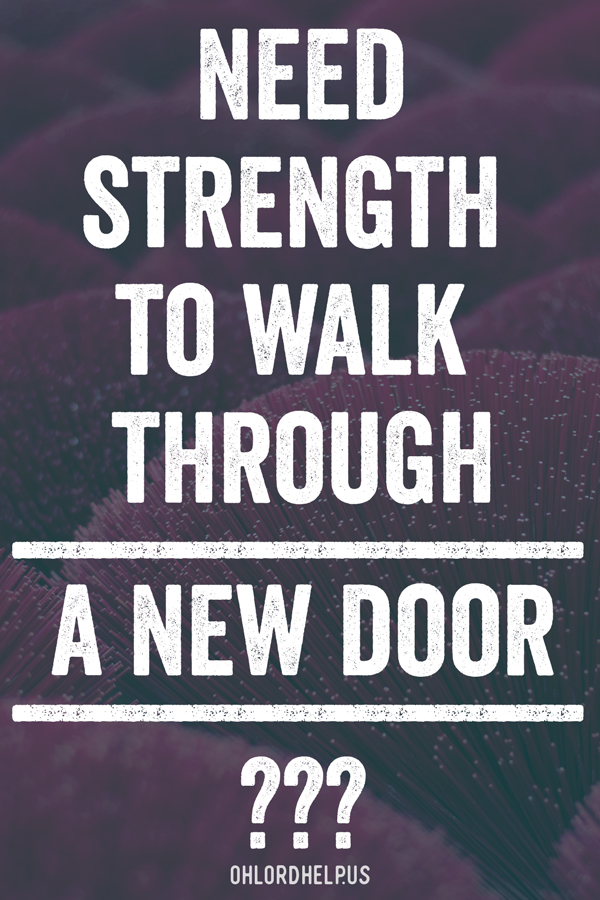 Closed Door
I don't remember how I got off the court and into the locker room. I remember crying inconsolably on the bench. Huge racking sobs that came from deep inside my soul. Not because we had lost – that had happened plenty, but because I knew I would never play basketball like that again.
The door closed…
When doors close it is often painful. You know that change is coming, the familiar comfort is no longer there and uncertainty is scary.
Dear brothers and sisters, when troubles come your way, consider it an opportunity for great joy. For you know that when your faith is tested, your endurance has a chance to grow. So let it grow, for when your endurance is fully developed, you will be perfect and complete, needing nothing.

James 1:2-4, NLT
Front and Back
As high school ended for me and college began, I was excited and scared to death. Leaving home and going to a school where I knew one person out of 22,000 and hadn't even seen them in two years was daunting. My first class at UNC was in Phillips Hall. The room sat five hundred students. My graduating class in high school was ten. Overwhelming is an understatement.
The door opened…
Luckily God put friends and experiences in my path that made my 4 1/2 years at college amazing. (I changed my major a few times and ended up needing an extra semester.) I admit, my college career was not always perfect or Godly. In fact, I stumbled more than I would like to admit in that time, but God had my front and my back.
The Lord will keep you from all evil; he will keep your life. The Lord will keep your going out and your coming in from this time forth and forevermore.

Psalm 121:7-8, NLT
Walk Through the Door
I knew when I went to school I was going to be an actress and end up on Broadway. The lights of fame and fortune were going to be mine. Then I didn't get a part in the first play I tried out for. While for some people that would just be a stumbling block, I felt an inner voice tell me it was time for a new dream.
The door closed…
Then I took a class on the United Nations. We participated in a World Health Council exercise about the human rights of women. It was incredible! I was so appalled by what I learned and inspired by the perseverance of women around the world. The word "education" came up again and again as a way to combat the atrocities that happen to women around the world. I felt that word weigh on me.
My mom was a teacher and I had sworn I would never be a teacher too. Haha! God has a funny sense of humor. I knew as soon as I registered with the school of education that I had made the right decision. The lightness in my heart and conviction in my spirit was proof.
The door opened…
Fulfilling Path
In the end, I studied for a career I know God has called me to and He led me to a life path that is fulfilling and fruitful.
Doors close…
Doors open…
The Lord gives his people strength. The Lord blesses them with peace.

Psalm 29:11, NLT
Be grounded in God's word so when a door closes in life we can have His assurance that a new one will open. We are weak and limited in vision, but He is our guide. Click To Tweet
Dear God,
Thank you for being the Light to my path. Help me to have my eyes open for Your work in my life. Keep me grounded in your word so that when a door closes in my life I can have Your assurance that a new one will open. I know that I am weak and limited in vision. Thank you for being my guide.
Love,
me