Our God is a God of justice and He will defend us. We must allow God to advocate for us and use His example to advocate for ourselves and others.
---
---
Throughout my life, I have not seen the need to advocate for myself. I was content to allow people to walk all over me for the sake of pleasing. I have always put the comfort of others ahead of speaking the truth in love…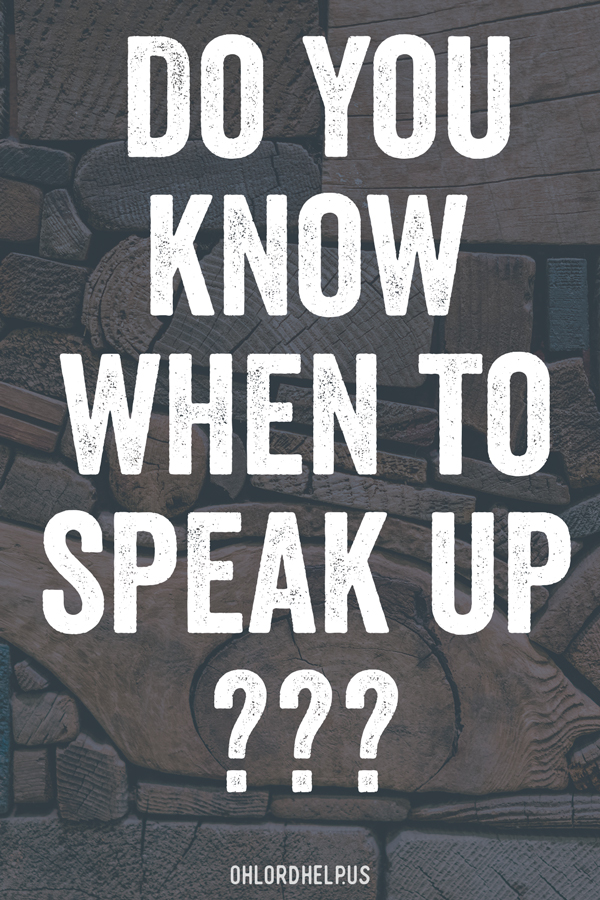 Fear
This also caused me to not stand up for others because of fear of rebuke or hurt feelings. While I wanted to advocate, I let fear stop me. I met needs and, in certain situations, I stood up for myself and others but it was always in a place and time where I felt comfortable and safe. Following the example of scripture was not my concern. I had a hard time leaving my comfort zone for the good of myself and others.
With that, I also did not allow God to go before me and fight for me. I was prideful. I allowed anger to reside and I suffered in silence. God has taught me that he will go before me and fight for me. Jesus taught me that He advocates for me so I don't get what I deserve because of my sin. He also gave the example for what it looks like to help and defend others even when it is hard and uncomfortable.
God as Our Advocate
Our God is a God of justice. All throughout scripture, there is proof of Him going before His people and advocating for them. It also regularly discusses the fact that God will intercede on our behalf and defend us. When we decide to follow God we decide to trust Him. We decide to allow Him to direct our lives and to provide justice.
But be assured today that the Lord your God is the one who goes across ahead of you like a devouring fire. He will destroy them; he will subdue them before you. And you will drive them out and annihilate them quickly, as the Lord has promised you.

Deuteronomy 9:3, NIV
In this passage, the Israelites are about to cross the Jordan and face the Anakites. Moses is reassuring them that God will go before them and that He will advocate for them. He will do this by fighting on behalf of the Israelites and defeating their enemies.
God will do this for us too. When we face foes and feel like we can not win we can trust in our God to go before us and fight on our behalf.
Advocating for Ourselves
While God fights for us and Jesus advocates for us, there are still times where we have to stand up and advocate for ourselves. There is a fine line between rebuking out of anger and rebuking out of what's right. When the time comes that we have to stand up for ourselves we need to make sure that we do it in love and in truth.
Watch Yourselves! If your brother or sister sins, warn them to stop. If they change their hearts and their lives, forgive them. Even if someone sins against you seven times in one day and returns to you seven times and says 'I am changing my ways', you must forgive that person.

Luke 17:3-4, CEB
When someone sins against us we have the right to tell them. With that, we also have to be open to forgiving them if they express repentance. Our God is just and does not want us to sit idly by while others sin against us. While sometimes the sin may be malicious and purposeful, other times they may not know that they in the wrong. When we call them out in their sin we are showing them the love of God and giving them an opportunity to gain forgiveness. We are also advocating for ourselves and making sure we are taken care of.
Jesus as Our Advocate
It's no secret that we are sinners. Because we are sinners we are not able to atone for them on our own. It is clear from the start that we were and still are in need of someone to intercede on our behalf and advocate for us with God. That is where Jesus comes into the picture. Jesus walked in and paid our debt that we could be absolved of our sins and have the gift of eternal life… We are forgiven.
My dear children, I am writing this to you so that you will not sin. But if anyone does sin, we have an advocate who pleads our case before the Father. He is Jesus Christ, the one who is truly righteous. He Himself is the sacrifice that atones for our sins– not only our sins but the sins of all the world.

1 John 2:1-2, NLT
Jesus' Example
Throughout the New Testament Jesus shows us what it looks like to advocate for others. He is constantly standing up to the Pharisees and Sadducees on behalf of God and those who could not stand up for themselves. He gives us the ultimate example…
The Spirit of the Lord is upon me, because he has appointed me to proclaim good news to the poor. He has sent me to proclaim freedom for the prisoners and recovery of sight to the blind, to set the oppressed free, to proclaim the year of the Lord's favor.

Luke 4:18-19, NIV
Jesus clearly said that his mission was to stand up for those who could not stand up for themselves and to set people free. We are to model our lives after Jesus' example. We need to honor Him by encouraging and supporting those whose voices are silent.
Love the Lord your God with all of your heart and with all of your soul and with all of your mind. This is the first and greatest commandment. And the second is like it: 'Love your neighbor as yourself'.

Matthew 22:37-39, NIV
Our Neighbors
The second commandment is to love your neighbor as yourself. How can we do this if we do not stand up for them and advocate for them as we do for ourselves?
We who are strong ought to bear with the failings of the weak and not to please ourselves. Each of us should please our neighbors for their good, to build them up. For even Christ did not please himself but, as it is written: 'The insults of those who insult you have fallen on me.' For everything that was written in the past was written to teach us, so that through the endurance taught in the Scriptures and the encouragement they provide we might have hope.

Romans 15:1-4, NIV
We are called to bear with each other. To take others insults as our own and to stand up for those who are weak. That can play out in many ways: social justice, helping the poor, mourning with those who mourn. Scripture constantly implores us to take on the burdens of others and to stand with those in trial. Jesus did that better than anyone and we must use the examples He gives us to love one another.
Scripture constantly implores us to take on the burdens of others; to stand with those in trial. Jesus did that better than anyone. We must use the examples He gives us to love one another. Click To Tweet