Our human hands can create such beautiful things. But nothing compares to the intricate work of God's hands or His beautiful gift of salvation.
---
---
I have made the earth and created humans on it. It was my hands that stretched out the heavens, and I commanded everything in them. 

Isaiah 45:12, CSB
I am amazed by what our human hands can invent, create, build, design, craft, and even restore. Our hands have the ability to do so many wonderful things. It blows my mind how a surgeon's hands can heal the inside of someone's body.
I'm speechless when I see a piece of architecture beautifully designed and brought into existence by human hands. It's truly an incredible gift to have the unique capability to use our hands to create things that bring us joy, comfort, and help.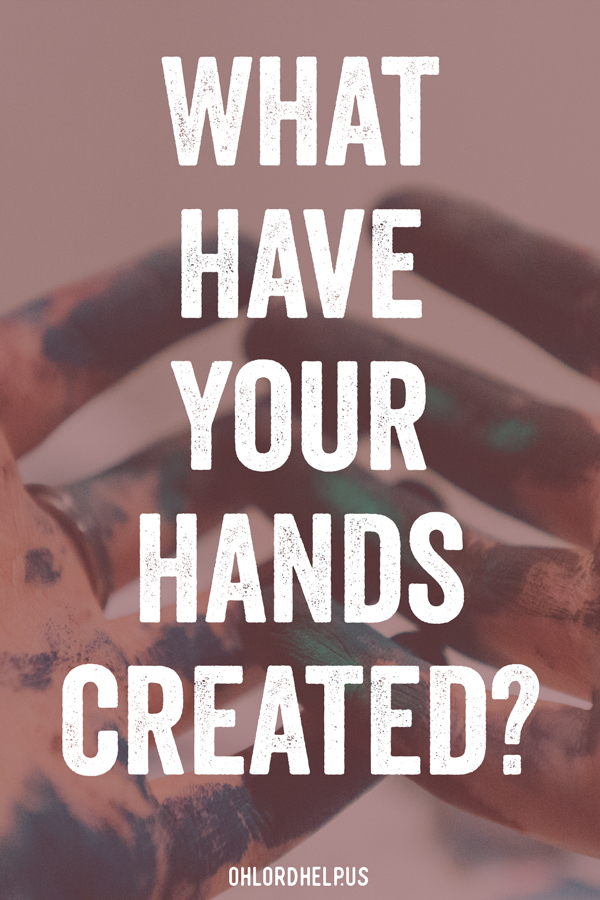 God's Hands Create
With all these amazing things our human hands can muster up, some things remain untouched by our hands. The planets and stars in the universe, the oceans, the mountains, and the spirit inside of us are just a few examples.
 In the beginning God created the heavens and the earth.

Genesis 1:1, CSB
This allows us to know that we, and the beautiful world around us, were handcrafted by our Creator. God's hands have done a perfect work and He alone has accomplished it all.
We are creatures made to create just like our Creator. Whether we use our hands to produce art, write, farm, build, craft, sculpt, dig, fix, measure, or sew. No matter what we choose to do with our hands, we still are unable to create EVERYTHING! Why do you think God designed it this way? I personally think He did this to show that He is in complete control.
Making Idols
When we marvel at the works of our own hands, we can easily idolize and forget where our ability to create came from.  
Their land is full of idols, they worship the work of their hands, what their fingers have made.

Isaiah 2:8, CSB (emphasis added)
God sees all, knows all, and creates all. He knows when we forget where our abilities came from. And He calls us out when we do. As God's people, we are called to understand His divine mystery behind creation. Simply by acknowledging at our highest intelligence, we still cannot create the heavens, the earth, or even the stars in the sky.
Safe Hands
The hands God gave us, create many good and useful things. They also create many evil and sinful things. Satan will use his deceiving, sneaky hands to tempt us with sin. He corrupts our minds and hearts faster than we can blink. This deception begins chasing after us the moment we're born. We, as God's children, are not immune to Satan's conniving schemes. We are very much prone to wander as the hymn suggests. 
As Children of God, we must be aware of this and do whatever seems necessary to keep ourselves from falling into Satan's trap. Satan's hands, like our own, were created by God. I know, kinda mind-boggling isn't it?
Many people, including myself, at one point or another, have wondered why God allowed the devil to even come into existence. This is such a good question that requires much knowledge and wisdom to comprehend. We can't expect to understand the answer to this without seeking to know who God is first.
To know God is to know His son, Jesus Christ. If you want to get to know anyone better, then you need to establish a relationship with them, right? Otherwise, how will you learn who they truly are? We are incapable of understanding these profound mysteries we crave to know, without establishing a relationship with Jesus. Holding hands with Jesus is the only way we can stay safe against the devil and his demons.
I give them eternal life, and they will never perish. No one will snatch them out of my hand.

John 10:28, CSB
Hands that Heal
There is a story I love in the Bible that is found in John 9. Jesus bends down to use his hands to spit and stir up the dirt to create a substance that would heal the sight of a blind man. Just like the blind man in the story, we have been blind in our lives.
We need a Savior's hands to wipe us clean so we can see HIS way instead of our own. Jesus didn't use clean water to heal the blind man; He used mud in the ground that was made from His spit! I believe He did this to show His followers that He, and only He, has the ability to use our filthy sin and make something good come from it.
The Gift
I was once dead in my trespasses and now I am alive in Christ. My guilt and shame are the very things Jesus used to humble and restore me. When I was confronted with my sin, I immediately became aware of my need for Jesus.
Jesus was sent to us from God as a precious gift for us to observe and follow. He is the example and role model we are supposed to seek in order to understand how to navigate this life correctly. Without Jesus, we go through life blindfolded, having to feel our way through with our own hands.
My hand made all these things, and so they all came into being. This is the Lord's declaration. I will look favorably on this kind of person: one who is humble, submissive in spirit, and trembles at my word.

Isaiah 66:2, CSB
Jesus' Hands Paid The Price
Creation is a magnificent use of God's hands. But the most amazing use of God's hands is found on that rugged cross. Jesus' hands were nailed to the cross so ALL would see! The same hands that healed the blind and calmed the storms are the very same hands put on full display to show God's love, grace, mercy, forgiveness, and good news.
Oh, but we serve an even greater God than this! His love didn't stop there; It went all the way to the grave where Jesus resurrects from the dead to reveal the very same holes in his hands from that historical day. What better use of His hands? God made a way for His children to find the light in a dark world that separates us from Him. I can't think of anything better! The love God has for His children is always seen in His hands…
The same hands that calmed the storms are the very same hands put on full display to show God's love, grace, mercy, forgiveness, and good news. Oh, we serve a great God! His love went all the way to the grave for us. Click To Tweet
Lift Up Your Hands
God's hands hold us when we are crying.
His hands mend our broken hearts and restore our souls.
God's hands heal us and save us from Hell.
His hands mark the starting point to where our salvation is found.
Today believer, I implore you, to lift up those beautiful, hardworking, helpful, creative, useful hands of yours and worship in awe our Glorious God above! Let's fold our hands in prayer and thank Him for the wounds His hands endured so we could have the gift of everlasting life with Him. This is the best gift we will ever receive… Hands down!!!
With Folded Hands, I Pray
Oh Lord Help Me to see that your hands are not my own. Help me to use my hands in a way that will glorify you and make your name be known. Teach me to follow Jesus in all my ways and seek to know Him more.
Thank you for the sacrifice your hands endured for me upon the cross. I am so undeserving of this free gift of salvation, but I receive it with a full and thankful heart.
Help guide me Lord to show love, grace, mercy, and forgiveness with my own two hands the way you did with yours. I lift up my hands today and surrender my life into your hands, God. In Jesus' name, I pray.  Amen.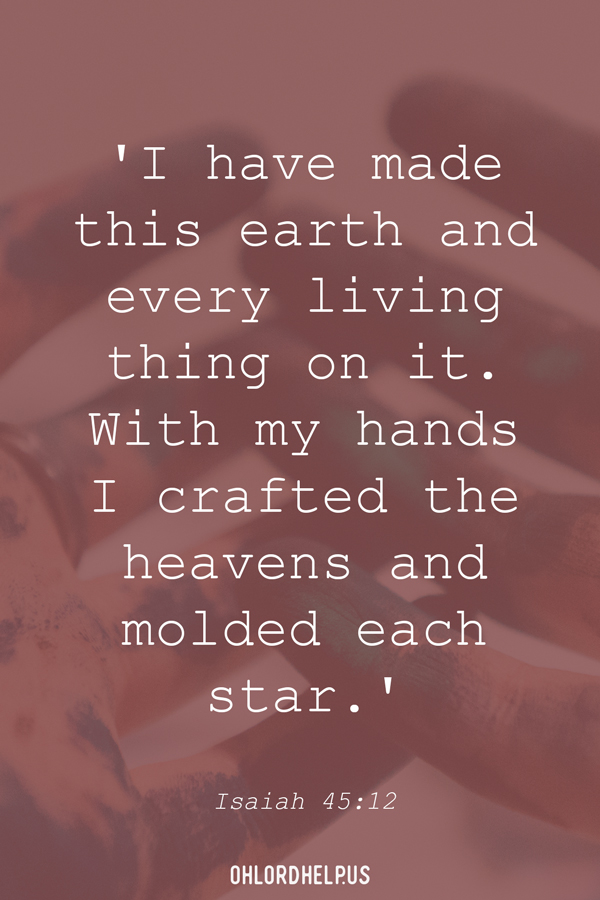 Amaury Salas