We can often become defensive when others point out our shortcomings. Jesus used both Mary and Martha to teach a powerful lesson. Our walk with God strengthens through the encouragement and example of our fellow sisters! 
---
---
And she had a sister called Mary, who sat at the Lord's feet and listened to his teaching. But Martha was distracted with much serving. And she went up to him and said, 'Lord, do you not care that my sister has left me to serve alone? Tell her then to help me.' But the Lord answered her, 'Martha, Martha, you are anxious and troubled about many things, but one thing is necessary. Mary has chosen the good portion, which will not be taken away from her.'

Luke 10:39-42, ESV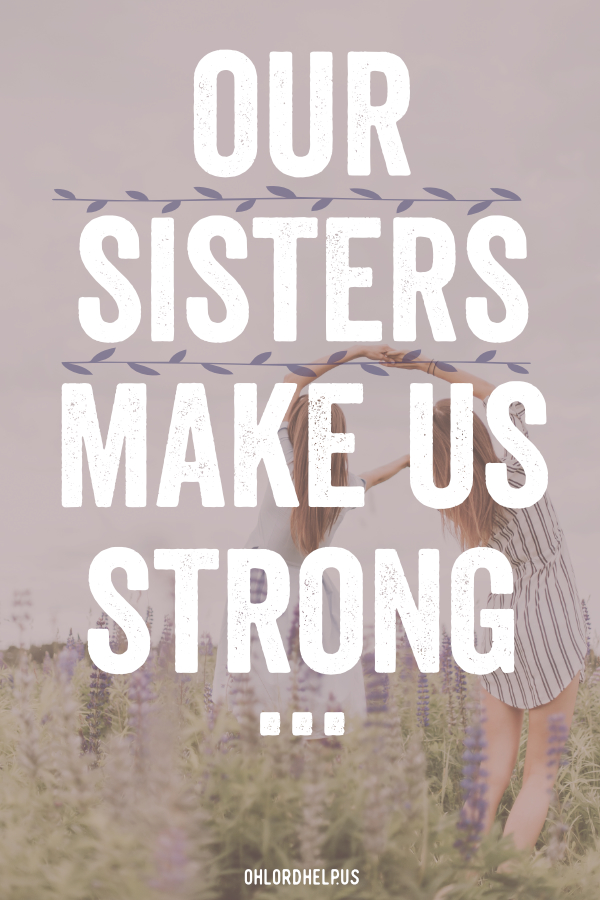 Sisters
My older sister and I joke that I am Mary and she is Martha. To understand what we mean by this, you need to understand who Mary and Martha are in the Bible. These two women are best known for being the sisters of Lazarus, the dead man that Jesus called out from the grave. Many people can easily recall the story in which Jesus resurrects Lazarus from the grave, but few seem to know who Mary and Martha were.
Martha gets a bad rap for this verse in the Bible. It seems that Martha is doing everything wrong and Mary is doing everything right. Though this may be true, it should never discount Jesus' love for both sisters. Though Martha possessed the ability to poorly prioritize, Jesus makes her aware of this and offers redemption.
We can learn a valuable lesson from the redeemed Martha, Ladies. Today, Beloved, consider these questions as you read: "Am I more like Mary or Martha?" and "What lesson did Jesus teach Martha that will help us in our lives today?" 
Mary's God Given Characteristics
Any Marys out there?
ME! ME! ME!
Mary is best described as the prayer warrior, deep thinker, and more often than not, an overly emotional woman. Mary LOVES Jesus deeply, with a sincere heart. I think it is safe to say that Mary's heart was "smitten" with Jesus. She is the one that hears another woman's troubles and weeps WITH her. Mary has the ability to connect with people on a personal level because she meets them where they are.
Mary is found sitting at the feet of Jesus quite a bit, (John 11:2, vs. 32; John 12:3). She was SO intrigued by Him, that she became blind and deaf to everything and everyone around her. Including her sister, Martha. Some might say she was, oblivious to the obvious.
I am like this all the time! Once I enter my time with Jesus, I have an extremely hard time stopping. I think things like:
"I should probably stop reading and go feed my kids their lunch. It's like 1:30 pm!" -((cough cough)) not joking ((cough cough))-
The struggle is real! I seriously have NO problem neglecting my house chores to sit at the feet of Jesus. Nope, no guilt at all!
Mary's Emotional Side
Mary's relationship with Jesus is evident to all who know her. She is the woman that is constantly talking about Him. Her ability to pray and love from a heart that is captivated by God is authentic and contagious.
Mary is more than likely the overdramatic and sensitive woman. She wears her heart on her sleeve; so when someone gives her a taste of their mind, it doesn't usually go well for her. She doesn't often fight back. She cries. Okay. Okay. I cry! Her sensitivity is what draws crowds to her though, (John 11:31).
Not to mention, Mary's emotions brought Jesus himself to tears. John 11:35 "Jesus Wept." The shortest verse in the entire Bible. Pretty powerful, Mary Ladies!
Truthfully though, Mary wanted nothing more than for people everywhere to feel the height, depth, and width of God's love for them. She has felt that kind of love and hopes all will experience it in life. Mary demonstrates her love for Jesus by having a deep, personal relationship with Him. Mary's Spirit is MOVED to simply sit and bask in the presence of Him whenever He enters the room.
Does Jesus have that effect on you, Dear Sister?
Martha's God Given Characteristics
I view Martha as your typical type A woman that clearly has a gift of hospitality and a heart to serve those around her. Martha is naturally task oriented and probably prone to being the person who thrives on hearing "That a girl!" Her top love language would easily be Words of Affirmation!
Martha LOVES Jesus and lives her life dedicated to following Him and all His commandments. She is naturally a rule follower, so for her, keeping Jesus' commandments is a challenge that she enjoys pursuing. This girl seems to NEVER miss a beat. She prioritizes and uses her time efficiently and effectively every day.
She is also the one that pampers you with such love and kindness when you enter her home that leaves you thinking "is this girl even real!?".
Martha's Serving Side
My older sister has a knack for this! She will leave welcome baskets for anyone that stays in her home filled with such love and attention to detail. I remember staying over at her house one night and seeing this sweet basket all done up with rolled up washcloths, fresh clean soap, face mask, lotion, shampoo, conditioner, toothbrush, toothpaste and a sweet note telling me to relax and enjoy. Oh, and FRESH flowers by my bedside!
This kind of hospitality, in my opinion, is VARSITY level. We need more on the Varsity team of hospitality if you ask me. Martha cares for people because she recognizes how much Jesus cares for her. She displays how to serve God's people with ACTS of kindness and love. She naturally puts her love for Jesus into action. Her spirit was literally MOVED to ACT on her love for Jesus.
By doing this, she misses the point of Jesus' visit though. To listen in close relationship with Him. Basically, It's hard to listen to Jesus when we're moving around and have our minds preoccupied, Sisters.
Prioritize According To Jesus
Clearly, we can see that these two sisters are vastly different from one another. Yet they share something in common; They both love Jesus. They show their love for Him in different ways, which we see played out in these few verses.
Mary shows her love for Jesus by sitting at his feet and soaking in His every word. Martha shows her love for Jesus by preparing the meal and cleaning her house so He is comfortable. Jesus appreciated both sisters. Yet, he chooses to acknowledge Mary here. He does this is to point out how to prioritize correctly according to God's will. God says to Put. Him. First. PERIOD.
But seek first the kingdom of God and his righteousness, and all these things will be provided for you.

Matthew 6:33, CSB
Our Lord, Jesus, was never upset with Martha for serving and showing hospitality. He simply didn't want her focus to be primarily on her tasks. This is the same for us as well. Even if our motives are good, if we aren't careful, those tasks have a way of keeping us from a relationship with Christ.
Mary chose to prioritize Jesus first. Because Jesus loves Martha, He acknowledges this to her, gently. With compassion, He calmly makes her aware of her sin. He then offers her redemption through this newfound awareness. He does this for us too, Sisters!
How Does This Lesson Apply To Us?
This is an excellent lesson for all of us women to learn. We should never assume that our sisters in Christ are doing something wrong by not doing what WE think they should be doing instead. This type of toxic thinking only leads us to resent our sisters instead of cherishing them.
To understand our sisters in Christ well, we need to intentionally note how they love Jesus well. By doing this, we save ourselves from falling into the trap of distractions and false motives. You see, Martha may have been distracted with her tasks, but she also thought her sister was being inconsiderate.
Mary, on the other hand, never intended to ignore her sister. Her motive was simply to love Jesus well. For her, this meant spending time with Him.
And when Jesus makes us aware of our sin, by pointing out what's right through another sister in Christ, we would be wise to imitate her good example. Doing this, we become a force to be reckoned with. Looking at each other this way will help us grow deeper in our faith.
Today, Sisters in Christ, let's acknowledge the sins in our own lives and let's receive Jesus' redeeming love. Together, with Jesus, we are stronger!
And though a man might prevail against one who is alone, two will withstand him—a threefold cord is not quickly broken.

Ecclesiastes 4:12, ESV
To understand our sisters in Christ well, we need to intentionally note how they love Jesus well. This saves us from falling into the trap of distractions and false motives. Click To Tweet