When it comes to our hearts, a surface cleaning won't suffice; the Lord is in the business of deep cleaning in order to set us free.
---
---
The other morning, in a bit of a rush, I accidentally knocked over a big glass containing a fruit smoothie I'd just made. Thick, dark purple liquid splashed all over the counter, blanketed the stovetop, and promptly drained down into that deep, dark abyss–otherwise known as the small crack between the counter and the stove! Needing to get out the door, I hastily wiped up all of the visible mess on the surface. But I knew that upon my return, the goopy, gelatinous puddle in the abyss would require some serious deep cleaning.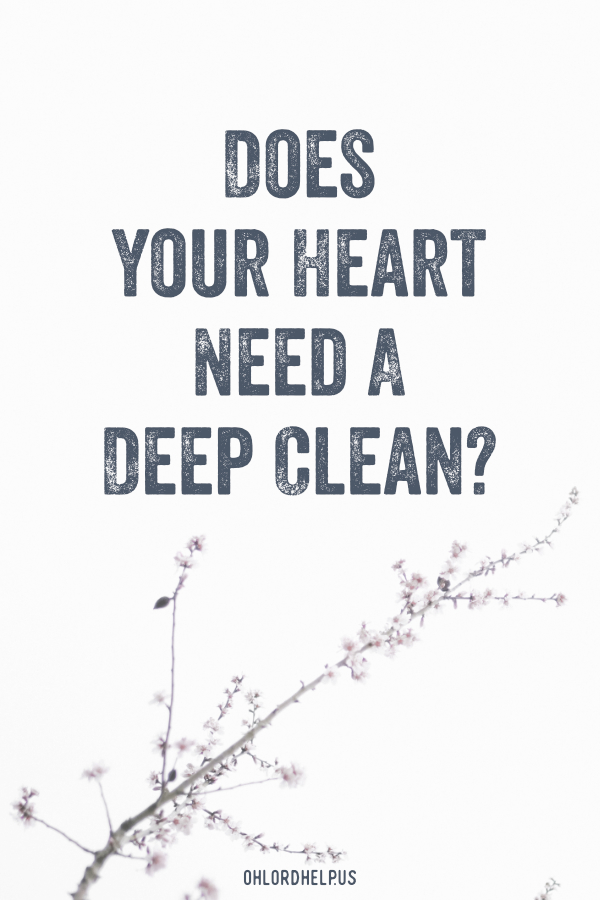 The hidden, nasty mess…
Later that evening, after the kids were in bed, my husband and I settled in on the sofa to watch a movie. It was shaping up to be a nice, relaxing evening…until…dun dun dun… Cue the cheesy horror film music…reent reent reent! I remembered the hidden, nasty mess awaiting me in the kitchen.
For a moment I entertained the notion of postponing my deep cleaning job until the morning. After all, getting all that gunk out would require pulling out the stove, perhaps vacuuming, mopping, and who knew what else.
But I had a sneaking suspicion that by morning, there was a strong possibility my kitchen would reek. So, I got off the couch and got to work. I'll spare you the dirty details, but suffice it to say, the scene I encountered underneath and behind my kitchen stove was disgusting…borderline disturbing!
To think, at least twice a day I've been cooking meals in that room, and all of this filth was lurking there, just below the surface! It's a wonder my family is still alive! Ok, so perhaps now I'm overexaggerating a hair…
Downright dirty…
As I knelt down and scraped up those nasty globs of who-knows-what off of the floor, I thought about the parallel between my cleaning and the cleansing work God does in our hearts.
When it comes to our hearts, the Lord is not satisfied with a cursory surface wipe. In fact, when He does an important work in us, the process can get downright dirty. As believers, in order to truly be clean, we simply can't stay on the surface where things feel orderly and comfortable.
Friends, we need to be willing to open up the cluttered cabinets of our minds, pull back the dusty drapes shrouding our dreams, and expose the grimy residue clogging our hearts. This means that sometimes our walk of faith requires getting down on our knees and delving into the muck and mire of deep spiritual cleaning.
Woe unto you, scribes and Pharisees, hypocrites! For ye make clean the outside of the cup and of the platter, but within they are full of extortion and excess. Thou blind Pharisees, cleanse first that which is within the cup and platter, that the outside of them may be clean also.

Matthew 23:25-26
Sometimes our walk of faith requires getting down on our knees and delving into the muck and mire of deep spiritual cleaning.
Click To Tweet
Surface cleaning…
But admittedly, too often, surface cleaning is the way I tend to keep my natural house and my spiritual house. I like for there to be order in my home, so I keep clutter to a minimum. I don't leave things in places where they don't belong, and I don't allow messes to accumulate. But I confess that it's not very often that I really and truly deep clean my house.
Polishing the spiritual side of this coin, we can see that it looks similar. I'd wager to say that, as believers, most of us try to keep a tidy, sanctimonious outward appearance. We attempt to maintain some kind of daily quiet time routine. Perhaps we listen to worship music in the car or post scriptures and uplifting memes on social media. Most of us regularly attend Bible study, small group, or a weekly worship service.
Scratching the surface…
But in a sense, don't all of these religious routines constitute forms of mere maintenance cleaning? Albeit good practices to be in, taken together, these activities barely scratch the surface of the deeper spiritual walk that's required of a true believer.
But how often do we turn our hearts and minds over to the Lord to really allow Him to scrub, and cleanse, and purify us? Scripture strongly warns against the danger and hypocrisy of this kind of surface cleaning.
Woe unto you, scribes and Pharisees, hypocrites! For ye are like unto whited sepulchers, which indeed appear beautiful outward, but are within full of dead men's bones, and of all uncleanness. Even so ye also outwardly appear righteous unto men, but within ye are full of hypocrisy and iniquity.

Matthew 23:27-28
Skeletons in the closet…
Now, thankfully I didn't find any dead men's bones under my stove! But spiritually speaking, when I confess to the anger, hatred, and judgement, that I've harbored in my heart, I definitely have hosted some skeletons in my closet.
Had I never spilled my smoothie, I probably would not have thought about cleaning under and behind my stove. Meanwhile, dust, mold, and bacteria, would have continued to fester there, to the detriment of my home's air quality and our family's health.
Often, this is the way spiritual problems reach our radar. Maybe our "spilled smoothie" looks like an argument with a loved one where anger and harsh words spill out of our mouths–exposing deeper roots of bitterness that have taken hold inside. Or perhaps we see someone getting praise or recognition for the same kind of thing we would like to do, and thoughts of jealousy and envy rise up in our spirit.
A spiritual makeover…
Friends, I hate to say it, but all of us have an ugly, dark abyss that needs deep cleaning, and this time I'm not talking about the crack between your countertop and your stovetop. I'm referring to the shadowy recesses of our hearts where our unhealed wounds, sin, and shame reside. Those hidden places where we fear that God's grace can't, or won't, reach. But the Lord sees the exact spots on our hearts that need His thorough cleaning and healing.
And no amount of outward adornment–pretty clothes, makeup, half-hearted smiles, or even well-rehearsed Bible verses–can hide our spiritual blemishes. Sisters, we must be willing to ask the Lord to do a full-on deep cleaning in our hearts. Yes, this makeover is likely to hurt our pride, expose our weaknesses, and destroy our false sense of security. But, ultimately letting go of our dirt–jealousy, shame, failure, and fear–allows us to truly be clean. To be beautiful. To be free.
Search me, O God, and know my heart; try me, and know my thoughts: And see if there be any wicked way in me, and lead me in the way everlasting.

Psalm 139:23-24
Have you resorted to surface cleaning spiritually? Does your heart need a deep clean?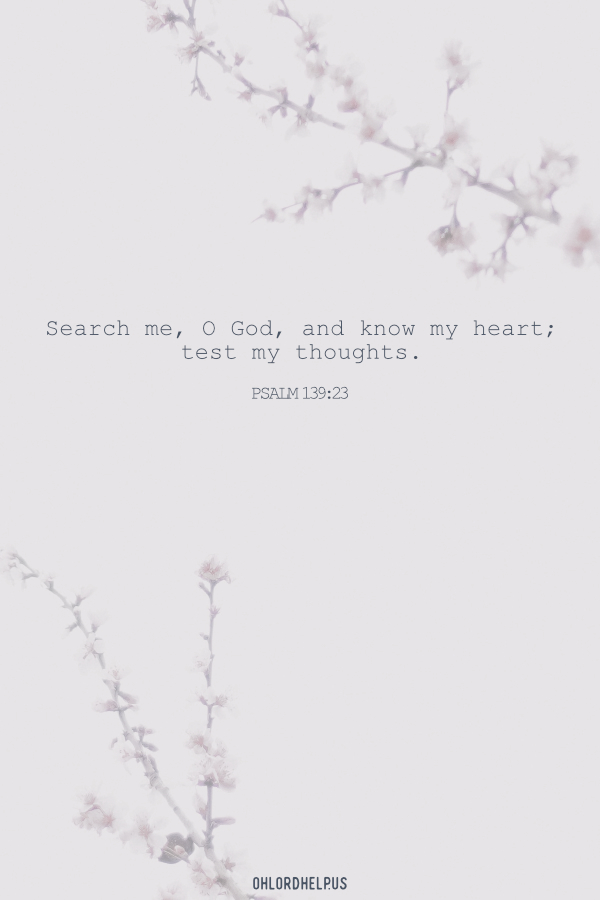 *All scripture references are from The King James Version of The Holy Bible.
Annie Spratt