Desiring a partner is natural, but we must examine our intentions before we enter into relationships. We must learn to desire God's love above all. 
---
---
Boys, boys, boys. Oh boy. I'm sure it's no surprise that I, a teenager, am writing about boys. But let me ask you this, am I the only age group who longs for a friend who's more than a friend?
Eve was made for Adam as a partner and friend so don't we all, as females, naturally have a desire for a counterpart? My personal struggle confuses the desire for another half with my delusional "need" for one.
Lust and love are vastly different yet look exactly alike. Loneliness and true longing are like night and day, yet wear the same colors. I find it difficult to see the differences between all of these so please join me as I work towards Christ's desires for me rather than intentions of the flesh.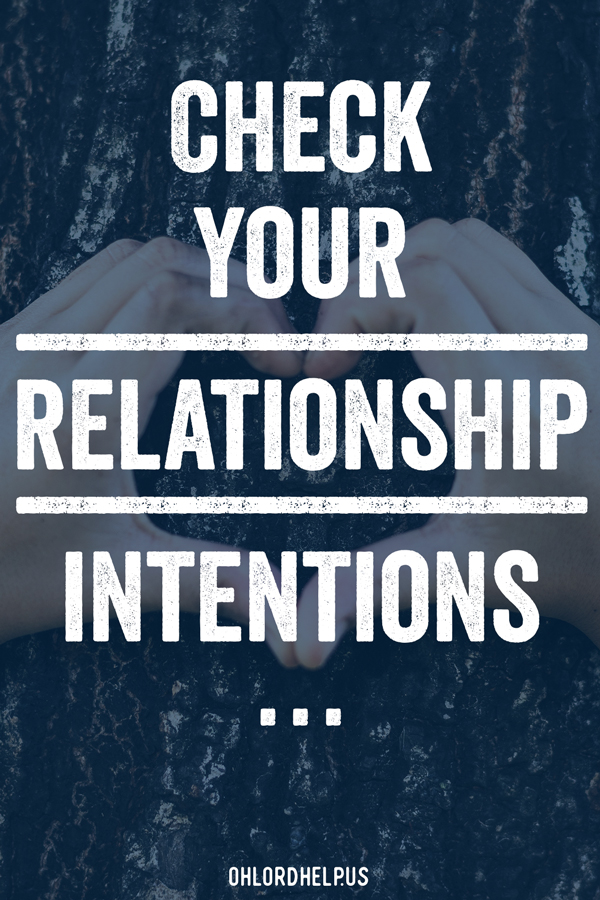 A Perfect Plan
First, I'd like to tackle what God says about this. I feel it's only smart to start with truth and unravel lies and misconceptions from there. Ecclesiastes 4:9-10 states that two are better than one. If one falls the other will be there to help them up. Genesis 2:4 talks about a man holding fast to his wife. We were made for this. We were made from and for love.
Who can find a virtuous woman? For her price is far above rubies.

Proverbs 31:10, KJV
Another verse I've loved digging into. We are a prize. Not a just helper; not a servant; a prize. We are precious and destined for love. We are helpers, not slaves. It's easy to accept society's view of women when we, as an entire gender, are a part of this society. The society that tells us what and who we are. However, God says I am a prize, you are a prize, and we are all precious.
Intentions
It's a natural thing to want a boyfriend. So why do I abstain? This is something I struggle with quite often. Boys are cute and funny, but how much of my desire for one is righteous? Do I want a boy because I'm made for that companionship or because he'll make me happy? Because he will fulfill the needs of my flesh, not my soul?
My main reason for withholding, aside from my age and stage in life, is because I often find myself caught between the right and the wrong reasons. My intentions are less than holy. Now, of course, we have to take into consideration the fact that a large majority of teenage boys have the mentality and brain capacity of my eleven-year-old brother. But how long can we, how long can I, make excuses for my own shortcomings and confusion?
I think it's good to realize a lack of righteous intentions, but I find myself stuck on this plateau. Step one… I recognize I have a desire for a boyfriend. Step two… realize that I often want one for the wrong reasons. For fulfillment of the flesh and not Christ's plan. Step three… well, I haven't gotten this far. Before I journey into how I am to move forward, I'd like to bring out some old memories and share them with you.
Story Time
Freshman year of high school was when dating became a real thing for me. We were past the stage of telling a boy I thought he was cute. Although, I'm afraid I must confess that I hid these "relationships" from my parents for quite some time.
The first boy was sweet and funny but highlighted my lack of maturity it took to actually have a boyfriend. The second one didn't talk to me for a week when I decided that's not what I needed in my life. The third one came around when I was spiraling into depression and self-harm. He was mentally and sexually abusive and cheated on me several times with a number of girls. I wouldn't discover this until after the second time I dated him. After I was able to convince myself I deserved more I ended up going back to boy number two from freshman year. He then sexually harassed me and we didn't last more than a weekend.
After all of this, I was tired of boys. I was tired of accepting less than I deserved. Then comes along another one towards the end of my sophomore year. He and I started spending more time together and he then broke it off with his at the time girlfriend. We got very close, very fast. And if he hadn't ended it due to my mental issues being "too much" (turns out he just wanted to hook up with my friend), he would've been my first love. But instead, he was my first horrible heartbreak.
True Love
All this being said, I struggle greatly with the aspect of love because I've been fooled into thinking I'd found it several times. I know I'm not the only one out there who's had their heart played and their worth questioned. So, going back to step three, I implore you to keep looking.
This is how we've come to understand and experience love: Christ sacrificed his life for us.

1 John 3:16, MSG
Christ didn't endure all the hate to just give up. No, He still went to the cross despite all our false perceptions of love and now we can find real, true, undying love. Search for Christ. Find Christ. You'll find love in Him. Through Him, you'll find a Man who'll encourage you in truth, not the desires of this broken world. Dance with God. He'll let the right man cut in.
Jesus still went to the cross despite all our false perceptions of love. Now, we can find real, true, undying love. Search for Christ. Find Christ. You'll find love in Him. Click To Tweet