Today's interpretation of 'compassion' doesn't compare to God's intended design. The true nature of 'suffering with others' was perfectly exemplified through the life and death of Jesus.
---
---
When I entered my initial internship for hospital chaplaincy, I believed I was equipped both theologically and emotionally to provide the care my patients would need. After all, I was an adult who had already raised a family, taught the Bible for twenty years, and had experienced, (and had therapy for), several painful life events.
Astonishing – how wrong we can be when we believe we're so right.
The World's Compassion
Chaplaincy internship involved many spiritual books assigned to us, weekly theological reflections, group meetings/assessments with fellow interns, and a weekly one-on-one with our supervisor. It didn't take long for most of us to ascertain that, while our theological training was imperative and our life experiences significant, how these aspects came together to minister care to a hurting soul was vital.
The word compassion is thrown around frequently in our culture. It seems the word is used to pull at our heartstrings and guilt us into performing a service. Or, to give to a cause in which someone, or an entity, believes we should. You know what I mean. I imagine your mailbox is full of the same appeals as mine.
Don't you have any compassion for these-
starving children
wounded vets
people with cancer
lost people
dying people in (name the country)
And if you're a television watcher…well, the visual is worse.
Inadequate Compassion
While I was in chaplaincy, I was seeing a wonderful Christian therapist. At times, I felt overwhelmed and deeply inadequate by the needs I faced each day. My heart, my own compassion, could not handle the onslaught of pain and suffering. I remember the day I expressed this to her, and she told me, "I believe we already have a Savior to handle the world's pain. We don't need another one." Ouch.
But the truth is, like so many other words in our world, compassion has been co-opted to take on a new meaning. Rather than the way, God, our Father used it, or Jesus used it, today it is used more as 'feeling sorry for.' With this meaning, we can throw money at the above list, or even a little time, feel warm and fuzzy, then go on our merry way.
However, in the Old Testament, where the Hebrew word is Racham, it is translated to 'love deeply;' it is used most often in Isaiah.
Yet the LORD longs to be gracious to you; therefore he will rise up to show you compassion. For the LORD is a God of justice. Blessed are all who wait for him!

Isaiah 30:18, NIV
Can a mother forget the baby at her breast and have no compassion on the child she has borne? Though she may forget, I will not forget you!

Isaiah 49:15, NIV
Can we fathom this love?
Suffering With
The Greek word splanchnizomai, "to be moved as to one's inwards", is used most often when referencing Jesus' compassion.
That one is a bit more difficult to grasp. Imagine your child with a raging fever and your willingness to take his/her place just to ease the pain and suffering.
Jesus went through all the towns and villages, teaching in their synagogues, proclaiming the good news of the kingdom and healing every disease and sickness. When he saw the crowds, he had compassion on them, because they were harassed and helpless, like sheep without a shepherd.

Matthew 9:35-36, NIV
When Jesus landed and saw a large crowd, he had compassion on them and healed their sick.

Matthew 14:14, NIV
As he drew near to the gate of the town, behold, a man who had died was being carried out, the only son of his mother, and she was a widow, and a considerable crowd from the town was with her. And when the Lord saw her, he had compassion on her and said to her, 'Do not weep.' Then he came up and touched the bier, and the bearers stood still. And he said, 'Young man, I say to you, arise.'

Luke 7:12-14, ESV
'Pain-Avoiders'
Henri Nouwen describes it well in a book he co-wrote with two others.
The word compassion is derived from the Latin words pati and cum, which together mean "to suffer with." Compassion means to go where it hurts, to enter into places of pain, to share in brokenness, fear, confusion, and anguish. Compassion challenges us to cry out with those in misery, to mourn with those who are lonely, to weep with those in tears. Compassion requires us to be weak with the weak, vulnerable with the vulnerable, powerless with the powerless. Compassion means full immersion into the condition of being human.

It is not surprising that compassion, understood as suffering with, often evokes in us a deep resistance and even protest…It is important for us to acknowledge this resistance and to recognize that suffering is not something we desire or to which we are attracted. On the contrary, it is something we want to avoid at all cost. Therefore, compassion is not among our most natural responses. We are pain-avoiders…

Henri Nouwen, et al, Compassion, A Reflection on the Christian Life
Full Immersion
Dear friends, sisters, is it not much easier to remain at a safe distance from sufferers than to be in "full immersion" with them? Wouldn't we rather tweet: "I'll pray for you!" with an added heart emoji than go sit in silence with a depressed friend?
Let's be painfully honest – it takes little effort to say, "Let me know if you need anything," but to take the initiative to keep her kids one day a week? Seriously?
I find it much more challenging to experience the powerlessness of someone in grinding poverty than to go to my intellect and tell her about job opportunities. I prefer to inform her of the stage of grief she is in than to weep and mourn with a sister who is mourning.
Because truly? While the practical answers are necessary, they are not what Jesus meant by compassion.
Jesus' Example
There was a time when I was very good at doling out useless offers and banal, spiritual phrases. Then cancer hit my family, (my dad, Gary,) and chronic illness, (me, mom.) Gary and I began hearing those words and good intentions coming our way. It didn't take too many instances for God to reveal to me how insincere I had been.
When I had cancer three years ago, the same thing occurred with people I believed were close to me. While the experience was hurtful and disappointing, it helped me realize anew how little we understand suffering with each other. Even in the Body of Christ.
God, in Christ, loved us to such a degree that He stepped down to earth to redeem us. He was tempted and suffered in every way as we do, (Hebrews 4:15; Isaiah 53:5-6). Jesus is our supreme example of compassion, suffering with. He will enable us to do the same with others if we will ask.
Let me warn you…it hurts.
…but the rewards are eternal.
Jesus is our supreme example of what compassion looks like: He stepped down to earth as a human, suffered as we do, then died and rose again to redeem us all.
Click To Tweet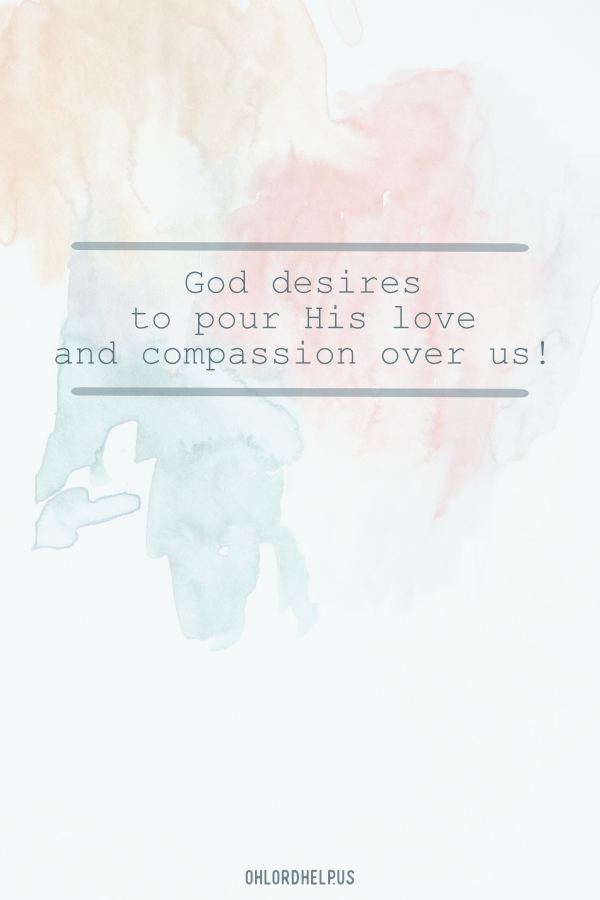 Annie Spratt