Pain can tempt us into isolation. Being alone is not the answer to healing and protection. God calls us to stand in the gap for the broken.  
---
---
There have been a few seasons in my life that have pulled me toward darkness. Darkness is an isolating place to hide. It can shield us from the truth. There were times I was pulled and other times I stumbled into the shadows. I lost my way to the light on the hill. I lost my way to the little lights shining in my loved ones' hearts. But they always left the light on for me; God left the light on for me…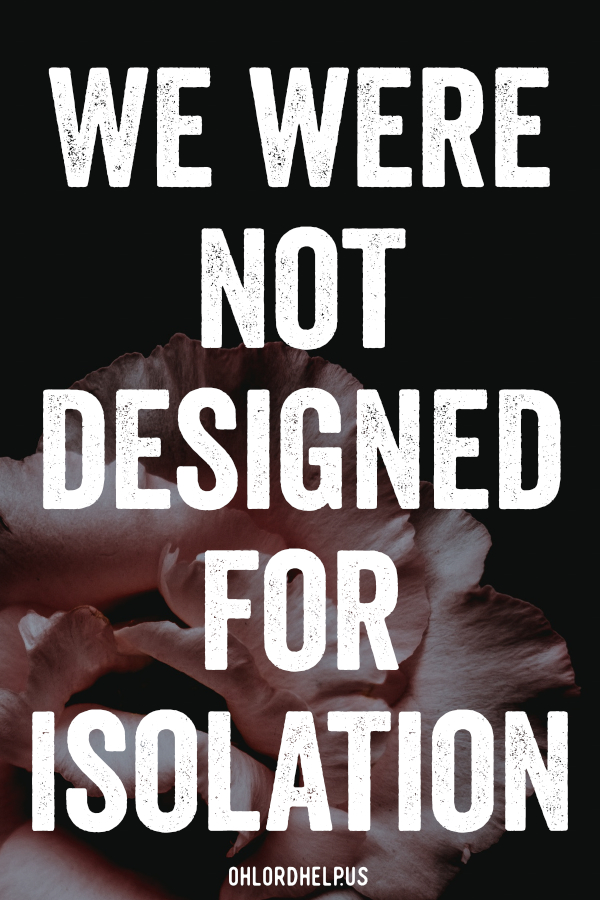 Pain on Canvas
Art school was my first glimpse of how fast the world can drag someone to such darkness. This was the height of my battle with self-harm. And it's no coincidence, this was the height (or the depths) of my lack of confidence. See, this culture taught that great art comes from great pain. So pain I bred, and pain I endured. I concocted it, fed it, let it flow through my veins, and poured it all over canvas.
I've never been surrounded by so many people yet felt so very alone. That's dangerous on an already heavy mind. There's a despicable desire to retreat even further… Become thin enough to waste away. Make the dorm room dark enough to feel gone. Take late night walks in an unsafe place, trying to fade out of existence. Don't answer the door or the phone… disappear.
Complete isolation. It's dangerous.
Familiar Friend
Recently, I've been feeling the pull towards darkness, towards isolation. I'm not sure if it's a bout of seasonal depression or a year-long strain on my mind. Whatever it is, I've had to fight so hard to stay away from my familiar friend. I've had to fight thoughts of wanting to run and fade away.
There's a feeling that I know what to expect there, in the dark. I know who can hurt me, or more importantly who can't hurt me there. I know I can shelter my heart from pain and keep my mind from having to work through normal human living…
Lies and Truth
But it's all lies… what I know are lies. In the dark, Satan circles like a vulture. In the dark, he whispers, destroys, devours. He knows there's weakness in seclusion. Absolute singleness… unsheltered, unsafe, exposed.
The truth is… it doesn't matter who you are, there is at least one, The One, who cares whether you are safe. Who cares to leave the light on for you.
And I am convinced that nothing can ever separate us from God's love. Neither death nor life, neither angels nor demons, neither our fears for today nor our worries about tomorrow—not even the powers of hell can separate us from God's love.

Romans 8:38, NLT
It's okay to fall into the darkness, but Love please don't stay there long. Allow those little lights to pull you to safety; allow the brightest light to pull you to safety. Safety forged by His blood. Safety promised through grace.
A person standing alone can be attacked and defeated, but two can stand back-to-back and conquer. Three are even better, for a triple-braided cord is not easily broken.

Ecclesiastes 4:12, NLT
We must stand against isolation. We must let those who have walked the dark path before usher in our Champion. Let us, shoulder to shoulder, faces to the ground, intercede for our brothers' and sisters' souls. Click To Tweet
To You:
If you've lost your way… if you've stumbled your way into the dark…
Oh, Sweet Friend please allow me to nurture your heart for a moment…
Please be brave. Do not be alone. Do not sit in isolation. In isolation is a vulnerability that kills. Sometimes physically, but more dangerously, the soul, the heart, the mind deteriorate. The terrors Satan throws are murderers.
Beautiful Sister, you must stand against this… but not alone. We must stand together. Will you let us stand with you? Let us fight with you! Will you let those who have walked this path before, those who know it's darkness, usher in your Champion? Let us, shoulder to shoulder, faces to the ground, intercede for you… for your soul. Because Love, wars are waging against your soul, not your body, YOUR SOUL.
Satan doesn't care about your body, though it's a nice perk when he gets it. He cares that you don't belong to the only ONE who died to save you. He wants to steal that from you, one whisper at a time. Speak out, Beauty. Tell your sisters, your pastors, your prayer warriors… tell them and let them fight. Don't allow the isolation of shame, heaviness, condemnation make you silent; make you alone.
Oh please don't be alone. Let us remind you of the God who selflessly left His throne to destroy your condemnation. Remind you of the Father who pursues, pursues, and pursues again! He never stops. He breathed you into existence, you are not forgotten, you are not condemned.
And, oh Sweet Sister, you are so precious. Valuable. He will restore you; He has restored you. The holes, the mutilations, the breaks in your heart… He will return those, mended. Whole. You are not broken any longer. You are rescued. Redeemed.
Isolation Intercessors
You see, I had intercessors. I had twinkling lights on their knees every night for me (still do). People who didn't know exactly what I was battling, but knew I wasn't strong enough to fight for myself. And they fought, oh they fought.
Oh yeah, that's great for you, Katie. Aren't you so blessed? 
My Sweet, so are you. Do you know how many ladies we have praying for you? Yes, you! The Oh Lord Help Us Team is full of survivors of darkness. We know the importance of praying in the gap for those who don't have the strength. Reach out to us. Let us know how we can intercede for you! Step out of the darkness.