Just as our physical human bodies need a strong, healthy heart, our spiritual heartbeats are no different. They can become distracted and out of sync with the Lord's plan.
---
---
The condition of your heart is critical in your walk with the Lord.
The Heartbeat
I held the small piece of paper in my hand. It was proof of the life growing inside me. BUT, this was the moment I was waiting for… assurance that my child was alive.
The nurse laid the cold instrument on my belly and I held my breath. In a split second, the room was filled with the most amazing sound. Tears came to my eyes as I heard the heartbeat. Strong and true it was the proof I needed.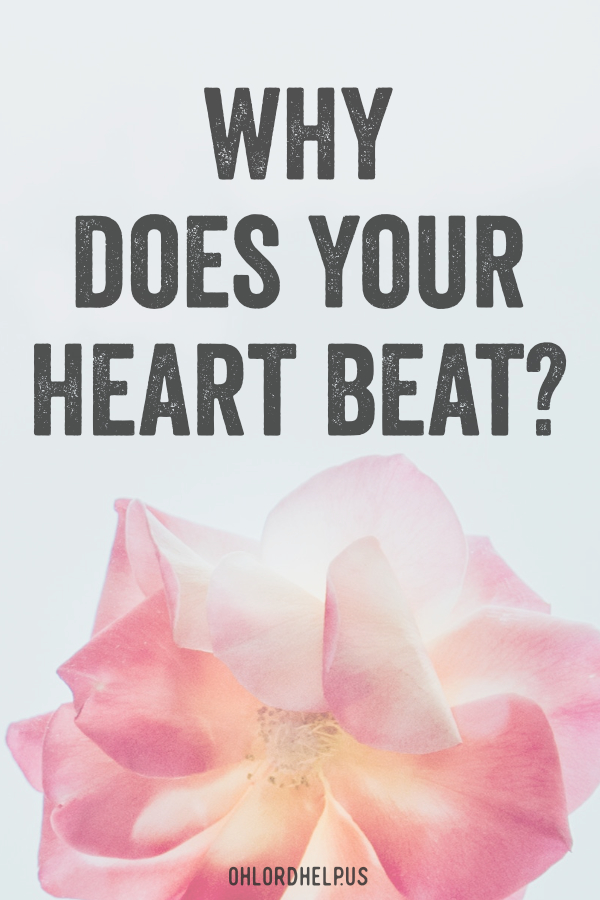 Why is Your Heart Beating?
We know why our heart beats, but what does your spiritual heart beat for? Is your heartbeat for your kids, your spouse, your job, your ministry? What makes your heart skip a beat and bring you pure joy? If we eat the right foods, exercise, and drink properly our heart will be in good shape physically. BUT, let's be honest for a moment. Are we taking care of our spiritual hearts the right way?
For where your treasure is, there your heart will also be.

Matthew 6:21, KJV
Are you feeding your heart with the Word of God every day? Do you pray for your family and friends "without ceasing"? Are your heart and soul being fed with Christian music and hymns? Do you spend time with God?
Now, I have to include myself in the "you" because I am guilty of not feeding my heart the right way sometimes. Sometimes, I just want to curl up on the couch and binge watch a show, or a good Hallmark movie! There is nothing wrong with that, be we must guard our hearts and feed our hearts with the things of Christ.
When Your Heartbeat Stops…
Tell your heart to beat again

Close your eyes and breath it in

Let the shadows fall away

Step into the light of grace

Yesterday's a closing door

Say goodbye to where you've been

And tell your heart to beat again

Danny Gokey, "Tell Your Heart to Beat Again"
When the physical heart stops, it must be shocked back into beating again. Sometimes we face difficult trials in our lives and it feels as though our heart has been shattered, broken, and stopped beating altogether. I have been there! I know what it feels like and I am sure many of you, Dear Friends, have too! BUT… let me encourage you. My heart, your heart, our hearts will beat again!!!!
Sometimes we face difficult trials in our lives and it feels as though our heart has been shattered, broken, and stopped beating altogether. BUT… our hearts will beat again!
Click To Tweet
Shock Your Heart
Sweet Friend, let me share with you some of the things God showed me to shock my heart into beating again.
Humble
Encourage
Attitude
Retaining and Applying God's Word
Transparent
In-Depth Heartbeat
H stands for Humble. We must humble ourselves before the Lord. We must come to Him with a humbling spirit. This allows our hearts to be teachable.
E stands for Encourage. This does not mean encouraging ourselves, but rather to encourage others. In helping others, we help ourselves heal.
A stands for Attitude. My youth leader as a child would shout out, "Attitude Check." We would then have to stop and respond."1-2-3 Praise the Lord." So, let us stop and think about our attitudes. Do we have an attitude of self-pity and woe is me mentality? While many of us are definitely entitled to this, it does not help your circumstance or the condition of our heart to feel sorry for ourselves.
R stands for Retaining and applying God's word. Soak in His scriptures and revel in His promises. During the night season of our lives, when faced with trials and tribulations, we will be able to call upon those verses and apply them to our current situations.
I will bless the Lord who has given me counsel; My heart also instructs me in the night season

Psalm 16:7, NKJV
T stands for Transparent. As a woman raised in the south I was taught to dress up, put on makeup, and put my best "face" forward. While there is nothing wrong with that, sometimes we do not allow others to see what is really behind the mask. We are all sisters in Christ and have messy and sometimes downright chaotic lives. God made us imperfect creatures. So, let your hair down and be transparent. Your crazy and messy life just may be the message another woman needs to hear.
Changing Our Hearts
The process of shocking your heart, or making it healthy again takes time. It will not happen overnight! It took me a long time to learn that sometimes God does not change our situation because He is trying to change our hearts! For some of us the healing process takes a long time, but let me assure you that is okay. God will be with you every step of the way! Just remember, if God changes your heart, be willing to change your plans.
Thy word have I hid in my heart, that I might not sin against thee.

Psalm 119:11, KJV
Until we meet again……Gracie