Many difficult experiences in life, shift our focus to the chaos around. Finding perspective is key. Keeping our eyes on Jesus gives us the strength to carry on.
---
---
Mountain Top Experiences
In Bible times, when someone wanted to fully experience the presence of God, to clearly hear His voice, to embrace His power completely, they took to the mountains. There is just something about being on the peak of a mountain that not only moves you physically closer to God but spiritually as well. You cannot be atop a mountain, walking among the clouds, without being in awe of its Creator and His all-mighty power.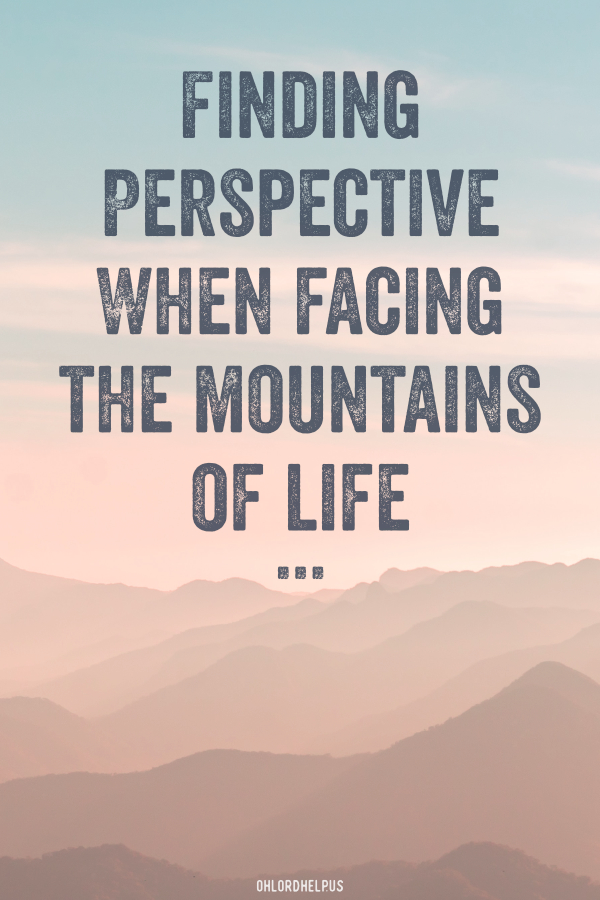 Finding Your Burning Bush
It was at the top of Mount Sinai, the mountain of God, where Moses first encountered God in the form of a burning bush. On this mountain, God commissioned Moses to lead the people of Israel out of their slavery and oppression (Exodus 3:1-10).
It is this same holy mountain that Moses returned with the Israelites, where he received the Ten Commandments (Exodus 19-20). It is this same mountain that Moses climbed to be in the very presence of God, to seek His guidance for the journey he must make to the Promised Land.
If it is true that you look favorably on me, let me know your ways so I may understand you more fully and continue to enjoy your favor…The Lord replied, 'I will personally go with you, Moses, and I will give you rest—everything will be fine for you.' … 'I will make all my goodness pass before you…but you may not look directly at my face, for no one may see me and live.'

Exodus 33:13-14 & 19-20, NLT
Finding Your Silent Strength
During Jesus' ministry, He dealt with all of the same stressors that we as humans face today, only to a much greater degree. He frequently retreated to the mountains to pray for strength and guidance; to just be rejuvenated. If Jesus needed time alone to speak with God, how much greater is our need for moments of solitude and solace?
On these mountain tops, Jesus imparted some of His greatest words of wisdom, including the Sermon on the Mount (Matthew 5-7). It was on the top of a high mountain that Jesus was transformed and His glory shown to the disciples.
There He was transfigured before them, his face shown like the sun, and His clothes became as white as the light.

Matthew 17:2, ESV
While that kind of experience was not necessarily my intention when I started my journey up the mountain, that was definitely how it ended.
Finding Your Faith
There have been many great lessons learned at the peak of a mountain, and I am sure that mine is not nearly as profound as some, but I did learn that food poisoning and climbing, or should I say descending, mountains do not really mix. The climb up the mountain was filled with breathtaking views and tranquility. However, the climb down was a much different story, one that was filled with a different kind of beauty. The kind of beauty that can only be felt when you go through the fires and come face-to-face with God.
Shortly after eating our lunch on top of Mt. LeConte, I suddenly began to feel very sick. I later realized that the hummus I had just consumed was maybe not the best choice. Instead of being properly refrigerated, it sat in a hot backpack the day before and overnight. I can tell you, it will probably be a good, long while before I eat hummus again; it is definitely not as good the second time around. Some of you may think it's not even that good the first time.
Just Keep Walking
I knew there was only one way off that mountain, and it was 6 miles of hiking through treacherous terrain. So, I did what I had to do, I just kept walking, and I prayed–I prayed like someone who has come to the end of themselves and knows that they won't be able to make it on just their own abilities. I pleaded with God, "Lord, please help me make it down this mountain!" And a verse immediately came to mind:
Yea, though I walk through the valley of the shadow of death, I will fear no evil: for thou art with me; thy rod and thy staff they comfort me.

Psalm 23:4, KJV
Jesus Will Meet You Where You Are
I have always been comforted by the story of Peter walking on water. Shortly after Jesus had descended the mountain, where he had been praying alone, He met the disciples who were already out in the middle of the lake. And by met them there, I mean He walked across the stormy waves to where they were tucked safely inside their vessel. Jesus beckoned to Peter:
'Come,' He said.

Matthew 14:29, NIV
Keep Your Eyes On Jesus
And Peter cast his fears and anxieties aside and put his faith in Jesus. He left the safety of his boat behind to brave the deadly seas. The world was quite literally crashing down around him. But he remained unscathed as long as he kept his eyes on Jesus. However, like most of us, he became paralyzed by the chaos surrounding him.
But when he saw the wind, he was afraid and, beginning to sink, cried out, 'Lord, save me!'

Matthew 14:30, NIV
It was that same calm voice that cried out to Peter that I heard calling out to me:
"KEEP YOUR EYES ON ME."
It became a chant in my head:
"KEEP YOUR EYES ON ME."
As I walked over thin strips of land, with only a cable to hold on to on one side and a sheer dropoff on the other:
"KEEP YOUR EYES ON ME."
While traveling down slick, steep rocks:
"KEEP YOUR EYES ON ME."
Finding Perspective
And I did, I kept walking, and I kept my eyes transfixed on Jesus. And after a while, I began to feel better, until I had only a couple of miles left to go, and I again became very ill and weak.
My mouth was parched. I knew I was dehydrated, but every time I tried to take a drink, it only made my stomach start to churn. I sat down and didn't know how I was going to be able to get back up and finish. Again, that still, small voice returned. Only this time, with a slight difference.
"KEEP YOUR EYES ON ME. YOU'RE ALMOST THERE!"
So, I shakily got back up and did the only thing I could, I just kept walking and walking and walking…with Jesus' voice encouraging me until I eventually made it to the crystal clear, flowing stream and serene waterfalls that I enjoyed so much at the beginning of the hike.
He maketh me to lie down in green pastures: He leadeth me beside the still waters. He restoreth my soul: He leadeth me in the paths of righteousness for His name's sake.

Psalm 23:2-3, KJV
When we focus on God's power instead of our problems, we can face even the most treacherous mountain. Finding perspective helps us face our mountains. And we all have our mountains. Times when there are steep cliffs surrounding us, and one false step feels disastrous. Rocky terrain that is difficult to maneuver. A difficult stretch of land that seems like it will never end. Days when we feel we just can't go on.
In those times, when you just can't do it on your own, Jesus whispers:
"KEEP YOUR EYES ON ME. YOU'RE ALMOST THERE!"
When we focus on God's power instead of our problems, we can face even the most treacherous mountain. Finding perspective helps us face our mountains.
Click To Tweet
Willian Justen de Vasconcellos