The anger is rarely righteous and does not help us reflect the image of God. We must look inward and to His Word to inform how we act upon our emotion.
---
---
As a child, I boiled over with outrage on a regular basis. I felt the anger so viscerally, I thought it was important to let those around me know how angry I was. My temper tantrums were the things of legends. Neighbors called to check on me. Mom and Dad tried different strategies to address them. All the while, I was content to just express the heck out of it.
Addressing the Problem
One strategy my parents tried was a punching bag. It was an inflatable balloon, weighted at the bottom so that when I hit it, it might fall all the way over and touch the floor and still right itself. The best thing about this new addition was that they put it in the basement.
The door of the basement led to wooden stairs and held a large ironing board. When I was told to go down to use the punching bag, I had the distinct pleasure of swinging the door open, causing the ironing board to swing and bang against the door. Then, I would slam the door behind me, producing a cacophony of banging as the board bounced back and forth. Subsequently, I got to stomp down the stairs, and this was all before I ever got to the punching bag.
I was very content to rage openly. I found satisfaction in releasing my temper in physical ways. Throwing things felt better than not throwing things. Yelling felt necessary.
As an adult, I had to work through this instinct to rage openly. I sought counseling and learned how to be slow to act on my anger. I learned how to be silent until I could address my hurts more dispassionately.
Discarding Entitlement
But let me tell you a secret. To this day, after all the counseling and all my study of God's Word, that little stomping menace still lives inside me. I feel incredibly entitled to my outbursts. Even in apologizing, I feel the need to express how rightfully I held my anger. "I'm sorry but…" is a phrase I'm constantly running away from.
Be not quick in your spirit to become angry, for anger lodges in the heart of fools.

Ecclesiastes 7:9, ESV
The problem with this entitlement I hold so dearly is it is incredibly foolish. I need to have patience and grace for others. To do so is not only wise but in alignment with the two greatest commandments: to love God and to love others (Matthew 22:37-39).
The Anger of Man is not Righteous
The thing is, I like to trick myself into thinking that my anger is righteous. Even Jesus showed anger, right? He overturned tables in the temple, turned marketplace. He decried the Pharisees' hypocrisy, calling them a brood of vipers (Matthew 21:12-17).
So, logically speaking, if Jesus lived a perfect life and expressed anger, then I, too, can express righteous anger.
And this is true, but there's a small problem–my anger is almost never righteous.
Know this, my beloved brothers: let every person be quick to hear, slow to speak, slow to anger; for the anger of man does not produce the righteousness of God.

James 1:19-2, ESV
Jesus' Righteous Anger
Jesus was angry on the Father's behalf. He saw people so steeped in sin and hypocrisy that He felt the betrayal against God. I, on the other hand, am angry that someone else's sin hurts or annoys me. It gets in the way of me being happy or comfortable. This is not righteous anger. Even when I have been wronged, the anger that follows is still the anger of man, being fueled by the warring desires inside of myself.
What causes quarrels and what causes fights among you? Is it not this, that your passions are at war within you? You desire and do not have, so you murder. You covet and cannot obtain, so you fight and quarrel.

James 4: 1-2, ESV
Feeling Anger vs. Sinning in Anger
We are all works in progress, battling the sin that wars inside us. But, how? Are we to never feel anger? That would not be in line with scripture, either.
Be angry and do not sin; do not let the sun go down on your anger, and give no opportunity to the devil.

Ephesians 4:26-27, ESV
Paul does not tell the church in Ephesus not to be angry, but to be angry and not sin. How we act on our anger is the opportunity to choose between conforming to the image of God or giving into sin, which gives the devil a foothold in our lives. We should always assess the source of our anger and find the righteous way to address it.
How we act on our anger is the opportunity to choose between conforming to the image of God or giving into sin. We should always assess the source of our anger and find the righteous way to address it.
Click To Tweet
As Always, Look to the Word
The Bible is quite clear in how to address quarrels between people. We are to approach people in a spirit of both truth and grace. We are to avoid stirring up division. Paul even tells the Romans not to quarrel over opinions with people who are weak in the faith, cautioning them against passing judgment.
Who are you to pass judgment on the servant of another? It is before his own master that he stands or falls. And he will be upheld, for the Lord is able to make him stand.

Romans 14:4, ESV
I am a work in progress, and will probably battle with the sin of anger for my whole life. However, I will arm myself with the Word, gain intimate knowledge of what is righteous, versus what is simply of man. I will continue to strive to be slow to speak and slow to express rage so I can walk away from my entitlement. Away and into the arms of my Father who always upholds me because He loves me in my very most unrighteous moments.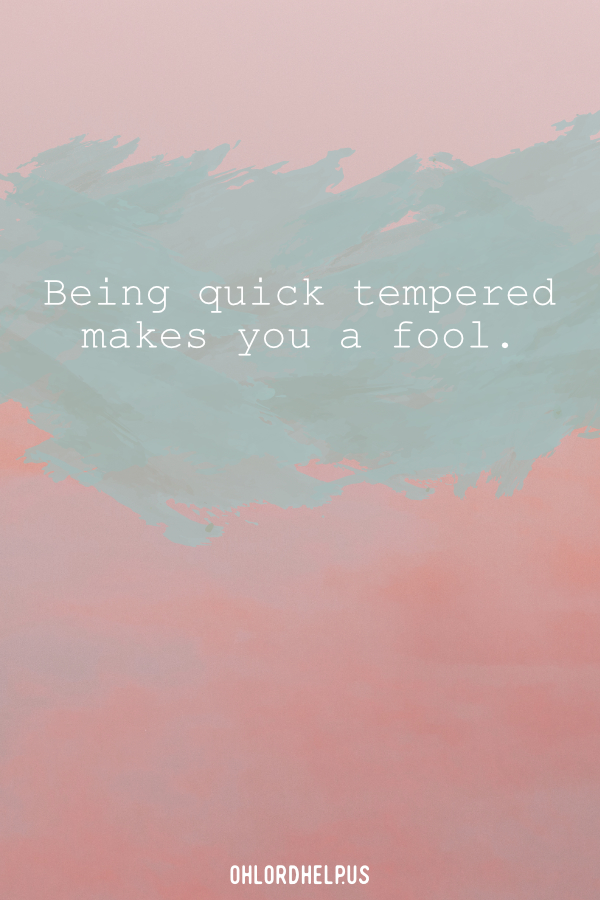 eberhard grossgasteiger