Have you ever opened up about something to a fellow Jesus follower, and without skipping a beat they ask, "Are you reading your Bible? Have you been praying?" The thing is, they're not wrong to ask that. But there is so much more to it. What tools do we have?
---
---
We were on our way to pick up a friend when my son asked, "How do I stop myself from being so angry when people make fun of me? I break pencils to calm down, but I know that's not the best thing to do. And really, I don't want to get to the place where I'm so mad that…" He trailed off and I inserted, "…that you want to start breaking other things." He hung his head and said sadly, "Yeah. Pretty much." I immediately told him I was proud of him for being bold enough to ask me that question. And I told him it is brave to be vulnerable, and it is wise to ask for help.
Where there is no guidance the people fall, but in abundance of counselors there is victory.

Proverbs 11:14, NASB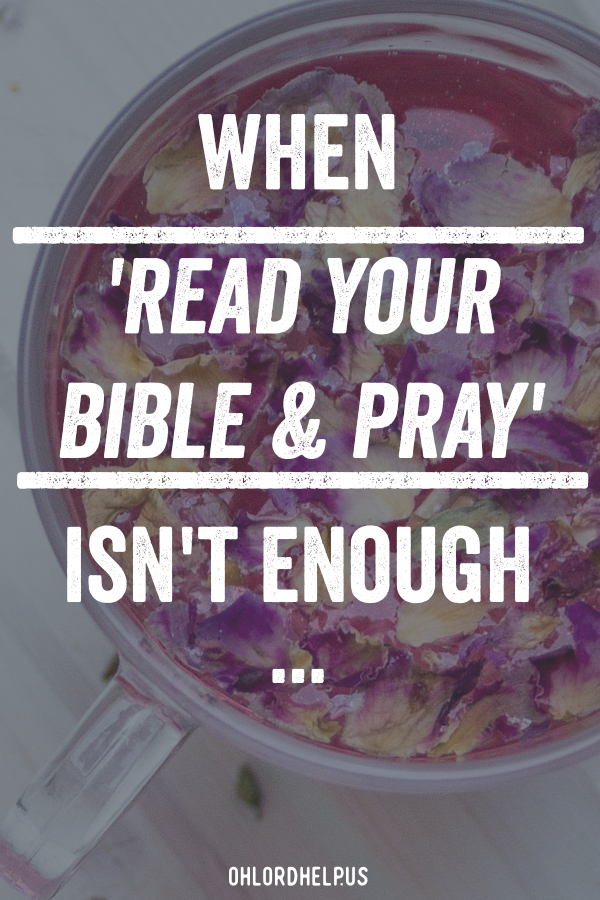 Gathering Tools
I told my son, "The church will say 'read your Bible and pray' as an answer to every single one of your problems. And that is the answer, my love. But it goes beyond; there are more layers."
What if we are reading the Bible? What if we are praying, but we still face the same giants every day with no victory in sight? I went on to tell him, "It sounds like good advice to read your Bible and pray because it is good! But it's helpful to know how to read it to where you're able to understand it. It's also helpful to know how to pray! I'll share with you some of the tools I've been learning so you can dig a little deeper and find some peace."
Be angry, and do not sin. Meditate within your heart on your bed, and be still.

Psalm 4:4, NKJV
Meditate on What?
Meditation is totally trending these days. Perhaps you've seen these hashtags in your Instagram feed…
#meditate
#mindright
#reflection
Meditation has been described as thoughtlessness for the purpose of achieving calmness over mind and body. Thoughtlessness. Emptying the mind. I admit I spent some time in the past, practicing this concept. I can report to you that I was unsuccessful. Honestly, thoughtlessness doesn't even happen in my sleep! My goal was to de-stress; but Sis, the only truly proven stress relief in my life is meditating on the words of God.
How happy is the one who does not walk in the advice of the wicked, or stand in the pathway with sinners, or sit in the company of mockers! Instead, his delight is in the Lord's instruction, and he meditates on it day and night.

Psalm 1:1-2, CSB
Here's the Tea
Dr. Donald S. Whitney likened reading Scripture to the process of steeping tea (another trending topic!). The more a verse or passage is poured over and soaked in, the richer its color and flavor. Dr. Whitney was using the analogy in relation to Bible reading, but I believe it applies to meditating on Scripture as well. You may be asking the same thing I was: What's the difference between reading and meditating on what you read from the Bible?
Biblical meditation is the process of taking time to reflect and dwell on passages in God's Word. There are many ways to do this, but my favorite is to read it out loud with as much inflection as I can muster. I've found meditating on the truths of Scripture leads to a better understanding of the Bible and what God is communicating to His people. It's created an opportunity for me to retain what I read and has enabled a deeper knowing—much more so than merely reading and moving on with my day. Consequently, it has amped the way I talk to God.
Praying on Purpose
There have been times in the past when my communication with God seemed selfish. The only time I would go to Him was when I needed something. I started to feel guilty for treating God like a magic genie. Sadly, instead of allowing the conviction to incite change, I stopped going to Him for anything at all. I told myself the lie that if His will was going to be done eventually anyway, He certainly didn't need me bombarding Him with requests all the time.
I have also experienced the feeling of having mediocre prayers. They had all the right churchy phrases in them like "thank You for Your grace," "pour out Your Spirit on us," and "be glorified." And those are not bad things to say in prayer; yet when I spoke them, they lacked an intimate knowing of my Maker. Nor did they mirror an understanding of being known by my Father.
I felt the disconnect. It was like having a piece of the puzzle, but no finished picture for direction. I didn't recognize the Bible as sufficient guidance for rich communion with God. Now, by His amazing grace, I am learning to utilize specific verses from the Bible as a basis for prayer. When I don't have words, Scripture provides them.
The Bible speaks the language of the Spirit who originally breathed out all the words of Scripture. Praying the Bible has helped to illuminate God's intentions, love, purposes, and faithfulness. It has also created an ability to recall God's Word in times of rejoicing and sorrow, which has ushered in a peace and joy I had not previously known or understood!
That's Delightful
Delight yourself in the Lord, and he will give you the desires of your heart.

Psalm 37:4, ESV
This verse completely changed my understanding of what it means to get my heart's desires. If we are taking delight in the Lord, our motivation will be to bring glory to Him. Then our desires align with His! As we go through our days, whether in seasons of rejoicing or sorrow, I pray we will practice reading, meditating on, and praying the Bible.
The Bible speaks the language of the Spirit who originally breathed out all the words of Scripture. Praying the Bible helps to illuminate God's intentions, love, purposes, and faithfulness. Click To Tweet