So often, we place a higher value on the "things" we possess than what they deserve. When we fail to purge our lives of the temporary treasure, we can't grasp the eternal treasure God has in store for us. 
---
---
Purge… I LOVE this word! I love the action, I love the freedom and clarity. I've mentioned before that I have moved around 9-10 times in my adult life. As you can imagine, all the moves allowed for tons of opportunities to purge. I think I'm an expert now. I'm for sure an expert now…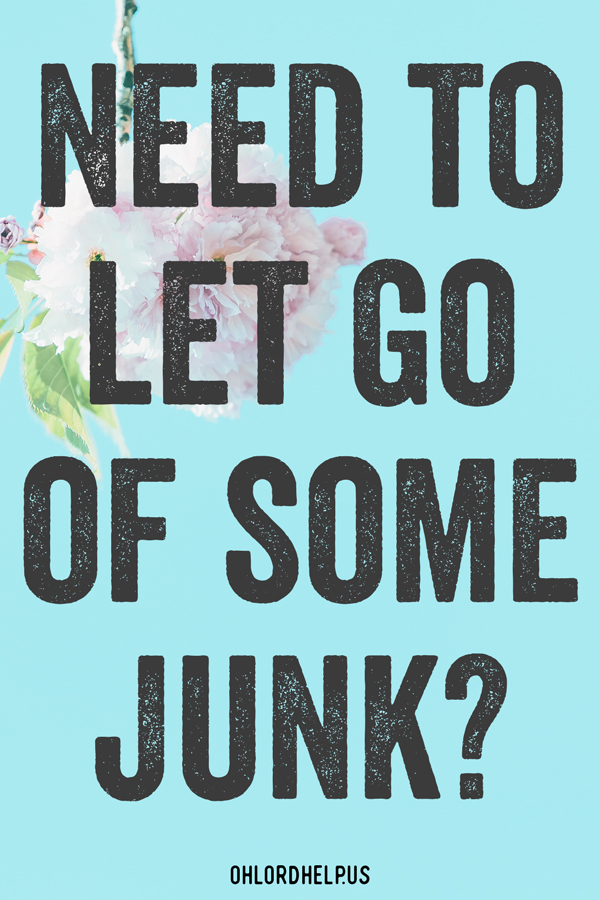 The Great Purge
I recently took a trip back home. Again. This time it was to fulfill a promise. A promise to clean out 32 years of stuff from the basement of my childhood home. It's no coincidence, this is the exact amount of time my parents have been married. They haven't moved from the place their adventure began. So, not many opportunities to exterminate unneeded "stuff".
Now, in my parents' defense, not everything was theirs. A majority of the load was stored from my late Grandmother's time spent living with us. And, all five of us had boxes mixed in with it. So. Many. Boxes. The common question over the three days of cleaning was…
Why in the world did we keep this??
Building Stuff
By day three, I have to be honest, that question had a couple expletives added. Understandably. We were all over it. Over the mess. Over the work. And, over the junk. We donated a lot of items, the dump got its fill, and recycling was overflowing.
We rummaged through boxes of books, files, notes, STUFF.  But, not everything was junk. Tucked away within the mountain of STUFF, we found family treasures. We had no idea these items were there, stuffed between the mass amounts of notes my Grandmother took and boxes upon boxes of personal files. You know…now useless. But how much STUFF did we have to sort through before we could find the treasure??
Rummaging the Mess
Manual labor has a way of clearing the mind. At least for me. I can get a lot of thinking done when my hands are busy. So, thoughts upon thoughts flooded my mind in the silence of purging…
There's a lesson in all of this…
What am I holding on to that isn't necessary? Where is it stored?
Will my children know what Jesus TRULY means to me, without having to rummage through boxes of Bible study notes when I'm dead?
How far do people have to rummage through my mess to find the treasure of Jesus? Does my life clearly reflect Jesus and His teachings? Or, is He stored under a pile of what I deem worthy?
Are all those "things" stored away in drawers and closets, really doing me any good? Is my home, if the doors aren't freely opened and the food not freely given, really an offering to the Lord?
Is my example showing my love for God over the love of THINGS?
Human Treasure
I can't say, with confidence, a solid "Yes" to that last question. It's no secret these last few months have been tough, financially. I've demanded my heart to have faith under pressure…but it failed. I failed. Discontentment, anger, resentment, selfishness, obsessions pile over my true Treasure. Layers upon layers have formed above my Savior. Now, He's tucked away in a damp, dark, somewhat dusty corner of my "basement heart"…
The NEED to have money in the bank to feel secure, is really what it boils down to, and that's pretty ugly.
The closer I get to things being yanked from me, the tighter I grasp them. To the point of bleeding. I found myself screaming, crying, and throwing a right nice temper tantrum at my husband. I cut my marriage, my family, and my home wide open.
How foolish. In a second, it can all come crumbling down just like it did for Job. The economy, my bank account, the house, the cars… everything. Not a single thing this world can offer is constant, never changing, eternal. Not. A. Single. Thing.
Naked I came from my mother's womb, and naked shall I return. The Lord gave, and the Lord has taken away; blessed be the name of the Lord.

Job 1:22, ESV
And yet, I hold on tight to earthly treasure and overrule my only true Portion and Supply.
In a second, it can all come crumbling down just like it did for Job. The economy, the bank account, the house, the cars... everything. Not a single thing this world can offer is constant, never changing, eternal. Click To Tweet
Kingdom Treasure
Man will always fail, paper will always burn, metal will deteriorate and rust over time. The only things of value are what we store up where man can't reach…
Don't store up treasures here on earth, where moths eat them and rust destroys them, and where thieves break in and steal. Store your treasures in heaven, where moths and rust cannot destroy, and thieves do not break in and steal. Wherever your treasure is, there the desires of your heart will also be.

Matthew 6:19-21, NLT

Sell your possessions and give to those in need. This will store up treasure for you in heaven! And the purses of heaven never get old or develop holes. Your treasure will be safe; no thief can steal it and no moth can destroy it.

Luke 12:33, NLT
Please don't take me wrong, there are items that are memories and worthy of the spot they take up in my home. I'm also not going to open the can of worms that some believe, "if you're a Christian, you have to be poor". But, I will say this, when we possess without pouring our love to the One who supplied, we might as well have nothing.
Our hands and hearts should stay continuously open. All we have, hope to have, and will have can only be supplied and given by our Father. Our treasure lies in God and the only way to store Him up, is to purge all our humanness at the feet of Jesus. Our hands become His hands, our hearts become His heart.