We all struggle with trusting that God will provide for our needs. What if we decided to live by faith and truly believe that He will sustain us? 
---
---
I am a worrier. I always have been. Faith is not one of my spiritual giftings so trusting God to provide for me has been a constant battle. There have been many times where I did not believe God's promises to meet my needs. While most of the time I associate provision with material needs, it is not always what is lacking.
Surrendering Trust
While I have struggled with not feeling taken care of financially, I have also seen the idea of not feeling provided for play out in other areas: loneliness, discontentment, and healing. I have felt that I didn't have the relationships I needed, that I wasn't in the stage of life I should be, and that I wasn't and those around me weren't healed in the ways I thought we should be.
Even as I sit here writing this I am worrying. There are three trees leaning on my house and I don't know how I will afford to get them off. Have I prayed, asking for help? No. Have I trusted that God is going to provide for my needs in this situation? No.
While my heart knows that God will meet my needs and sustain me, most of the time my head forgets. He has shown me time and again that He takes care of me, but I still haven't learned to completely surrender my trust to Him.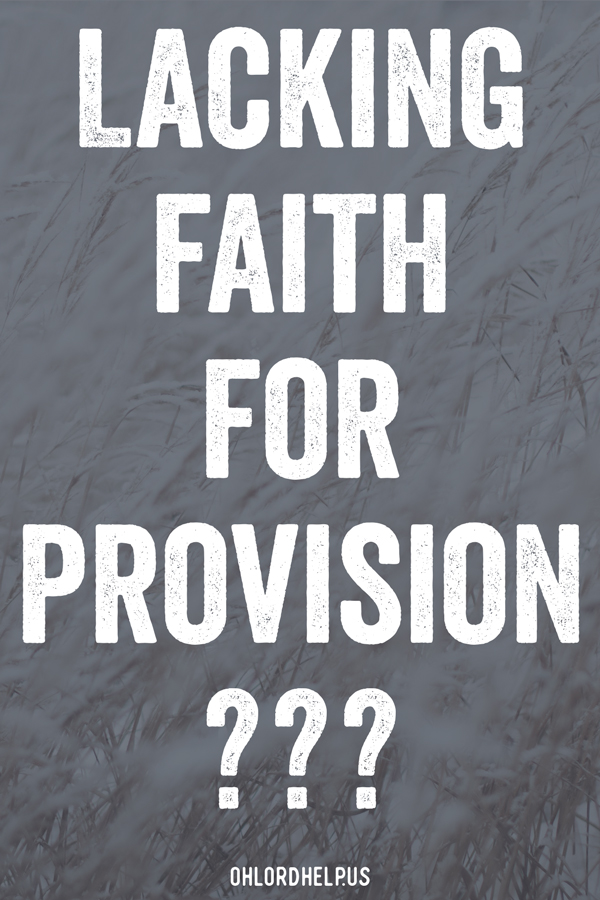 All Our Needs
And this same God who takes care of me will supply all your needs from his glorious riches, which have been given to us in Christ Jesus.

Philippians 4:19, NLT
ALL of our needs. Not some, all. God will meet all of our needs. This is so easy for us to forget. Sometimes we get caught up with what He is not doing that we forget to see what He is. Maybe when He isn't providing something it simply means it isn't something we need.
A lot of the time we focus on what we think we need and not what God says we need. We don't consider that His provision may look different than we expect it to. It doesn't mean He doesn't provide, it means we aren't looking outside our own perception of provision.
We often focus on what we think we need and not what God says we need. His provision may look very different. We need to look outside our own perception of provision. Click To Tweet
Faith
You can pray for anything, and if you have faith, you will receive it.

Matthew 21:22, NLT
Faith. There's that word again. I struggle a lot with faith. I recently took a spiritual giftings test and among the lowest ratings was faith. It's not that I don't believe in Jesus or that I have no faith. It's the fact that I don't always believe I can ask for anything and receive.
Sometimes as Christians we don't want to get into the habit of treating God like a genie. I think this stops us from even making requests. I have not thought to pray for help with the trees on my house. It seemed like too minor of an ask. I didn't want to 'waste' a request on this when there are so many more things that are more important.
Scripture tells us that we can pray for anything. When we think something is not important enough we are acting like we are God. That we can decide what is important and what isn't. This is not our right and not our job. We can ask for ANYTHING.
There is a second part to this…"if you have faith, you will receive it." It is more than asking for something and boom it happens. It takes faith on our part. Faith that God will truly answer our prayer. Faith that He will provide for us. Without faith how can we expect God to answer us?
Do Not Worry
Let these words really sink in as you read this passage…
That is why I tell you not to worry about everyday life—whether you have enough food and drink, or enough clothes to wear. Isn't life more than food, and your body more than clothing? Look at the birds. They don't plant or harvest or store food in barns, for your heavenly Father feeds them. And aren't you far more valuable to him than they are? Can all your worries add a single moment to your life?

And why worry about your clothing? Look at the lilies of the field and how they grow. They don't work or make their clothing, yet Solomon in all his glory was not dressed as beautifully as they are. And if God cares so wonderfully for wildflowers that are here today and thrown into the fire tomorrow, he will certainly care for you. Why do you have so little faith?

So don't worry about these things, saying, 'What will we eat? What will we drink? What will we wear?' These things dominate the thoughts of unbelievers, but your heavenly Father already knows all your needs. Seek the Kingdom of God above all else, and live righteously, and he will give you everything you need.

 So don't worry about tomorrow, for tomorrow will bring its own worries. Today's trouble is enough for today.

Matthew 6:25-34, NLT
Jesus is very clear. Do not worry. He speaks to the way that God provides for the birds and the flowers and how we are so much more than they. God provides for the creatures around us. The ones we were created to have dominion over. So why do we fret? Why do I worry? God knows our needs and He will provide for them. We must seek and have faith in Him. He is our provider, sustainer, and healer.
Provide
Every day we wake up, we have to choose whether we are going to allow worry to creep in or if we will have faith in God to provide for us. We are constantly surrounded by proof that He will, but we still struggle. What if we changed our thinking? What if every day we woke up and the first thing we did was say "God I have faith that you will provide"? This could change the course of our days and ultimately our lives. Let's speak our faith into existence, let's truly believe that He WILL meet all of our needs.