God is our only source of peace. He desires us to be peaceful. But, when we ignore His direction and try to create our own peace we end up in chaos and confusion. 
---
---
Finding peace in my life was a long journey. Throughout my late teen and early adult years, I found myself in a constant fight for a peaceful life. For three years I was with a man who knew all the right things to say and do but only at a surface level.
On the outside, we were a great couple. Everyone thought we had it made. This could not have been farther from the truth. At the beginning of this relationship, I was passionate about my faith and my actions reflected my love for God. I was heavily involved in Church, I had a solid quiet time, and I had true joy.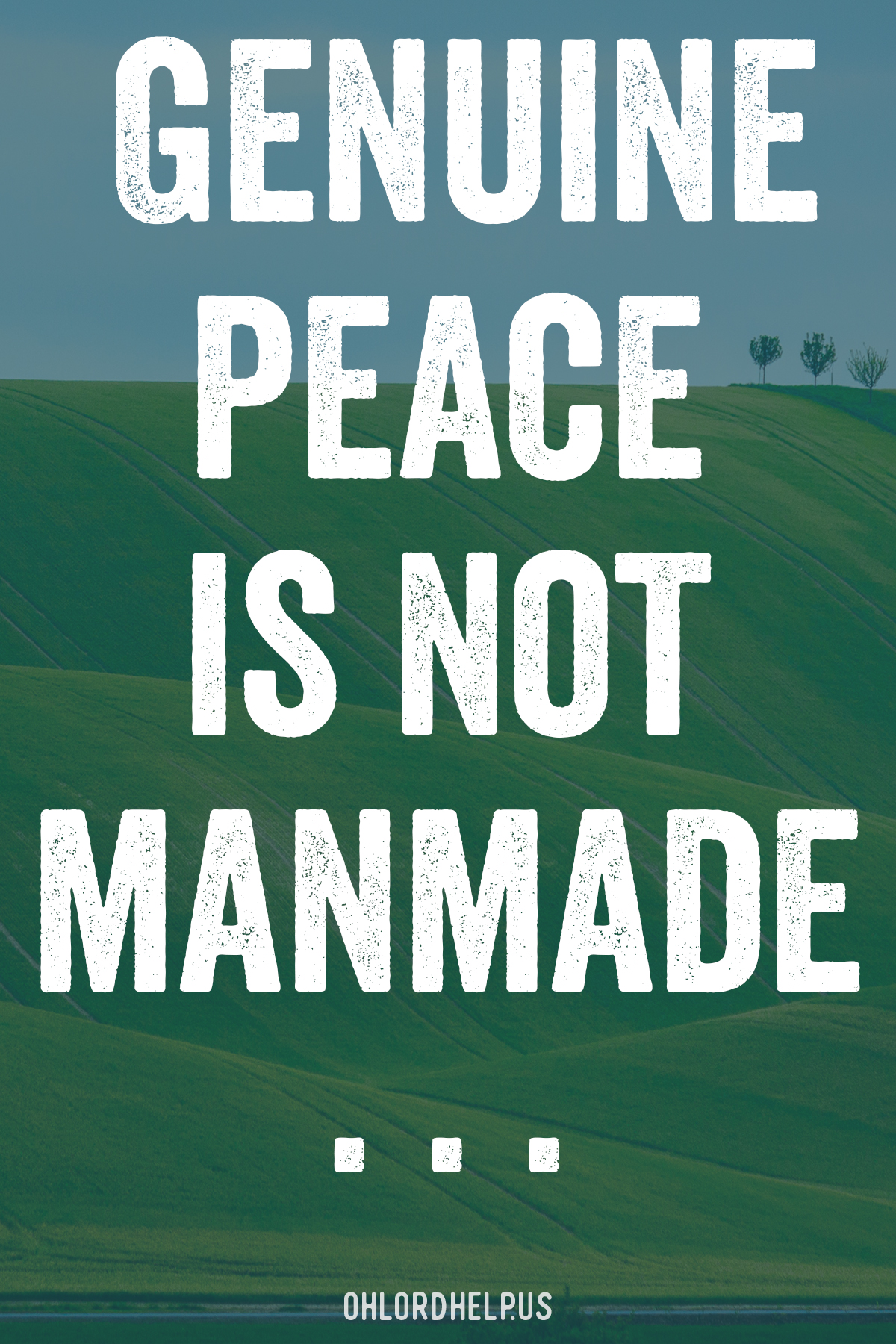 Future Peace?
As time progressed the relationship did not help me grow but instead I shrunk. Quiet time ceased, I was not as involved at Church, I was not living a Godly lifestyle. Do I blame him? At some level, yes. He isolated me, he kept me from pursuing my passions. He was abusive. While I blame him I mostly blame myself. I should have seen how toxic the relationship was, I should have fought for my faith, for my God. I should have let my peace come from God instead of letting a man control, isolate, and dictate my life. He is not a bad person. He is damaged, immature, and did not know how to love.
During the last year and a half of that relationship, peace was non-existent in my life. I knew that the relationship was not right, but I so desperately wanted marriage and children and because of that I took his ring. Feeling as though I was making a mistake I went forward and said yes to him. I thought that marriage and children would bring me the peaceful life I desired.
I finally came to the realization that to be peaceful we have to look above. When I came to this conclusion I knew what I had to do. I had to end the relationship. After the decision was made I felt an overwhelming peace come into my life. I have not once doubted that I made the right choice. The decision I made was from God and it gave me peace and rest. The peace I felt was so pure and so divine that for the first time in a long time I felt like I could finally breathe again.
Finding Peace Through God
There are so many things that can steal our peace, for me it was an abusive relationship; for you, it may be a draining friendship or an unfulfilling job. In our culture, tranquility is rare. We are constantly bombarded with news of wars and riots. Everywhere we turn things seem the opposite of peaceful. It is in the world around us and it affects each one of us on a regular basis.
We see the lack of peace and at times we feel a lack of calmness. Scripture is clear that our peace needs to come from Him. The world cannot give the peace He gives. Anytime we look to worldly things, we are going to be disappointed. God does not want us to live a life that is void of peace and for that reason, we need to go to Him as our source.
I am leaving you with a gift– peace of mind and heart. And the peace I give is a gift the world cannot give.

John 14:27, NLT
How to be Peaceful
Jesus is the Prince of Peace and ultimately, we must find our peace in Him. Scripture is clear and it tells us that peace can only come when we pray. We have to talk to Him. Communicate with Him. We must daily choose to give our lives over to him. He is our provider and our supplier of peace. When we follow His call in our lives, we have no choice but to rid ourselves of worry. To feel at peace.
Don't worry about anything; instead, pray about everything. Tell God what you need and thank Him for all he has done. Then you will experience God's peace, which exceeds anything we can understand. His peace will guard your hearts and minds as you live in Christ Jesus.

Philippians 4:6-7, NLT
Ignoring His Call
For a long time, I ignored all of the signs that God was showing me about my relationship. He was making it abundantly clear that the peace I was seeking could only come from Him. He also tried to show me that I would not feel calmness until I followed His call.
A lot of times, we tend to want to stick to our own agendas. We desperately want to have control over our situations and for life to go according to our plan. When we do this, we surrender our peace. We have to listen to what God tells us and to submit to His will. He speaks peace to us when we are faithful. If we put our trust in Him, we will receive peace in abundance.
I listen carefully to what God the Lord is saying, for he speaks peace to his faithful people. But let them not return to their foolish ways.

Psalm 85:8, NLT
We desperately want to have control over our situations and for life to go according to our plan. When we do this, we surrender our peace. Click To Tweet