Discontentment can take hold of our lives in many ways causing us to doubt and directing our steps to the wrong path. When we search above for contentment and trust in God's will we can live in his truth and feel at peace with our season in life. 
---
---
Throughout the course of my life, I have struggled to find contentment. I jumped from toxic relationship to toxic relationship looking to be content with every person but Jesus. I struggled because I was looking in every place except the one where I could actually feel content.
The mindset I had was one of "when this happens…then I will be content". It took form in many ways such as:
When I have a boyfriend…
When I become a wife…
When I have kids…
When I am in this job…
etc., etc., etc…
I searched for contentment in all of the wrong places.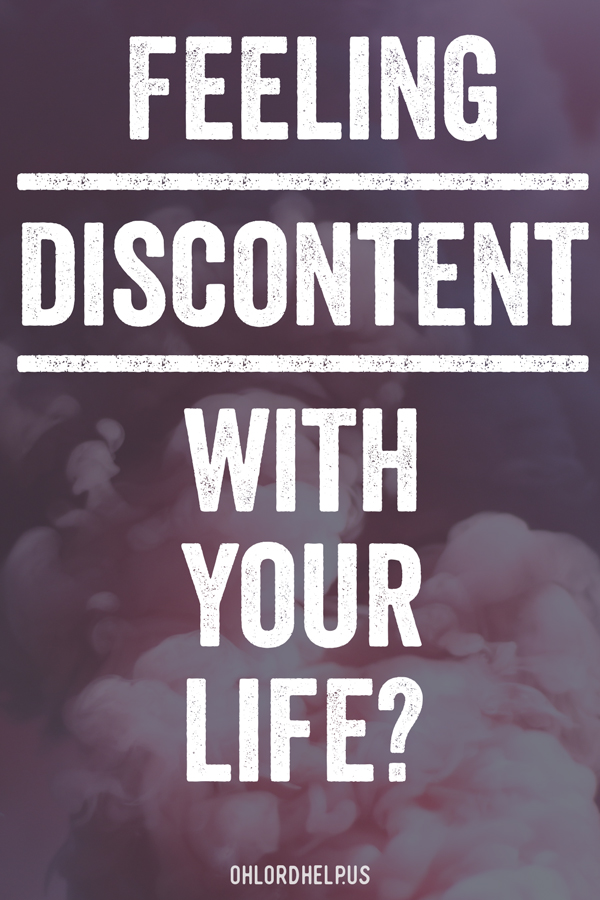 Failing Contentment
We all go through these struggles of thinking that we will be content when we enter a certain situation, but at the end of the day, there is only one source of contentment. His name is Jesus. We all have a tendency to search for contentment in every place but in the love of Jesus. Whether it is through people or through money we all look elsewhere for our contentment. Instead of being content where God has placed us, we strive to build a place of true contentment.
Not that I am speaking of being in need, for I have learned in whatever situation I am to be content. I know how to be brought low, and I know how to abound. In any and every circumstance, I have learned the secret of facing plenty and hunger, abundance and need. I can do all things through him who strengthens me.

Philippians 4:10-13, ESV

In this passage, Paul speaks into finding contentment in all situations. He tells us that the secret to being content is knowing that through God we can do all things. We need to follow this example. With all seasons of life, our calling is to find contentment in our Savior. In the One who will provide for all of our needs.
In All Things
When we are standing in a place where we are struggling to be content it is important to think about who our source is. Who sustains us and provides for us. It can be difficult to find contentment in situations that you feel unsure and unstable. We all want to know that things will turn out well for us.
And we know that in all things God works for the good of those who love him, who have been called according to his purpose.

Romans 8:28, NIV
Even in times of question and times when we feel unsure we can have hope that things will turn out well for us. That is where we find our contentment. Life is not all rainbows and butterflies and we all go through trials. We can have confidence when we face trials. We can find encouragement in the truth that no matter what we face, God will work it out for good.
Focusing Our Eyes Above
When we struggle with times of discontentment and doubt we have to focus our eyes on above. Lauren Daigle released her new album last month entitled "Look Up Child". One of the songs on the album shares the same name. This song is all about how when we feel doubt and we feel discontent and like the war is raging God calls us to look up. In the seasons of discontentment that we are unable to get out of all we can do is look up.
Since you have been raised to new life with Christ, set your sights on the realities of heaven, where Christ sits in the place of honor at God's right hand.Think about the things of heaven, not the things of earth. For you died to this life, and your real life is hidden with Christ in God. And when Christ, who is your life, is revealed to the whole world, you will share in all his glory.

Colossians 3:1-4, NLT
We are to set our sights on things above. This includes times when thoughts of discontentment threaten to creep in. Our lives are sealed in Christ, who ascended to Heaven after His resurrection. A seat at the throne of God is our true citizenship. We should live our lives to honor that citizenship. When we focus on the things above, we cannot help but feel contentment in whatever season life may throw.
Jesus is our source of contentment and the director of our lives. Trusting in His plan changes how we think and how we act. Click To Tweet
Giving God Permission
When we feel discontent with where we are we can ask God to intervene and change our thinking. When we make bold asks of God, He will come through for us. He will give us the tools we need to feel content with where we are and our direction.
Do not conform to the pattern of this world, but be transformed by the renewing of your mind. Then you will be able to test and approve what God's will is—his good, pleasing and perfect will.

Roman 12:2, NIV
Letting God renew our minds and redirect our thoughts enables us to live in His will. When we are living according to His will, we will be able to find contentment in our actions. This is because we will have the assurance that He is directing our steps. When we fail to surrender our lives, doubt and fear creep in causing discontentment. We must live according to His will and not our own to live a life of contentment.
Contentment is only found by trusting God's will. He asks us to surrender. To allow Him to direct our path. Resting in God's will and trusting in His plan makes us content. Focusing too much on what we want and on our plan will cause discontentment to fester. Jesus is our source of contentment and the director of our lives. Trusting in His plan changes how we think and how we act.