Life is guaranteed to bring storms. We must learn to put our confidence and trust in God. Only He can provide hope for the days ahead. 
---
---
While everyone was hunkering down in anticipation for Hurricane Florence, my family too was (and still is), walking through a storm, but it's not the tropical kind. It is the physical kind. My son Evan is having his bone marrow transplant. He has had 7 rounds of chemo and after his brother donates bone marrow, Evan will have his transplant.
He Goes Before
I have faced fear these past few months in a way that I had not thought possible. Sometimes the fear is so real, I can taste it and so strong, I can barely breathe. It is in moments like this I have had to remember what my heart can quickly forget. My God goes before me.
This summer I spent some time in Proverbs. At the end of the study, I looked at Proverbs 31. Two verses clearly stand out to me…
She is not afraid of snow for her household, for all her household are clothed in scarlet… Strength and dignity are her clothing, and she laughs at the time to come.

Proverbs 31:21,25, ESV
Maybe saying they stand out is not the right way to put it. They literally make me groan. Not afraid? Clothed in strength? Laughing at the days ahead? How?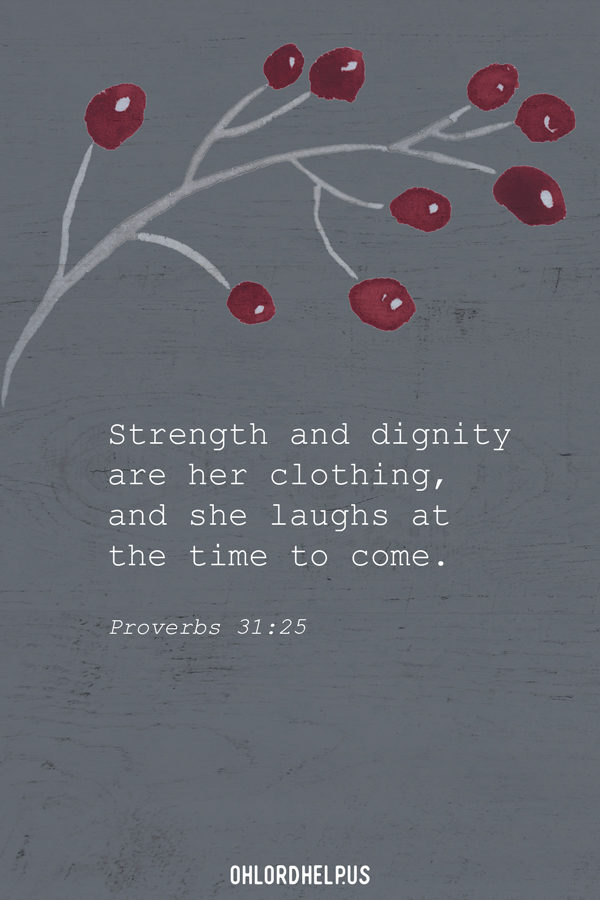 Emotional
I find myself spending way too many days in a panic hoping things will change. And if I am honest, I am frustrated by my own feelings and how emotional I feel.
I can quickly equate extreme emotion with sin. I am not sure where I made that connection. But let me be clear. Scripture does not support this. Emotions are good. God gave us feelings. I get in trouble when I live as if they are always true. Just because my feelings have me running to fear and anxiety does not mean I have to stay there.
Still…
While I have been dealing with this extreme situation, I have also been fighting for joy and looking to see God's good gifts. Many people in God's body have rallied around us providing in ways I could not have thought possible. As each new needs has appeared, God has supplied. His ways have truly not been my ways.
I was sharing my frustration recently with a friend about my inability to laugh at the days ahead. She just shook her head at me and told me I was laughing. I told her I was definitely doing more crying than laughing. But she reminded me that I was still seeking, still praying, still fighting to believe that He is my supply. This is a joy that cannot be taken away through any trials in this life.
Just because our feelings have us running to fear and anxiety does not mean we have to stay there. Continue seeking, praying, and believing He is our supply. Click To Tweet
Confidence Through the Storm
James tells us to count it all joy brethren when we face various trials knowing that the testing of our faith develops perseverance (James 1:2). And Paul reminds us…
…we rejoice in our sufferings, knowing that suffering produces endurance, and endurance produces character and character produces hope,

Romans 5:3-4, ESV
The Proverbs 31 woman doesn't have confidence because she has taken care of her family in her own strength or because she has put provisions aside. She has confidence because she knows who ultimately is responsible for her home. I know that too. The doctors have come up with a treatment plan, but God is ultimately the one I can and must turn to for hope. He holds all my days in His hands and He cares about my son in ways I cannot even imagine.