Trust can be extremely difficult. But, drawing close to God can truly bring us out of our comfort zones and into the comfort of His faithfulness. 
---
---
"If you behave, you'll get some candy."
We've all probably used some form of blackmail. Especially if you're a parent. Most of the time it can be harmless, but what about when it crosses the line?
"If you don't start behaving the way we want you to, we're going to give you up for adoption."
Sadly, all trust was broken when these words fell on little ears.
Trust is the glue that holds relationships together and when trust is broken, so is the relationship.
I've struggled to really trust people in my life. Seems like I've been trying to live up to everyone's expectations because if I didn't, they might walk away.
Earthly Trust
The definition of trust is the firm belief in the reliability of someone (Merriam-Webster).
Firm can be defined as solidly fixed. I think of "Gorilla Glue": nothing is breaking apart what has been put together.
Sadly, most of us can agree that this type of trust is not of Earth. Living in a fallen world equals a lack of trustworthy humans. This makes any relationship daunting and even a little scary.
And, if you've experienced painful disappointment, you will attest to this; trusting in God can be hard.
We know we should do it, but it's tough to put that much confidence in someone else. Perhaps you ask yourself how you can surrender it all to God when everything else in your life seems unstable and unreliable.
The fact is, we are surrounded by other broken humans. It can be difficult when all we hear them say is "the Lord is always faithful".
Here's the thing: we said trust is a glue to hold our relationships together. So if we don't have some confidence in others, we won't have satisfying relationships and we won't be able to step out into greater things.
Comfort Zone
The same is true of God. We can't grow in faith without beginning to trust Him. When we're afraid to be "all in" with Him and trust Him completely, we will never achieve what His desires are for us.
We will remain in our comfort zone without growing in a relationship with God, fulfilling our purpose, or even having rewarding earthly relationships.
When Jesus appeared walking on the Sea of Galilee to the disciples, Peter called out.
Then Peter called to him, "Lord, if it's really you, tell me to come to you, walking on the water."

"Yes, come," Jesus said.

So Peter went over the side of the boat and walked on the water toward Jesus. But when he saw the strong wind and the waves, he was terrified and began to sink. "Save me, Lord!" he shouted.

Jesus immediately reached out and grabbed him. "You have so little faith," Jesus said. "Why did you doubt me?"

Matthew 14:28-31, NLT
Trust Recognized
See how Peter asked Jesus to invite him, extending his trust, and stepping out? Then once he was on the water, he started to think of reasons why he shouldn't trust and he started to sink; back into his comfort zone.
Sound familiar?
Trusting completely in someone is scary when all we've known is uncertainty.
Jesus then told Peter he had too little trust.
Peter's comfort was the boat. Instead of reaching out to Jesus and allowing God to stay beside him, he sank. What if Peter would have remembered how faithful Jesus had already been in his life?
The key is focusing on Christ. God is always faithful, certain, stable, and steadfast.
When we ask God to grow our trust in Him, it will extend to our other relationships, and give us the confidence to leave our comfort zones.
Peter went on to be known as "The Rock" the early church was built on, just two short chapters later. If Peter was able to grow in trust, we know by following our Lord, we can be blessed with increased trust also.
When we ask God to help us trust in Him, it will extend to our other relationships, and give us the confidence to leave our comfort zones. Click To Tweet
Growing Comfortable in Trust…
Remain close to God through daily reading of His word.
Review God's track record from the Bible.
Remove ourselves from the situation. (We're sinful and can't even trust ourselves).
Remember God is our source of blessings and life.
Rest in God. He can take our past, heal us and give us a future.
This girl with trust issues knows that she's not where she once was, but she hasn't arrived yet either. After reading Peter's transformation, I know God can use even the pain of my past to drive me from my comfort zone to an always faithful Christ.
---
---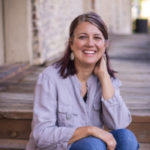 Julie Loos is the mom of 5 kids and has been happily married to Greg for 19 years. She loves to read, eat chocolate, drink iced tea and spend time writing in the midst of messes.
You can connect with Julie on her blog unmaskingthemess.com, on Facebook, Twitter, Instagram, and Pinterest.