Every entertainer loves a captive audience. Yet, we do not have to become captive to the media's show. We can rise above and be a voice of hope.
---
---
In our house, we have several little sayings that remind each of us who we are, and what we are called to. For example, I often hear a tiny four-year-old voice proclaim, "Harndens don't give up," when I am complaining that something is too hard. Our family motto declares "We are Harnden Heroes. We live by the fruit of the Spirit for the eternal purposes of God."
These little sayings are fun and cute, but they constantly remind my kids (and my husband and I) that we are Harndens, and Harndens live according to God's ways.
This same principle applies to the people of God. We are His chosen people, and because we belong to the King, we live according to the ways of the Kingdom of Heaven.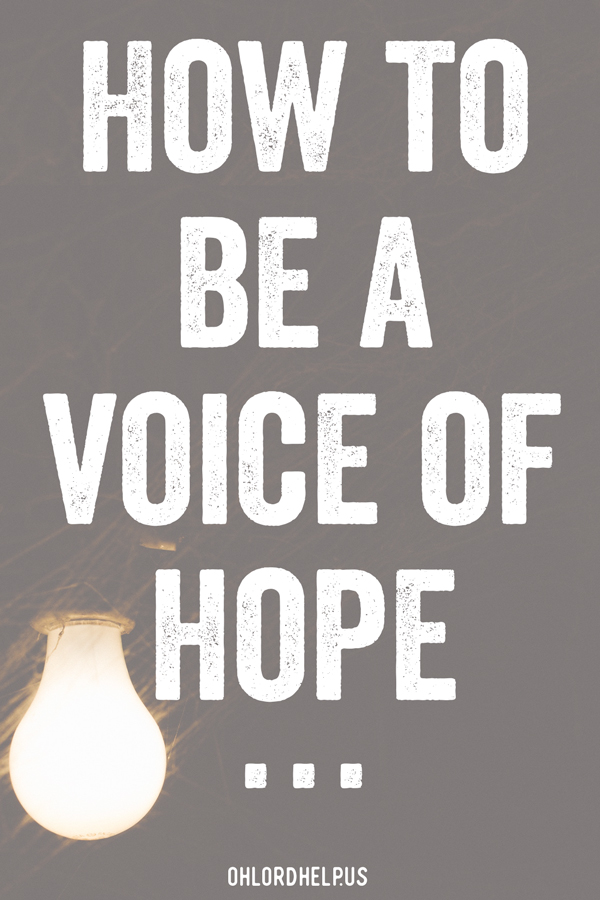 His Kingdom and Our Culture
My heart breaks over the constant political turmoil in our country. You don't have to look too far or associate with a particular political party to recognize the incredible evil American humans are capable of. These are dark days to be sure. And the media doesn't help one bit.
I have struggled with how to respond. Should I blast all my social media contacts with articles and memes that support my view in the name of standing up for truth and justice? Should I engage in online arguments that add fuel to the political fire? Or, should I be silent, say nothing at all and grow numb to evil so as not to offend anyone?
I'm ashamed to say that while my emotions may be raging and my heart pounding as I read the news, I usually fall into the last category. Be silent. Don't stir up trouble. Social media doesn't help anything anyway. Stay away from the political scene and just pray.
This is usually my default as I succumb to the lie that I don't really have a voice.
Voice of The King
But I believe God has called me, and us, to something higher. We are not to be silent. Rather, we are the mouthpiece of the Living God. We do have a voice and that voice is called to speak the language of HOPE.
We hold in our hands and our hearts the answer to the world's problems and it doesn't sit with a politician.
Hope is in a Man, a King, who gave up His throne in Heaven to serve and love humanity. A God who chose to die, to give His own life, so we could know Him more fully! A God who lived and loved as a man on earth, who always spoke the truth, and demonstrated grace.
He healed the sick, turned water into wine, turned over tables, and hung on a cross with sinners. Jesus was fully God and fully man. He lived every day of His life by the power of the Holy Spirit, without sin. He loved unashamedly and He never once compromised. He changed the face of church and religion.
This Man, Jesus, dug deep into the pit of hell to set us free from the evil in this world. The evil in our own hearts. He rescued all people of every tribe and nation, and made a way for us to know Him and live forever with Him. He gave us the tools to live wholeheartedly for Him and empowers us daily to do so.
I want to be His mouthpiece!
Be a Voice of Light
You are the light of the world. A town built on a hill cannot be hidden.

Matthew 5:14, NIV
Jesus, Himself, called us forward to be light. He chose and set us apart. He placed us in our culture on purpose, so that we could bring light to the world around us. Are we meant to be light in a well-lit room? Of course not. Light shines best in the darkness. Does light fear the darkness? No, it overpowers it.
Our country is a dark place, but we are His lights! We get the incredible opportunity to walk in light and show others how to navigate the darkness.
And Sisters, if you know Jesus, He lives in you and gives you all the light you need.
Be A Voice of Honor
One way we can shine brighter than the mess around us is through honor. Our culture has forgotten how to show dignity one another. But, we live for a different Kingdom. The Kingdom of Heaven is a culture of honor.
Honor every person in every situation, stage of life, culture, political party, and position. You can greatly disagree and still choose to honor. We show honor to others because of who God is and who we are in Him.
But you are a chosen race, a royal priesthood, a dedicated nation, [God's] own purchased, special people, that you may set forth the wonderful deeds and display the virtues and perfections of Him Who called you out of darkness into His marvelous light.

1 Peter 2:9, AMPC
God created every person in His image, and He is worthy of our honor. To be the voice of Jesus, we MUST be the voice of honor. We must choose to see people as God sees them. And we honor others because of who we are in Christ. A woman who is CHOSEN, ROYAL and SET APART is a person who respects those in front of her.
We are called to display the virtues of HIM. He called us out of darkness and into marvelous light. We, too, have the privilege to stand as a light and call others out into His light. Wow! What a calling!
Don't just pretend to love others. Really love them. Hate what is wrong. Hold tightly to what is good. Love each other with genuine affection, and take delight in honoring each other.

Romans 12:9-10, NLT
For the Christian, choosing to honor is not an option. Because we belong to Christ, we are the voice of hope. Hope speaks with honor.
For the Christian, choosing to honor is not an option. Because we belong to Christ, we are the voice of hope. Hope speaks with honor. Click To Tweet
How To Be His Voice
We do not have to become captive to the media's circus. We can rise above and speak life.
Death and life are in the power of the tongue, and they who indulge in it shall eat the fruit of it [for death or life].

Proverbs 18:21, AMPC
The words we say in person or online are so important. We literally have the power to spark fear in people or bring comfort with just our voice. Here are a few things to consider when responding to the crises around us…
Speak hope, not fear. When you share and comment, let your comments be laced with love and the promises of Christ. Our world needs to remember that Jesus has overcome the world (John 16:33). We need to know that He is always with us and that God is just.
Spread good news…whenever you see or read it. Take every opportunity to use your words and influence to encourage others.
Listen before you speak. This one messes with me. I am NOT a very good listener because I have a lot of passion and a lot of things to say. But Jesus says through James that His people are to be slow to speak and quick to listen (James 1:19). In order to help the world, we have to hear their cries.
In all things pray. Before you click that "share" button simply pray. Ask Him to check your own heart to root out gossip and anger. And pray that Jesus will use your words for His purposes.
Our world is changing, but our God remains the same. We can be His voice of Hope to a very broken world.