There may be times where God appears distant, but we can breathe knowing He stays true to His word. He never leaves us and works even when He seems silent.
---
---
Remember that although God may be silent, He is not still.

Dr.Tony Evans
Silent God
Sometimes God is just hard to get. One moment, He is breaking into our lives with His glory and majesty, answering prayer left and right. We are "living the promises!"
YES, GIRL!
Then, the earth seemingly erupts beneath us and chaos ensues. Friends betray us. Illness strikes. Or, like St. John of the Cross, darkness falls across our souls like a damp fog.
The ceiling is made of iron.
The sky is brass.
Morning, afternoon, and evening our hearts cry out to God, but He does not answer. The situation remains unchanged. We may feel like C. S. Lewis after his wife died of cancer.
But go to Him when your need is desperate, when all other help is vain, and what do you find? A door slammed in your face, and a sound of bolting and double bolting on the inside. After that, silence. You may as well turn away. The longer you wait, the more emphatic the silence will become.

C. S. Lewis, A Grief Observed
I have felt this level of desperation before; although, I'm not proud to admit it – when our oldest son 'disowned' us during a crisis time in his late twenties; when my mother's mental health was overwhelming me; when my migraines were relentless. I guess that is why it's easy to become tearful when I hear Andrew Peterson's song, The Silence of God:
It's enough to drive a man crazy, it'll break a man's faith
It's enough to make him wonder, if he's ever been sane
When he's bleating for comfort from Thy staff and Thy rod
And the Heaven's only answer is the silence of God

Andrew Peterson, The Silence of God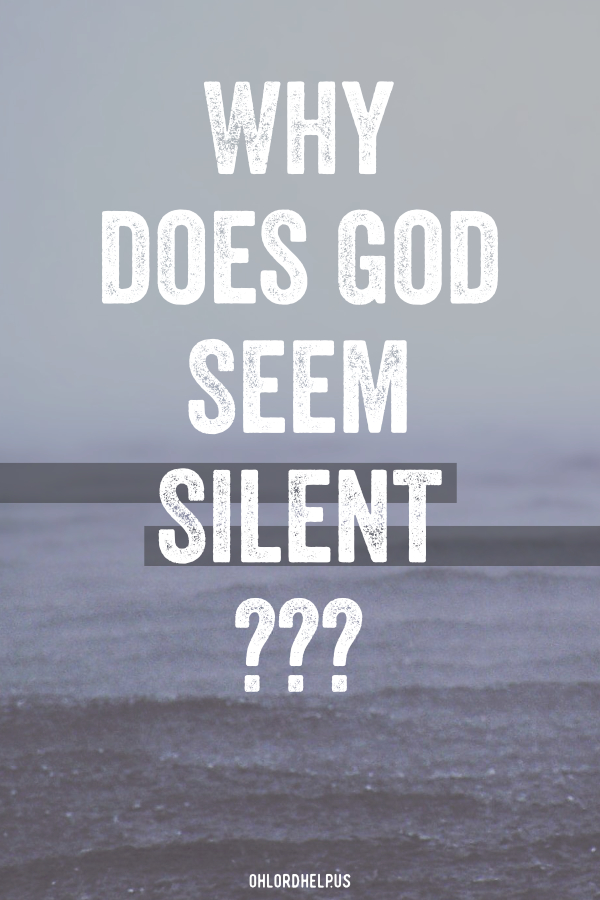 David
David certainly had moments of desolation, hearing nothing but God's silence.
My God, my God, why have You forsaken me? Why are you so far from saving me, from the words of my groaning? Oh my God, I cry by day, but You do not answer, and by night, but I find no rest.

Psalm 22:1-2
When I was younger, I used every Christian 'trick' or equation I knew, to no avail. As with David in the Psalms, despite my pleas, promises, prayer, and meditation, God remained silent.
Be not silent, O God of my praise! For wicked and deceitful mouths are opened against me, speaking against me with lying tongues. They encircle me with words of hate, and attack me without cause. In return for my love they accuse me, but I give myself to prayer. So they reward me evil for good, and hatred for my love.

Psalm 109:1-5
Like David in the following verses, I stated my case before my Father, and like David, I have experienced silence. We're not alone.
Abram
In Genesis 12:1-3, Abram was told to leave everything and everyone he knew because God wanted to give him a new land. In addition, God would use him and Sarai to become a great nation.
Years passed. No direct heir…not one. And while God spoke to Abram about other things, He was silent about that – for nearly twenty-five years.
Joseph
Joseph's coat of many colors is a wonderful children's Bible story. However, as adults, it's important to remember that he was sold into slavery, (today we call it human trafficking), and was falsely accused in his owner's house of sexually abusing the master's wife. Joseph then sat in prison for two years before the dream he was shone at seventeen came to pass.
Do you wonder if Joseph had some unanswered questions for God during that all time?
Job
I would be remiss not to mention Job. He spends a great deal of time telling of his righteousness, but he grew frustrated and impatient at God's silence in the face of his suffering.
I cry to you for help and you do not answer me; I stand, and you only look at me.

Job 30:20
If only God would answer!!
Isn't that how we feel at times? Even if it isn't the answer we want – please, just ANSWER!
Mary and Martha
I wonder if that is what Mary and Martha were thinking when their friend and Lord did not answer them? When He was told their brother, Lazarus, was very ill and didn't immediately come to the rescue? Jesus didn't even send word that He was on His way. In fact, John 11:17 reveals that Lazarus had been dead four days by the time Jesus arrived!
Silent or Not?
Other writers more learned and wiser than me have written about this topic. Many have expounded that this time of silence or darkness exposes our need for discipline, renewal, and/or repentance. No doubt these and more are pieces of the puzzle.
However, looking through the lens of a merciful, loving Father, I'm wondering if there is another aspect; if this silence is real or perceived. My feelings or experiences tell me He is absent, but God's Word says that He is with me, (examples – Psalm 23:4; Deuteronomy 31:6). He will never leave me or forsake me.
Jesus told us He would not leave us as orphans in John 14:18-20. I love that; regardless of our biological heritage, Jesus will never abandon us.
So, what does this mean? Why the sense of silence or aloneness?
Well…according to Jon Bloom of desiringGod.org:
It is the mourning that will know the joy of comfort (Matthew 5:4). It is the hungry and thirsty that will be satisfied (Matthew 5:6). Longing makes us ask, emptiness makes us seek, silence makes us knock (Luke 11:9).
Keep knocking, Sister. God hasn't left you…and He never will.
When God seems silent, may we take this time to expose our need for discipline, renewal, or repentance. God's Word tells us He never leaves us, so keep knocking, keep seeking, He's there!
Click To Tweet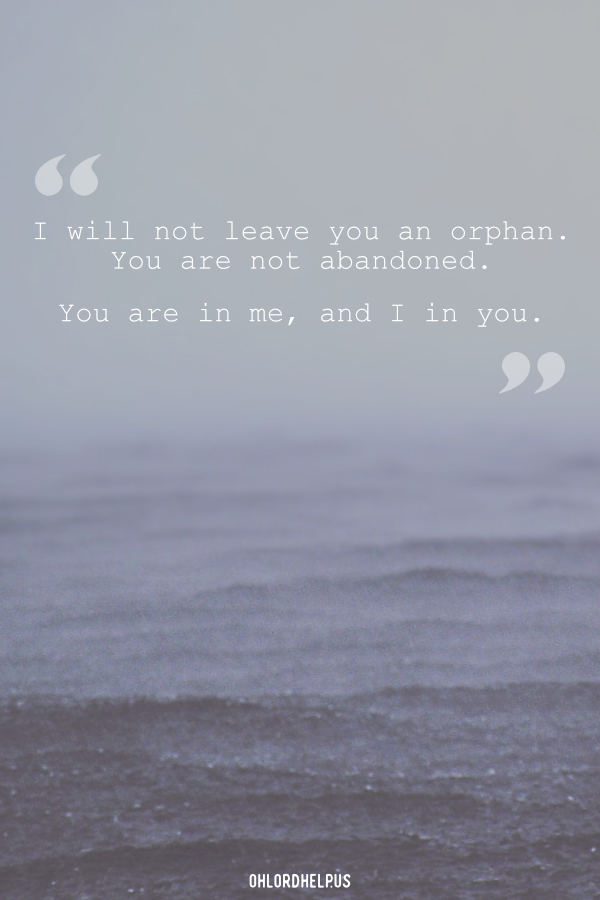 *All Bible references are from the English Standard Version.
Yurii Khimanin