The search for significance is nearly as old as time. In this quest, the lines can become blurred and the goal of becoming Christ-like may morph into making ourselves like the Most High. The shift is subtle and may begin with good intentions. What do you do when you realize you've been going at it all wrong?
---
---
From childhood I have been comforted by the power and security of the Lord, specifically, that spoken of in the Psalms. Reading, "The Lord is gracious and merciful, slow to anger and abounding in steadfast love" (Psalm 145:8, ESV) has been a precious assurance of the goodness and nearness of God to me.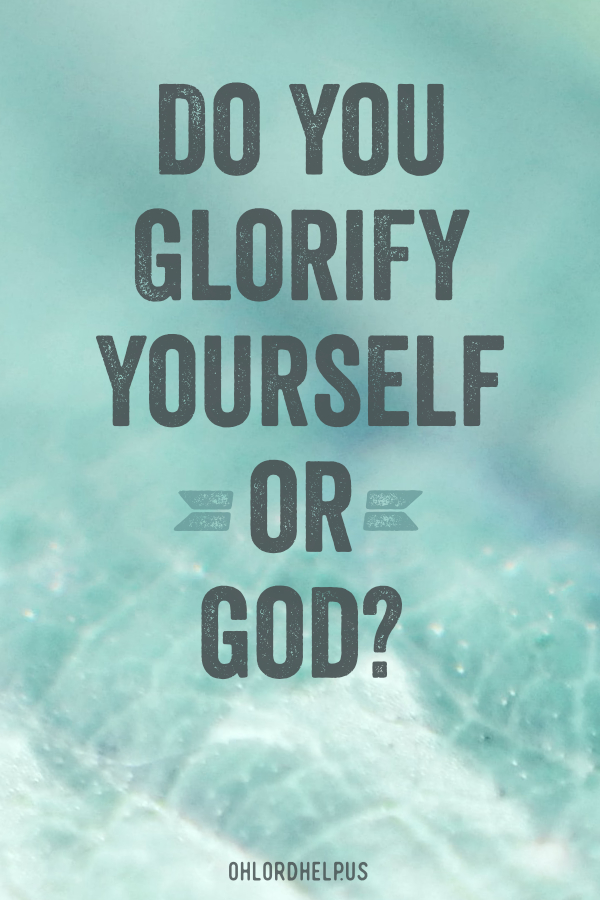 Learned Significance
This past spring I took a systematic theology class. Part of the requirements directed me to read Psalm 145 and Isaiah 40 four times a week for several weeks. On the first day, I smiled at Isaiah 40:1 where I had written "store up comfort" next to it. It references a devotion from Streams in the Desert (January 11) which talks about the costliness and necessity of suffering. It is not for the purpose of our own comfort, but that we may learn how to comfort others.
Blessed be the God and Father of our Lord Jesus Christ, the Father of mercies and God of all comfort, who comforts us in all our affliction, so that we may be able to comfort those who are in any affliction, with the comfort with which we ourselves are comforted by God.

2 Corinthians 1:3-4, ESV
Significance Questioned
However, as I read aloud from Isaiah 40 I came to a halt at the end of verse 17.
All the nations are as nothing before Him, they are accounted by Him as less than nothing and emptiness.

Isaiah 40:17, ESV
It struck me: "they" signifies me. Suddenly my sense of significance was challenged. My thoughts raced to verses that speak of my value to God, but even those did not hold the same soothing power as they once had in my mind. For instance, when I thought of Psalm 139:14, I realized I had not previously focused on key parts of that verse:
I praise You, for I am fearfully and wonderfully made. Wonderful are Your works; my soul knows it very well.

Psalm 139:14 , ESV
Praise belongs to God and His works are wonderful. Being created is glorious, but it is only glorious because of the powerful Creator. What I had known since birth was that God is great. I grew up in a Christian home with two parents who loved each other and taught me the Word. That was grace. I became a Christian when I was young—also grace, and I married a follower of Jesus. More grace. To be more specific, it was all undeserved grace. I thought of another familiar verse:
Know that the Lord, He is God! It is He who has made us, and we are His.

Psalm 100:3, ESV
Significance Misled
The version I learned growing up says "It is He who has made us, and not we ourselves;" (NASB). Cringing, my eyes were opened to the fact that I had been viewing myself in an us-versus-them category. I had placed so much significance on my decision to choose God that it was completely unbalanced.
After all, Jesus said in John 15:16: "You did not choose Me, but I chose you." Could it be that all this time I had read Scripture from a vantage point of deservedness? For years I had been content with saying I am a child of God; relishing His protection, blessings, and by His grace, learning to take joy in my suffering. My understanding of the grace I had received turned out to be laced with entitlement. Gross.
Seemed Pointlessness
For by grace you have been saved through faith. And this is not your own doing; it is the gift of God, not as a result of works, so that no one may boast.

Ephesians 2:8-9, ESV
I had somehow bypassed this exhortation Paul sent to the church at Ephesus so, when I read through passages like Isaiah 40, it hadn't previously occurred to me that I needed to read it addressed to myself. God used the class to boldly expose my creatureliness to me in such a way that I was unable to turn away.
By the end of it, reading through Psalm 145 and Isaiah 40 proved to be an anchor while hearing and reading about God's sovereignty, human freedom, God's attributes, and His purposes. Initially, I thought, how can the nations be "less than nothing and emptiness" (Isaiah 40:17), yet "He gives power to the faint" (verse 29)? For days I wrestled with the seeming pointlessness of it all. Humankind appeared to be like the "Whos in Who-ville" floating on a speck.
Goodness Evidenced
Nonetheless, I knew of God's total and infinite goodness…at least to me. To name a few evidences, I had experienced God's goodness in the restoration of my marriage, in the death and new life of my son, and in the extraordinary rescue of my daughter. In the depths of the aforementioned situations, I had little to no control beyond prayer. They taught me to rely on God and to be able to say with conviction, "This is the Lord's doing; it is marvelous in our eyes" (Psalm 118:23).
I also felt a measure of invincibility, which is not completely untrue as a child of God when viewed correctly, for nothing can pluck me from God's hand (John 10:28). Unfortunately, I took too much credit and my view of God's supremacy was skewed.
Blind Contentedness
Until recently, I turned a blind eye when it came to understanding God's very real and very present wrath towards evil because I could not explain it. Like so many others, I was satisfied to focus on God's nearness and grace to me and just nod my head like a robot at His transcendence.
That is to say, I didn't care to search for understanding (for what might I find?!), so I quickly placed any questions in the "God has a plan because He's God" category. I politely closed that door and ran back to my significance blanket. After all, God is great, right?! But I was at a standstill. I knew more now, and I now knew better, but I didn't like it because I couldn't wrap my head around it.
God's Sovereignty
The Lord is good to all, and His mercy is over all that He has made.

Psalm 145:9, ESV
This verse, in particular, did not line up in my mind with God bringing "princes to nothing," and that He makes "the rulers of the earth as emptiness" (Isaiah 40:23), and "all the wicked He will destroy" (Psalm 145:20). My soul had never been so perplexed! I asked God, "What is man that You are mindful of him, and the son of man that You care for him" (Psalm 8:4)?
I discovered a spirit of pride in myself I thought had been extinguished. I'd resigned to seeking answers about God's authority because I was afraid it may threaten my personal significance. Instead, I dwelt on being chosen and loved, but was blind to my fearful unbelief. True worship is not offering praise from a spirit of resignation and superiority. Alternatively, praising God for who He is and what He has done is glorifying when it is done in truth.
True Significance
Yes; God is infinite and we are finite. God has need of nothing. He is not lonely. He does not need praise or love from us, whereas we do need His love and we are very much alone without Him. But the reality of God's autonomy (or lack of need) does not mean we are unimportant and meaningless. One of the books I read helped me grasp this: The answer to my nothingness lies in the comparison, not in the value and significance God has placed on creation.
We are in fact very meaningful because God has created us and He has determined that we would be meaningful to Him. That is the final definition of genuine significance.

Systematic Theology: An Introduction to Biblical Doctrine, by Wayne Grudem
I journaled this toward the end of my class: You absolutely matter to God because He chose for you to be meaningful to Him. But you are not the point. You are not the center; God is. So then, your significance lies in the fact that He determined to make you and to delight in you; and for that to honor Himself.
You and I have the privilege to meditate on the glorious splendor of God's majesty and His wondrous works every single day (Psalm 145:5). To Him, there is no comparison. God is the only One who can promise to save the ones who love Him (Psalm 145:20). He numbers and names the stars (Isaiah 40:26; Psalm 147:4). The Lord is good to all, yet He is also righteous in all His ways (Psalm 145:9, 17). So, let us say with John:
He must increase, but I must decrease.

John 3:30, ESV
You are not the center; God is. So then, your significance lies in the fact that He determined to make you and to delight in you; and for that to honor Himself.
Click To Tweet
Ivan Di