How many times do we slip into the muck of life because we are stuck in our own pity-party? Get out of the muck, and say thank you. Enter a life of gratitude and joy.
---
---
"It's ok to have your pity party, but then you need to move on." This is some sage advice given to me by my husband's grandmother when I was a newlywed. I cannot for the life of me remember what prompted this advice, but it has stuck with me for nearly two decades. Perhaps this wisdom was shared in a moment of tough love, but I received it well, and treasure it greatly.
There are still days when I have my pity parties. Things seem too difficult. I feel too tired. There are moments when I want to throw in the towel and call it quits. Days I feel all alone in a crowded space. My feelings are hurt, yet again. And before I know it, I am wallowing in the muck.
In the middle of the muck is usually when I heap on a big dose of guilt and shame. You know, to make myself the martyr of my own demise. I think I shouldn't feel this way, I should be tougher, I should be better, I should do more. No wait – I shouldn't do more – I should do less. I should be grateful. Meanwhile, the promise of abundant life slips by.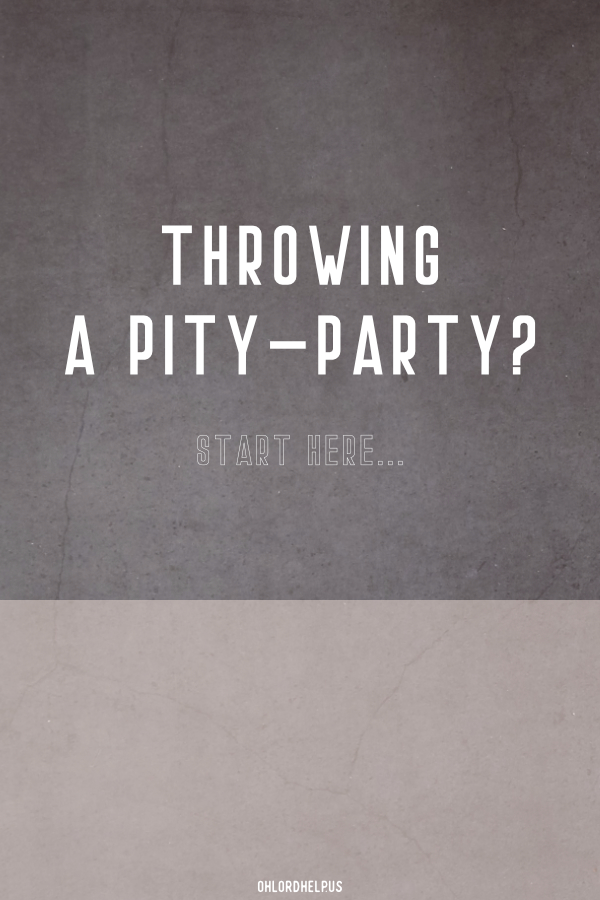 Pity Party
There are things that are too difficult. There are problems I simply cannot fix because I do not possess the means. But, hallelujah! They are not too difficult for God.
I do feel tired at times. But the things I am doing like parenting and leading and teaching are good things. They continually bring me back to my knees.
There are moments I want to quit. A life of joy doesn't mean easy-peasy-lemon-squeezy. It means peace. Things can be hard yet peaceful.
There are days I feel alone. The loss of friendships has left gaping wounds. I hide behind facades, too afraid to let people see the real me. But I am NOT alone. God continually meets my need for community.
My feelings do get hurt. Having a sensitive heart is a strength of compassion. This is how God created me, and I am confident it is a gifting He gave on purpose. But honestly, it is often my own insecurity that causes my wounded pride.
Gratitude
Gratitude is woven throughout a life of joy. And gratitude begins with awareness. By acknowledging and remembering the blessings in life, our attitudes shift from doubt to confidence.
Remember God's faithfulness of provision in your life. And say thank you.
If we are able to solve our dilemmas on our own, we would not need to rely on the Lord. And if we provide the solution, then we receive the credit. When there seems to be no solution, God will provide. He will receive glory, and we learn to trust in a deeper way.
Remember God's strength gives you endurance. And say thank you.
We are in continual training. Every trial we go through prepares us for further work. This is our hope and comfort. Because we know that our future is for eternity and that our life has purpose by glorifying the Father, we see value in these trials.
Remember God's peacefulness brings you comfort. And say thank you.
Because the task we are enduring is one we are called to, part of His provision is comfort and peace. There is a difference between stretching our faith, and a struggle with the Spirit within ourselves. We have His peace within the discomfort.
Remember God's plan for community. And say thank you.
Instead of focusing on the loss of friendship, focus on the friends we have. Invest in these people, build trust, and love them well. God does not desire us to be alone, He created us to need community.
Remember God's love for you and all His creation. And say thank you.
Getting the focus off of ourselves, onto others, we can see that we are loved and cared for. Recognize this. Be thankful for the love other people give. Receive it well.
Move On
If you find yourself in the muck, go ahead and have your pity party knowing you will not stay there. Feel all the feelings – sad, stressed, overwhelmed, hurt, scared. Then remember. Remember how God cares for you, the provisions, the blessings. Acknowledge the good in your life. Focus on what you have, love who you have, use the time you have and do it all for the glory of the Lord.
Be thankful in all circumstances, for this is God's will for you who belong to Christ Jesus.

1 Thessalonians 5:18, NLT
Feel all the feelings – sad, stressed, overwhelmed, hurt, scared. Then remember. Remember how God cares for you, the provisions, the blessings.
Click To Tweet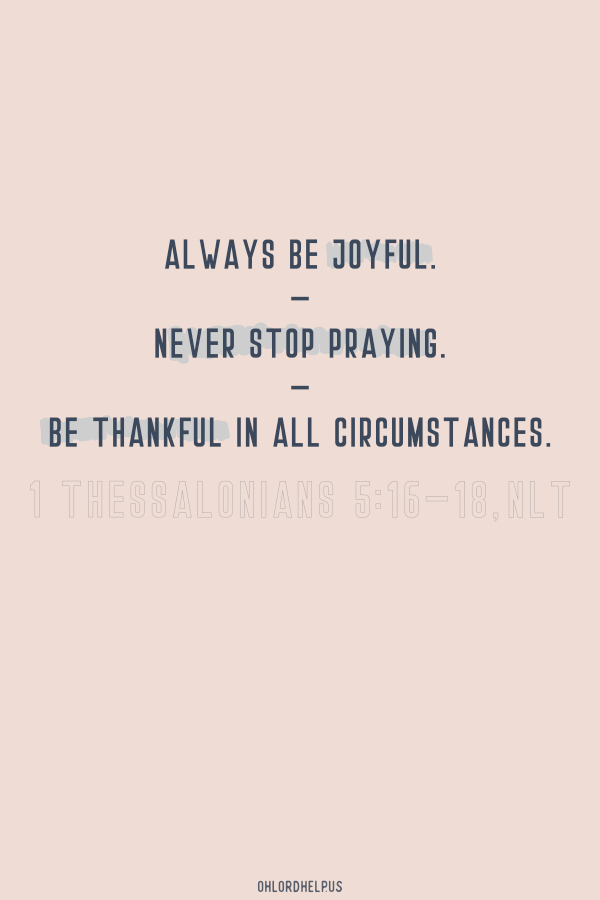 NordWood Themes