Seeking God while battling depression seems impossible, but God guides us to take strides to care for ourselves so that we will hear Him clearly. So He can replenish our souls.
---
---
Like many women, I have spent a good deal of my life living with depression. I liken it to parenting a toddler who you are never allowed to hand off to anyone else to care for. Sometimes it trails along quietly in your shadow, other times it rides piggyback. Others still, it wraps itself around you like a writhing boa constrictor. Any time it has its hold on you, it weighs a portion of you down. Depression restricts your ability to move forward or function normally. It is exhausting.
There comes a time when the weight and the exhaustion gets to be too much to bear. At these times, I feel like Elijah under the broom bush. He is running from Jezebel, knowing his life is hanging in the balance, and he collapses under the pressure.

He came to a broom bush, sat down under it and prayed that he might die. 'I have had enough, Lord,' he said. 'Take my life; I am no better than my ancestors.' Then he lay down under the bush and fell asleep.

1 Kings 19:4-5, NIV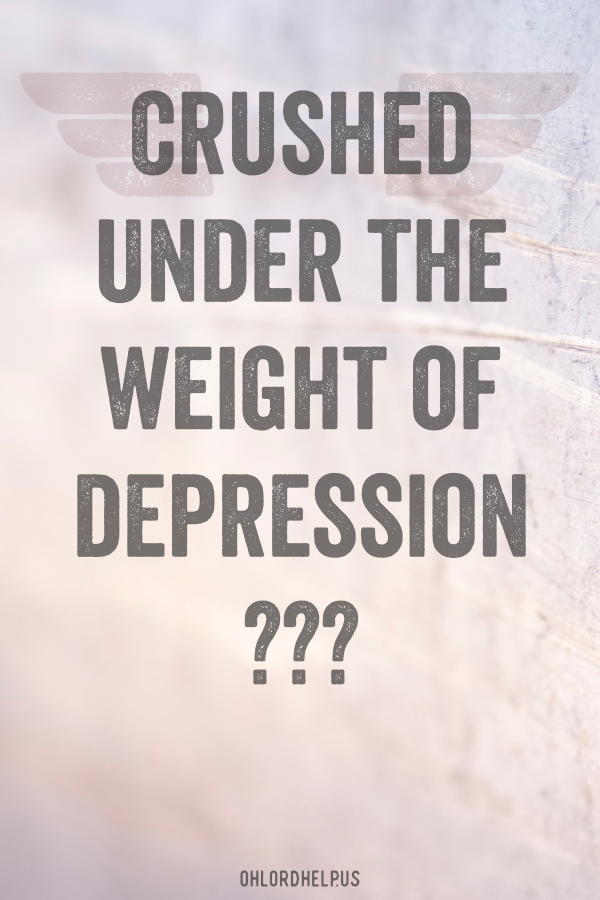 God's Provision
There are moments where I have had enough of the struggle to keep moving, to survive the days and hurts and struggles. When it's bad enough, my mind whispers Enough.

Luckily, our God is so immeasurably good. He knows what we need and how we need to receive it.

He could have told Elijah to suck it up. There was Kingdom work to be done, and he proceeded to wallow under a bush, welcoming the very outcome he had been running from. God could have inspired him to go right then and anoint the kings He would later command him to. But Elijah wasn't ready for that, so the Lord sent an angel who said,

'Get up and eat.'

1 Kings 19:5, NIV

That's it. Just get up and eat. God provided the food, so Elijah only had to do the two things he commanded. Get up. Eat. And then God let him sleep again, before telling him to get up and eat once more.

Elijah needed nourishment. He needed God to replenish his body, mind, and spirit. Kingdom work was laid in front of him, but first Elijah needed to stop succumbing to the desire to give up. He needed to start getting ready for the journey he was going to embark upon. He needed his mind and heart at rest to be able to hear what God had to say.

Taking the First Step
What does that mean for those of us who suffer from depression? When getting out of bed feels like a monumental task, what does "Get up and eat" look like in a real way?

Bear one another's burdens, and so fulfill the law of Christ.

Galatians 6:2, ESV

Depression presents along a very broad spectrum, so there is not a one size fits all answer to those questions. At certain points in our lives, replenishment requires exactly what Elijah needed… eating and resting. At others, we need to reach out for the love and support of those closest to us. There have been many times I have said, please pray for me because I cannot pray for myself right now. God expects us to spread the weight of our burdens so that we do not have to bear them ourselves.

There are still other times where eating, sleeping, and calling on friends may feel like putting a bandaid on a severed limb. At those times, get up and eat means go to counseling or start taking medicine again. There is no shame in finding help where help is most needed.

Discerning between God and the Enemy
The important thing is to figure out what you need to replenish. Replenish enough to start seeking God and His Word again. This is not about fixing our depression, but mobilizing ourselves. When we are immobile, it is difficult for us to recognize the vast power and grace of God. But when we replenish ourselves and position ourselves to mobilize, we can see the immensity of His power. And, like Elijah, find His quiet voice in our hearts and in His Word. We must always remember to be seeking that voice so we may not confuse it with the voice of the enemy.
Be sober-minded; be watchful. Your adversary the devil prowls around like a roaring lion, seeking someone to devour.

1 Peter 5:8, ESV
If we are under the broom bush, Ladies, we are easy prey. But when we give ourselves sustenance and rest, we gain the energy to stay in the Word. Energy to discern His sweet voice amidst the chaos and cacophony the enemy would try to distract us with. We can see the lion approaching. We can hear God's encouragement, and we can remember that we know who wins in the end.
When depression makes us immobile, it is difficult for us to recognize the vast power and grace of God. But when we replenish ourselves, we can see the immensity of His power.
Click To Tweet
Getting Help
All of this being said, I do not want to forget the people who have times where their words of concession are precisely Elijah's:
Enough. Take my life. I am no better.
I was there. I asked God to take my life, and in His outstanding goodness, He refused to take it from me. I know how that moment feels, and I pray for each and every one of you that you find help before you get to the point I did. I pray that you feel God's hand on your shoulder. I pray that you call that friend, that counselor, that suicide hotline as soon as you have the thought: things would be better if I just…wasn't. We were not meant to survive on this earth in a vacuum. Our Creator built us to be in relationship with one another, to choose community over isolation.