The pressure of the holidays can be suffocating. Remembering Jesus, our Savior, and resting in His presence allows us to overcome the lies and expectations.
---
---
I can already feel the lies of the season…
Do all the things. Be all the things. Give all the things.
»Pressure«
Why in the world does this happen during the Christmas season? I know it's all been said before, it's all been penned, it's all been discussed…
Busyness vs. Peace • Mantle vs. Manger • Presents vs. Presence.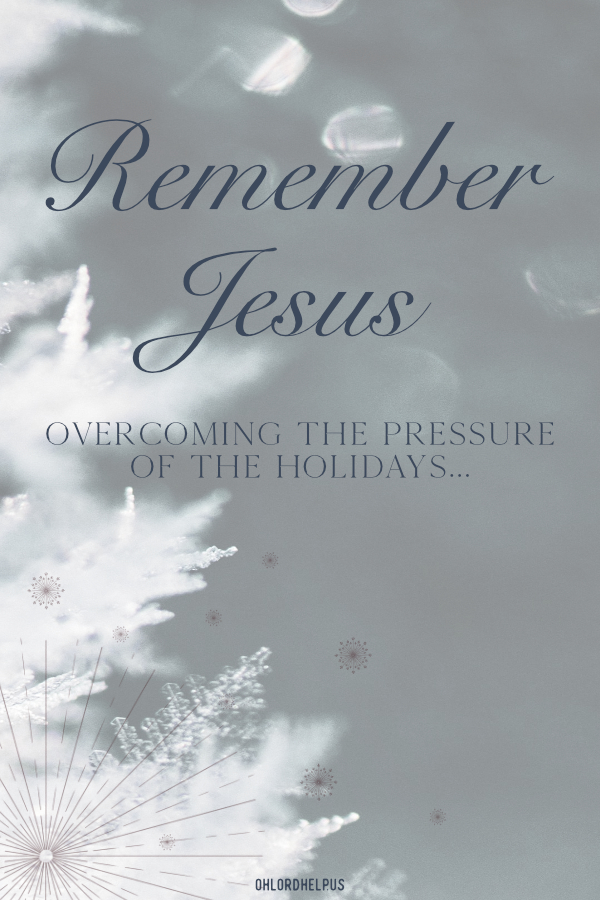 Expecting Gifts
Christmas isn't about the things… We all say this, but we fall prey to the trap every year. We allow it. It creeps in with every Christmas song, movie, and commercial. With every dollar-spot stop at Target. Every 'SALE! SALE! SALE!'
GIVE all the things…
I'm seriously contemplating -deep breath in- little to no gifts this year. GASP! As everyone screams, 'Look away! Look away!' The horror. The nerve.
The freedom…
Imagine, for just a moment, if the pressure of buying the perfect gift, or anything at all, was lifted from our shoulders. Imagine if Christmas was about the conversations, the number of hearts beating in the same room, about being around, not the presents.
What if the gift of the season was about experiencing each other, hearing each other, breaking bread together, grieving together, laughing together, living life together…
Giving what we have…giving ourselves. Our Creator provided us unique gifts to pour out on those we love. Baking, making, hospitably serving, singing, reading, smiling. Giving love, listening ears, open doors… Giving Jesus. Jesus – the most perfect gift.
God has given each of you some special abilities; be sure to use them to help each other, passing on to others God's many kinds of blessings.

1 Peter 4:10, TLB
Christmas Busy
Christmas is about spending time with loved ones…Yet we still fill our time with events, parties, and programs that take us away from intimate moments with the ones we love. 'Tis the season to be busy. Christmas parades, Christmas programs, Christmas events…
Christmas is stamped at the beginning of these words, adding a new level of pressure to attend. We run ourselves ragged making sure to show our faces, our kids' faces, our spouses' faces at it all.
Please understand I'm not trying to close everyone off from societal traditions. I'm simply trying to spark inspiration in finding rest, seeking the warmth of hospitality, and taking pleasure in the calm.
For a child is born to us, a son is given to us. The government will rest on his shoulders. And he will be called: Wonderful Counselor, Mighty God, Everlasting Father, Prince of Peace.

Isaiah 9:6, NLT (ephasis added)
Yes, this verse refers to a time when governments practiced seasons of peace. However, through His sacrifice on the cross, Jesus offers peace to us all, at any moment. He offers us calm in our spirits, though there's strife all around. He provides quietness through the hustle and bustle. Falling into Jesus brings rest, comfort, and a stillness that is unmatched in this world.
Overcoming Pressure
Christmas is about Jesus… But we fill the season with so much that Jesus isn't. From the moment of conception to the moment of ascension, every bit of Christ's life is what we cherish at Christmas, and all the other 364 days. Well, it should be.
For what Jesus accomplished in our place, we should be filled with overwhelming joy. He came to earth as the Son of God, died on the cross for all our sins, rose from the dead three days later, and gave us hope for eternal life with our Father. From that joy should spring forth immense generosity… supernatural generosity.
Though they have been going through much trouble and hard times, they have mixed their wonderful joy with their deep poverty, and the result has been an overflow of giving to others.

2 Corinthians 8:2, TLB
The load is lifted from my chest, and I take a huge sigh of relief. It's beautiful. Warm. It's Jesus. Only Jesus. Rejoicing in His gift, being in His presence, and resting in His hope is what the days ahead are all about… it's what life is about.
Sister, I pray we can join together in overcoming these lies of the holidays. That we can shift the 'normal' expectations and rest in Jesus. Rest in remembering Jesus.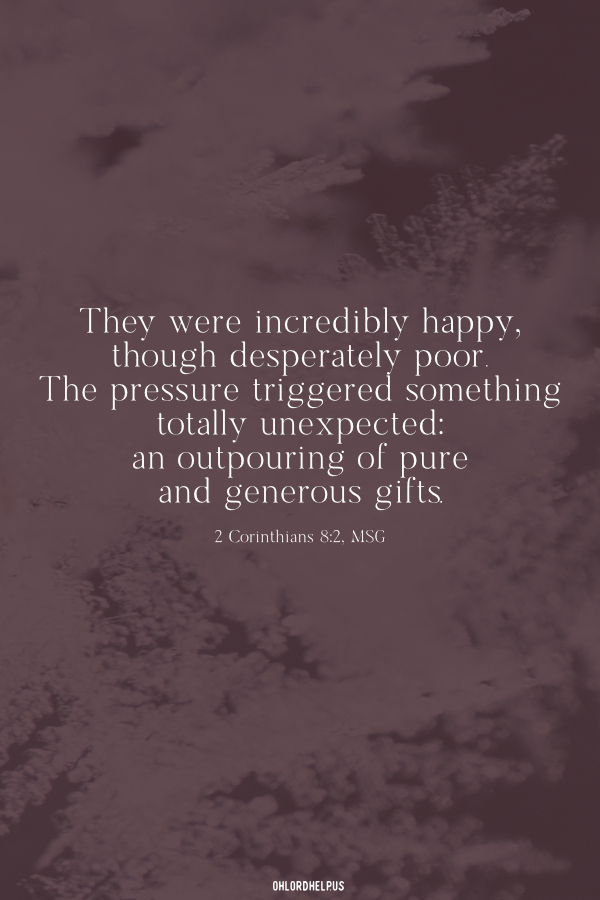 eberhard grossgasteiger