Being overwhelmed by the responsibilities of this world should not take our focus off of God. We must refocus our lives on God and let the world fade away.
---
---
My relationship with God is my number one focus. If I nurture and grow my relationship with Him, He will take care of everything in the world around me.

Gracie Kay
Center of Attention
April and May bring prom season to the world of high school. Young girls are adorned in beautiful gowns, sparkling jewelry, and Cinderella-like shoes. Young men look dapper in their tuxedos. When its time for pictures all the cameras are focused in on the couple. They are the center of attention.
One late afternoon in May, I found myself inside beautiful Duke Chapel focused on my son and his date in order to capture picture-perfect memories. Handed a high dollar camera, I was faced with a dilemma. I tried to focus, turning the lenses back and forth, but the camera just didn't want to cooperate with me.
My oldest rolled his eyes and took the camera and proceeded to give me in-depth instructions. Within the next hour, the young couple was the center of attention. Cameras and phones flashed, taking what seemed like millions of pictures.
Later that night as I was thumbing through pictures, God seemed to whisper in my ear, "Where is your focus?"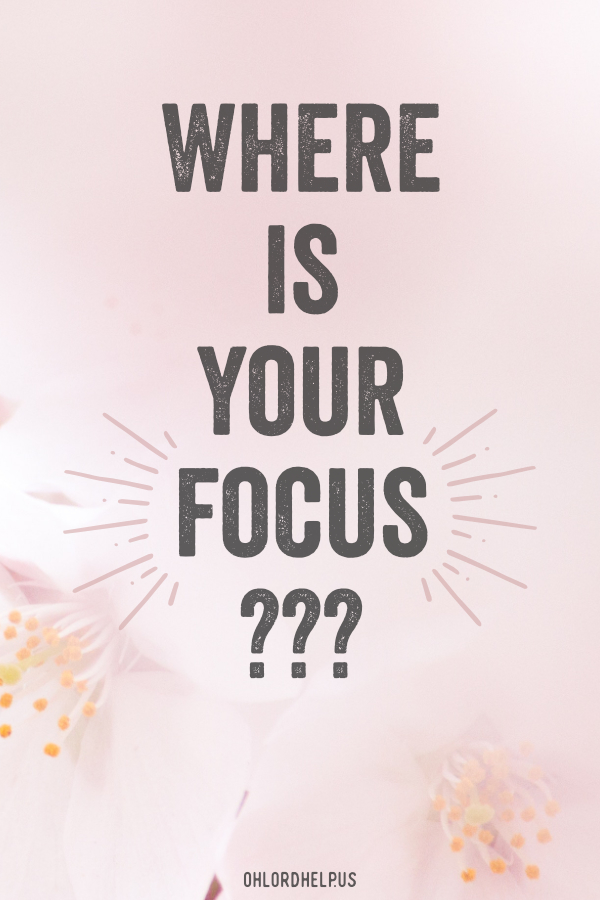 Where is Your Focus?
When God spoke to me, my heart fell and I felt ashamed. You see ladies, I have been focused on so many different pressures in my life, that my focus has not been on God and His ultimate plan.
Life is overwhelming sometimes! Our time and energy are pulled in different directions. Jobs, school, kids, ailing parents, church commitments, organizational commitments. All of these responsibilities and more threaten to take our focus away from God. No matter how young or how old you are, you are not immune to this dilemma. So, take a moment and do an inventory of where your focus is. Let me share mine with you:
Selling a house.
Building a new house, in a new city.
Applying for financial aid and trying to find scholarships as a single mom.
Scared to death to start graduate school, but know this is God's path for me.
Blogging
Editing my second book
Raising three kids, while trying to be mom and dad, both.
Church commitments.
Job commitments.
Your list may look a lot like mine, or it may be different. None of these things could be taken off my list and I certainly would not consider them unhealthy. However, if our list or commitments take our focus away from God's will, then we need to refocus our lens.
Refocus Your Lens
How do you refocus your life on God and not the responsibilities of this world? In church Sunday, we sang a new praise and worship song and it gave me the answer. Read the words and let them sink into your soul…
If you're not in it, then I don't want it. Let all else fade away.

Passion, "Fade Away"
Talk about some powerful words. If God is calling us to do something, He will enable us to do it. He will provide us with whatever means necessary to accomplish the task He has set before us.
If you are taking care of an ailing parent, He will give you strength and wisdom. If you are balancing work and going back to school, He will provide you with effective time management skills. God provides patience if you are waiting for a situation to be taken care of.
But my God shall supply all your need according to His riches in glory in Christ Jesus.

Philippians 4:19, KJV
If God is calling us to do something, He will enable us to do it. He will provide us with whatever means necessary to accomplish the task He has set before us.
Click To Tweet
All
I love this verse because it reminds me that God will supply all my needs. A-L-L. All, not some, not when He feels like it, but all my needs. There is great comfort in these words. God also brought the words of an old hymn from my childhood to my mind.
Turn your eyes upon Jesus. Look full in His wonderful face, and the things of earth will grow strangely dim in the light of His glory and grace.

Helen Lemmel, "Turn Your Eyes upon Jesus"
We must focus our eyes on Him. We must nurture and grow our relationship with Him by reading our Bible, praying, worshiping and fellowship with other believers. Let us all refocus our lenses. Focus on God and let the world fade away!
Until we meet again… Gracie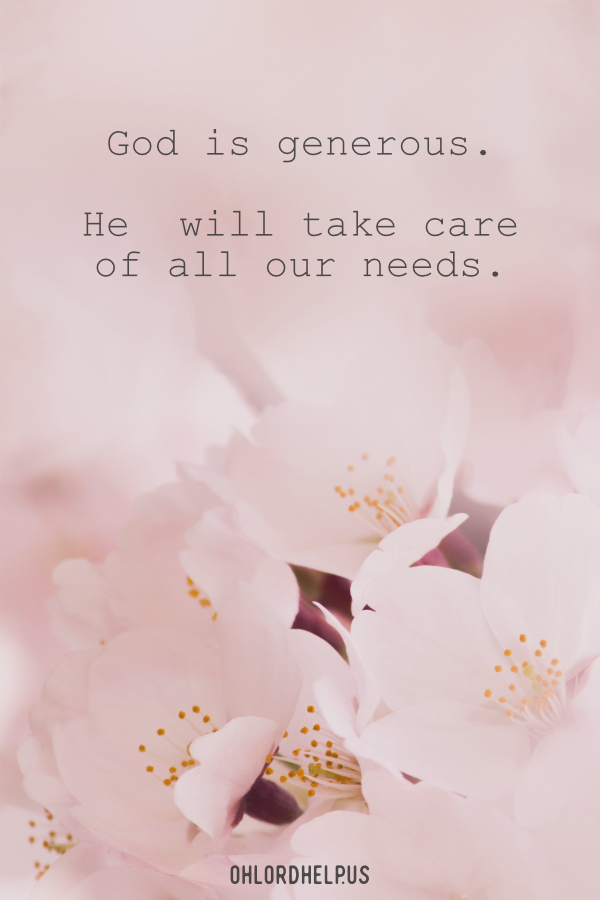 mitsuo