We respond to Scripture based on how we perceive our current circumstances of life. That is one of the beauties of God's Word; it becomes new each day just as our circumstances and moods do. It's a lifelong process to take God at His word and not allow perception to filter out the truth. Psalm 23 is an easy passage to help us trade our perception with God's truth.
---
---
Psalm 23
A dear sister recently told me she is not a fan of Psalm 23. I got the impression she felt bad about admitting it since it's part of the Bible, but her reasoning made perfect sense.
After a little inquiry, I learned it was the chapter she was forced to read and recite when she got in trouble as a child. So it's not hard to see how one of the most well-known passages in Scripture became tarnished in her mind. Let's dig into Psalm 23 together and see what it says and how it may challenge our perception.
The Lord is my shepherd; there is nothing I lack.

Psalm 23:1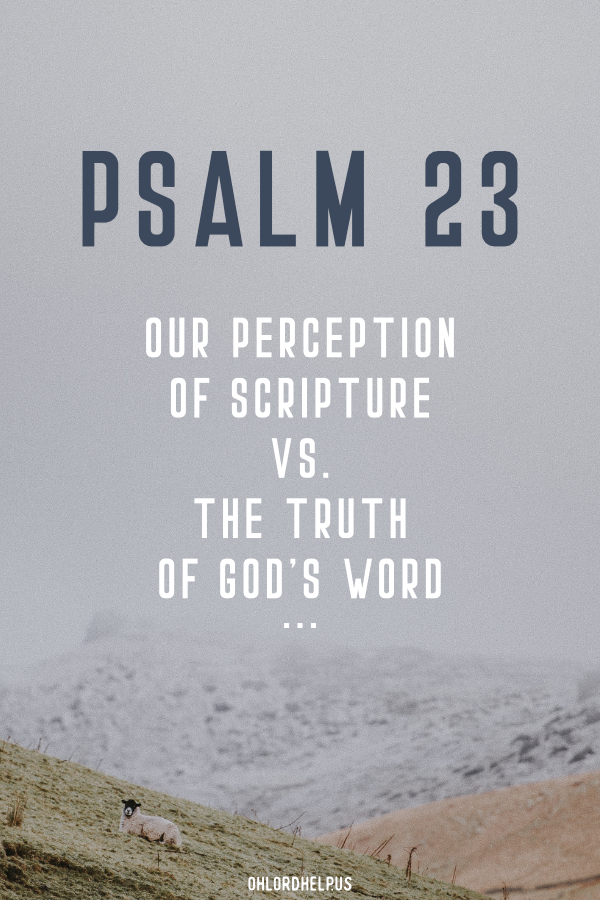 Our Perception
Two specific thoughts come to my mind after reading verse one:
Do I view God as my personal Shepherd, or is He too busy with more important tasks?
What do I perceive I am lacking?
In this passage, God presents Himself as a caretaker. He is seen as a provider, a leader, and One who is responsible for care. Because of that fact, David's response is: there is nothing I lack. The first part of verse one speaks to God's character. I wonder what causes us to feel He is holding out on us? Lately, a bit of careful reflection will quickly illuminate I have everything I need.
For example, a few weeks ago our kitchen was wrecked after a weekend of grilling out with neighbors and running around town. No one wanted to clean up the mess. My man is an excellent helper around the house, but he was working late and I needed to clean up before I had room to cook. Has anyone else encountered this yucky phenomenon?
Anyway, as I dove into the mountain I asked God to help me see the positive instead of feeling sorry for myself that no one was helping me. The Father quickly reminded me of the sweet time we had spent with our neighbors and the laundry list of blessings which made it possible. And He showed me what a joy it is to have a family and a home to share. Before I knew it, I was actually smiling while washing dishes. But don't spread that around.
God's Provision
He lets me lie down in green pastures; He leads me beside quiet waters. He renews my life; He leads me along the right paths.

Psalm 23:2-3
Three more reflections appear to me here:
Green pastures mean God knows where the food is.
Quiet waters represent that God knows we are like sheep.
Comfort is always going to be greater on God's path.
Sometimes, our perception tells us something looks really tantalizing, or maybe even righteous. Yet the Father, in His omniscience, knows what will nourish us completely. If sheep are steered to rushing waters they will stick their head in and be swept downstream. God understands what His children need and how best to provide for them.
That means, if we truly accept that He knows best and does provide for us, then we must dare to challenge beliefs that set themselves against God's goodness to us. Sheep may lack water and be willing to go toward a stream to quench their thirst, but they may be pulled under rushing waters. The Good Shepherd will always lead us to quiet waters, even if it means we have to walk away from a seemingly sure thing.
His purposes are better than ours, and therefore His paths are better than ours.

Jeremy Pierre, Author & Dean of Students at Southern Baptist Theological Seminary
Sometimes, our perception tells us something looks really tantalizing, or maybe even righteous. Yet the Father, in His omniscience, knows what will nourish us completely.
Click To Tweet
God's Presence
Even when I go through the darkest valley, I fear no danger, for You are with me. Your rod and Your staff—they comfort me.

Psalm 23:4
Two big things stand out:
There's no question of if we will go through dark times; it's merely a question of when.
Yet God is present in the darkness.
In verse 4, David is allowing his understanding of God's nearness and comfort to guide his perception of a truly agonizing situation. There are times in life when we feel such thick darkness we can practically taste it. Normally that causes fear. But God is with you. He is with me. Darkness and death cannot separate us from the love of God, so in reality, it can do no infinite harm. It may trifle with our body, but it cannot touch the souls of the children of God. We are secure through Christ Jesus.
God's Attention
You prepare a table before me in the presence of my enemies; You anoint my head with oil; my cup overflows. Only goodness and faithful love will pursue me all the days of my life, and I will dwell in house of the Lord as long as I live.

Psalm 23:5-6
Two observations:
God hosted David on the battlefield in the face of his biggest threat.
David has the assurance of complete rest in God's steadfast love.
In this last stanza, David shifts the descriptive symbols used for God. He went from describing God as Shepherd in verses 1-4 to a Host in verses 5-6. God lavishes us with His individual attention and exclusive exaltation. He can do that because He's God! And because the things that concern us concern the Father.
A Few Questions
How would it change your life to believe God "leaves the 99" to find you (Luke 15:4)?
What is the thing you feel you're lacking or desiring that you don't have?
Do you believe you can continually leave your desires at the feet of Jesus because He cares for you (Philippians 4:6-7) and will fulfill His purpose for you (Psalm 138:8)?
I hope this encourages your heart and has sparked some rich thoughts about our Good Shepherd and Host. My journal is filled to the brim as I read the beautiful Word of God. It is all at once penetrating and comforting my soul.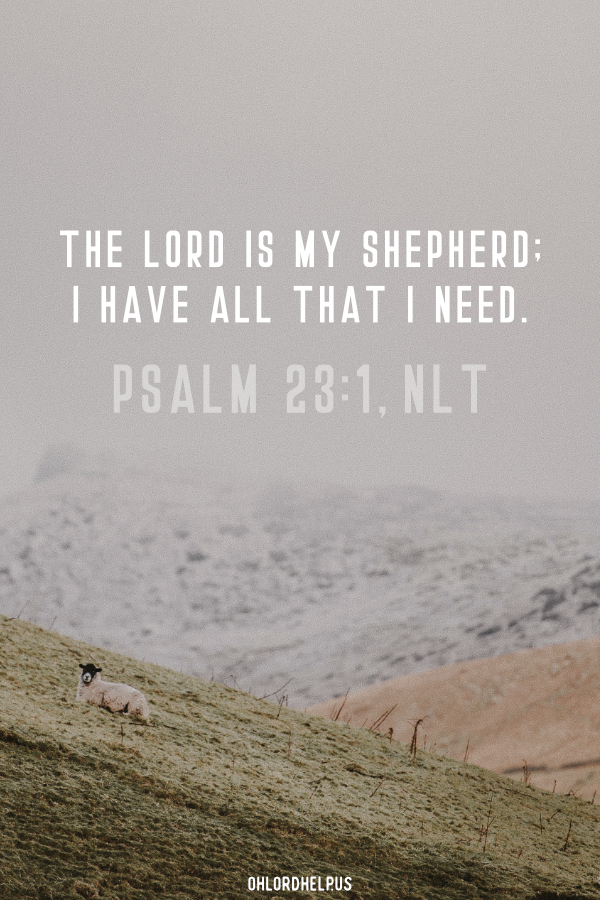 All scripture is referenced from the HCSB version of the Bible.
Annie Spratt